"On Air": Behind the Scenes with Tech Crew
Make sure to check out Editor-in-Chief Kailey Albus' coverage on this year's Talent Show senior directors.
Though Covid may be altering a handful of LFHS's extracurricular activities, the Talent Show — a showcase of the student body's most skilled and talented — is still proceeding full steam ahead.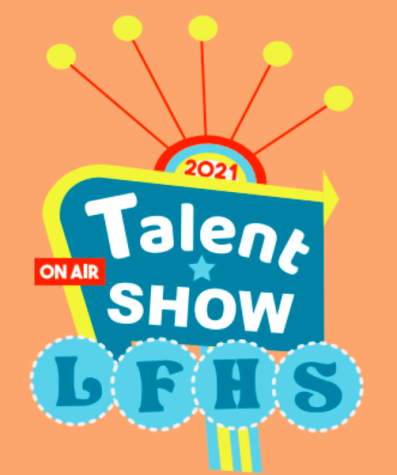 This year, instead of having a live showcase of different acts, the LFHS Tech Crew and New Media department are partnering up to pre-film each segment of the show and assemble it all to present for a one-night virtual show.
"It's gonna be another amazing show — it's gonna be a different show but we're all gonna be learning and working to put an amazing product out," said Mr. Holmer, one of the leading tech supervisors for the production.
Senior Kelly Sheridan, one of the lead tech crew members, has been helping to lead preparations for the filming, from taking notes about act details to helping with video editing and rehearsal setup.
"We still have to get instruments and amps for people, but what's different this year is the show isn't live so we don't have to do transitions," said Sheridan. "Instead, we have to film people and take care of that so we'll be filming with different camera angles and switching between different angles."
One of the many other things that have changed this year for Talent Show as a result of the pandemic is the accelerated time frame of the rehearsals.
"In order to pre-record everything, we can't wait until the 4th week of our schedule," said Mr. Holmer. "We actually have to film the 2nd and the 3rd week, so we're asking some of our acts to be show-ready by week 2."
The tech crew has wasted no time in preparing to record, having already scouted out many different filming locations, all of which will be within the high school to maintain the Talent Show's core purpose: celebrating the students in an environment where they excel. 
"Just getting everything set up and getting the acts ready to go and just getting a good take is going to be one of the most challenging parts," said Sheridan.
But despite the unusual circumstances, the tech crew is working hard to make sure that though the show will not be as standard as a usual school year, it will still be a fun show that everyone can enjoy.
"It's gonna be a lot different than years past but it's gonna be different in a good way so you should expect for it to still be a good time and still be the show that you know and love," said Sheridan.
The 2021 Talent Show premieres on Feb. 27!
About the Writer
Sarah Mack, Staff Writer
Sarah Mack is a junior at Lake Forest High School and enjoys writing about Student Life and Culture. Outside of school, you can probably find her practicing...