College Football Fans are in for a Treat
This has been undoubtedly one of the craziest years ever. While not the craziest year in college football, the finishing should be very entertaining. As of right now, the college football playoff rankings are as follow: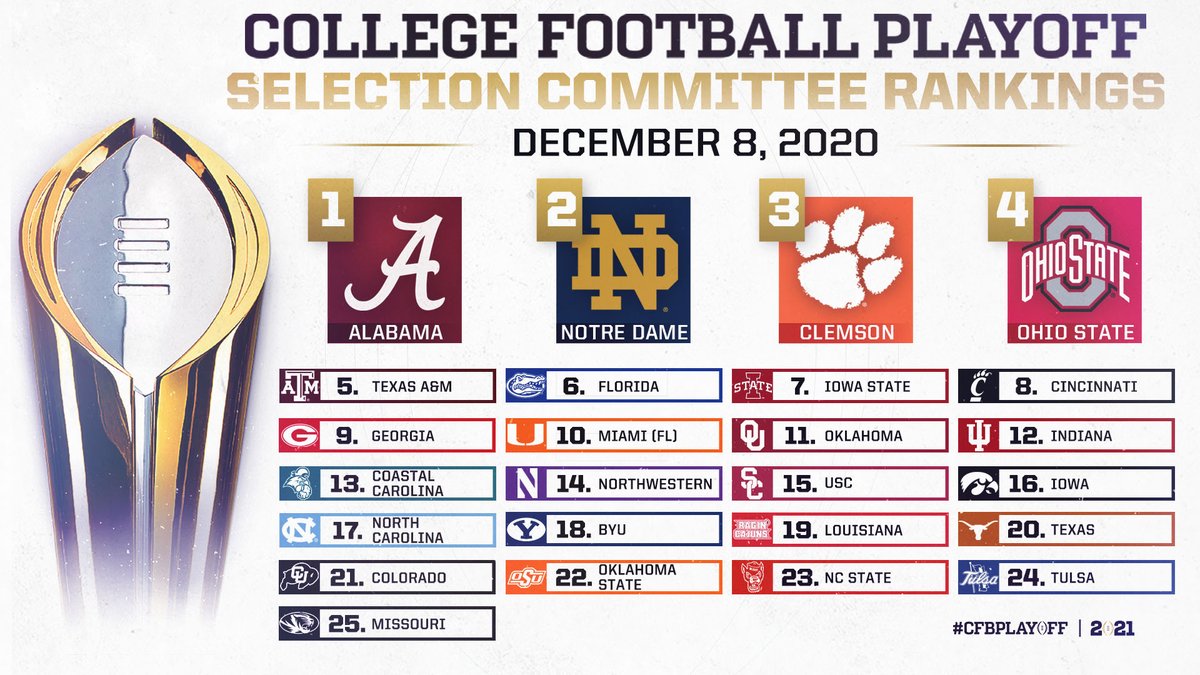 Ohio State is sitting at the fourth seed right now and looks like the same team as last year. Justin Fields has been playing phenomenal once again, and veteran receiver Chris Olave is showing why he is one of the best in the country.
This past week, the Big Ten Conference allowed for Ohio State to be in the Big Ten Championship, while only playing six games–which was not previously allowed. This has caused some controversy that the Big Ten is babying Ohio State since they are the conference's only relevant national champions. 
After falling to Notre Dame in double overtime, Clemson has bounced back and shown that when at full strength, they are dominant. After getting Trevor Larence back, they are destroying the ACC and facing off against Notre Dame in the ACC Championship.
Notre Dame has shown that they are no joke. Veteran quarterback Ian Book has displayed greatness as he has broken many school records this season. Against Clemson, he raised up to the occasion and played remarkably. Since joining the ACC temporarily, they have gone 9-0 in conference play and are head to play Clemson in the ACC Championship.
Bama is back. After star quarterback Tua Tugaviloa had a season-ending injury, the Crimson Tide's playoff hopes were slowly fading and freshman quarterback Mac Jones had to take over. This year, Mac Jones is playing out of his mind. He is 1st in quarterback rating (QBR), fourth in passing touchdowns, and tied for third in passing touchdowns with 27. Not to mention, the wide receiver core and defense is absurd, but the Crimson Tide are favorites for the championship. 
The top 6 have remained unchanged for while now, but that will soon come to an end. 
Both the Atlantic Coastal Conference (ACC) Championship and the South Eastern Conference   (SEC) Championship games have been set in stone. 
Clemson will play Notre Dame on December 19 in Charlotte, North Carolina. Alabama will play Florida in Atlanta, Georgia on December 19 as well. 
These are very key matchups in college football because they have very large playoff implications. There are so many scenarios that can come out of these two games. What would happen if Alabama lost to Florida? What would happen if Clemson beat Notre Dame? What does one do with Texas A&M if Alabama loses?
Texas A&M is ranked fifth now, beat Florida in week three this year on a time expiring field goal, but lost the week before to Alabama. Texas A&M will not be in the SEC Championship because they are in the same division as Alabama. So if Alabama loses, who goes in? Florida, Alabama, or Texas A&M
All of these questions and scenarios will play themselves out throughout December and by the 20th, they will be answered by the College Football Playoff Committee.