The Forest Scout Friday Five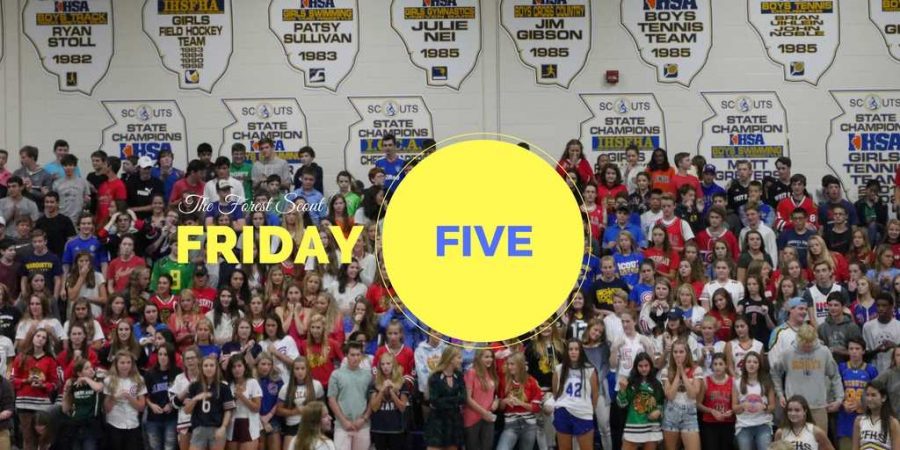 Estimates say that throughout the course of history about 15 billion people have walked this earth. A little less than half, around 7.4 billion, are alive right now. About 330 million currently populate the US of A, and just under 20,000 live in Lake Forest. By comparison, our high school of roughly 1,700 students seems tiny–and still, despite it all, it's hard to be heard. It's no easy feat to make a (positive) name for yourself in high school, regardless of your age or year. With a student body constantly in flux, completely reshuffled every four years, making a legacy that transcends a particular class or year is something that deserves to be recognized.
Yes, there are people who manage to find their voice and they should be celebrated; but, we can't forget those whose power–and ultimately influence–lies in less conspicuous avenues.
We here at The Forest Scout like to celebrate the good and the brave, the positive and the uplifting in this world. We like to acknowledge those who have made their mark and found a way to put themselves out there. With this in mind, we decided to take a good look at our high school: the students, the faculty, and everyone in between. We asked around, reflected on our own experiences at this high school, asked ourselves what it is that makes this high school so special. From the standouts and the leaders of the crowd to the people who are pulling the strings behind the scenes, we want to know what makes Lake Forest High School tick.
As a result, we'll be covering five of these individuals every Friday, and we'd love to hear from you. If you know someone who you think deserves a shout out, shoot us an email at [email protected] with your nomination.
Without further ado, we present to you the inaugural inductees of The Forest Scout Friday Five. 
Introduction written by Grace Scheidler
Etienne Najman: You already know Etienne Najman. You may have seen him riding his bike from west Lake Forest to east Lake Forest regardless of weather conditions, or perhaps have been graced by his outgoing, bubbly personality behind the counter of the concession stand at swim meets or football games. "Everyone knows Etienne," Forest Scout writer and junior Brett Chody mentioned. "His positivity is uplifting. You'd be hard-pressed to find someone with something negative to say about Etienne." Regardless of situational happenstance, however, his overwhelming positivity is clearly the lasting influence he exudes to his fellow classmates, teachers, and other members of the LFHS school community. Not only is Etienne involved athletically as a participant and advocate for the Boys Track and Cross Country teams at the high school, but he has even found a way to share his zeal for simply being seventeen through social media. Etienne's daily 11:11 snapchats help spread the joy of the moment–quite literally–when he keeps his Snapchat streaks alive with his hundreds of friends by sharing his own personal whereabouts when the moment strikes. "Etienne treats you like he already knows you," junior Drew Foley added, "which is a breath of fresh air in the high school when people in different grades can at times seem distant."
Mr. Rickey Myles: Nobody can forget the first time they met Rickey Myles. Or rather, heard him. The introduction usually followed like this: one would be merely a freshman, sitting with their friends in the humming cafeteria of LFHS, enjoying lunch on a seemingly normal Friday afternoon. It would be early September, the first Friday of a home football game–information one knew in the back of their mind, but seemed to be of no importance at 12 in the afternoon.Or at least, that's what it would seem until the bullhorn went off. The freshmen would scream–who would expect a bullhorn to go off in their ears the third week into school? I've seen some literally jump out of their seats, their sandwich falling from their hands as their heads whip around to find the source of the sound that nearly gave them a heart attack.
It wouldn't take long to find: in the center of the cafeteria, holding a large white bullhorn, would be a tall man donned in a navy blue LFHS staff vest and a signature black cap. The sophomores, juniors, and seniors who have seen (and heard) Mr. Rickey Myles before would laugh, the momentary alarm from the horn brushed off, preparing one of the most quintessential, uniquely LFHS experiences the high school has to offer.
While the exact phrasing of Mr. Myles' famed speeches may vary, he always makes sure that we hear this: "LFHS, you have a commitment to excellence!" And for the next 5 minutes, Mr. Myles gives a passionate speech that instills a sense of inspiration and pride in our school, and in ourselves.
For nearly every home football game, Rickey Myles–the Head Custodian of Building and Grounds–can be counted on to give a beyond-spirited, mini pep rally to the students of LFHS every lunch period. And they aren't for the football season only–well throughout the basketball and various other sports seasons, Mr. Myles whips up the school spirit and pushes LFHS to strive for excellence. Undoubtedly a key figure in not only the running of the high school, but in the school spirit and pride of the student body and staff, Mr. Myles is a legend in his own right. It is obvious that he cares deeply for our school, and everyone in it.
And while his bullhorn may scare us witless, we know he tells us to strive for excellence because he knows that we can achieve it.
Emma Johnson: Emma Johnson, unlike some of the others you might see represented in the The Forest Scout Friday Five, isn't necessarily known for her volume. A reserved, yet confident member of the class of 2019, Emma lets her intelligible opinions speak for themselves. "She's the type of person that participates in class, but doesn't do so in a look-at-me sort of way," an anonymous source revealed. "Her thoughts are clearly intelligent, but she isn't showy about it. She's just involved–whether it's class or a club, or even a simply discussion." As a 10th grader, Johnson plays cello for the Lake Forest High School orchestra and is on the leadership team of the Model UN club, all the while balancing Honors level coursework across the board. Clearly, Emma doesn't have any reservations about diving into roles entrenched in responsibility. "There are a lot of times that I forget that she's just a sophomore based on the way she carries herself with such maturity and poise," senior TJ Lucas, a fellow member of Model UN, added. Teachers, like Ms. Laughlin, Emma's freshman English teacher, rave about her writing skills in formal and creative writing alike while her peers are drawn to her Facebook statuses and open letters–which prompt others to think deeply, critically, and intelligently about some of the issues going on in today's world. "She is always open to discussion about things," an anonymous junior noted. "She's very accepting–that's just who Emma is."
Ms. Jen Van Skyock: There's a reason Mrs. Van Skyock writes upwards of 50 junior recs every fall. She knows the ins and outs of high school English and really understands the teenage mind; what it takes to make Shakespeare, or Sophocles, relatable to the average 17-year-old. She shows Tom Cruise flicks to illustrate the themes in Oedipus, but only after everyone in the class has given a monologue–in full toga dress, of course. To get a group of juniors excited not only about public speaking in front of their peers (the horror), but also ancient Greek theater is no easy feat. Junior Isabella Mancini, currently in English 3-H with Mrs. Van Skyock, says, "Mrs. V really gives the English class an atmosphere of fun. She always knows exactly how to balance structure with entertainment." Mrs. Van Skyock knows, especially first period in the morning, that high schoolers are not the most verbal, or willing to share the writing workshops they'd just spent the first twenty minutes of class on. But she makes you want to open up, to share your writing and be proud of it. In addition to this, every month, the most participatory student earns the muffin-of-the-month award, where the student receives a muffin of their choosing, as well as a certificate and a selfie with Mrs. Van Skyock to go up on her Instagram (the best part, naturally). Isabella adds, "She's probably one of the best teachers I've ever had, and she really makes everyone feel welcome and invited." Mrs. Van Skyock speaks to her class like the twenty-five or so (often blank) faces staring up at her are all her best friends, describing anything from her love of Zac Efron and how "bad-ass" Lady MacBeth is, or recalling how anything math-related makes her cringe. But that's what sets Mrs. Van Skyock and her classes (be it 3-H, 3-CP, or the newly resurrected World Fiction senior elective) apart from the rest; simply by virtue of the kind of person she is, and what she does to build one-of-a-kind communities within her classes. Mrs. Van Skyock is first class.
Mr. Robert Bassill: Easily one of the most quotable and musical members of the Lake Forest High School community, teacher and conductor Robert Bassill—though tucked away in the depths of the school's basement in room 085—is always, with few to no exceptions, willing to lend a hand when needed. "One of those guys you just can't dislike," as put by junior violist Megan Szostak, Mr. Bassill actively dedicates his time to assist and guide his students; whether it be through helping with music theory assignments (of which he is continually "understanding and flexible" with), clarifying tricky rhythms or measures of pieces, or simply being a listening ear for students, Mr. Bassill is a famously compassionate and accommodating role model. Effectively imparting advice (for life and music alike!) with good-natured wisdom and a laugh, he is defined as "approachable." Junior Elizabeth Clayton, a student of his 8th period AP Music Theory class, agrees that Mr. Bassill is "the least intimidating teacher (she has) ever had. It's so easy to ask for help and you never feel like he's being condescending." While rehearsals in preparation for concerts can be grueling, the conductor's lighthearted attitude, ceaseless flow of musical knowledge, and unique sense of humor keep students anticipating his class with excitement each and every day. Few can summarize the "blessing that is Bassill" more eloquently than sophomore violinist and pianist Kimie Han: "There are plenty of reasons to love orchestra, but for most of us, the main reason we sacrifice 45 minutes of our day to sit in a very loud and crowded room is because of Mr. Bassill. From his (sometimes concerning yet relatable) jokes, to his obsession with gum, there is no one else I can imagine teaching us in orchestra everyday—nor one with enough patience."
About the Writer
Ghost, Author
Ghost is a section of The Forest Scout that chooses to publish material anonymously in order to increase the depth of their investigative reporting. Ghost...