College Football is Back!
A look at what to expect this season
Sports are back. After months without any sort of live sporting event, they are finally back. Most importantly, football is back, and even more important than that, college football is back. 
There is nothing better than watching college football on a brisk fall Saturday afternoon. Although this season will look different than years past, you should still expect another unpredictable and exciting season. 
The Pac-12 decision to postpone their season and the Big Ten's late start only add to the confusion, as many fans are claiming that Big Ten teams shouldn't get a spot in the College Football Playoff if they play a shortened season. Additionally, many stadiums aren't allowing fans, which makes home field advantage almost pointless, and takes the great atmosphere of college football out of it. Nonetheless, sports fans are grateful that the season is happening, even with these modified rules. 
Before I make my picks for this upcoming season, I would like to tip my cap to Forest Scout alum Joey Goodsir for inspiring me to follow in his footsteps and cover college football this season. So without further ado, here we go. 
ACC
This will be the easiest pick I will have to make all year. It is no surprise that I am picking Clemson to win the ACC once again. With star running back Travis Etienne returning for his senior year, there is no doubt in my mind that Clemson's offense will be just as good as it was last year, if not better. The defense raises some question marks however. Clemson lost a lot on the defensive side of the ball, and will be tasked with some tough decisions on whether to start some true freshman or not. Even with those question marks, Clemson will undoubtedly win the ACC once again, and make another run at a national championship. 
Big 12
The Big 12 has been dominated by the same two teams for the past couple of years, and I don't expect that to change this year. Oklahoma and Texas are by far the two best teams in the Big 12. They both have unbelievable offenses that can put up as many points as needed. In previous years, I would pick Oklahoma to win the conference in a heartbeat, but this year I am torn. Oklahoma will have one of the best offenses in the country once again; however, this time they will be led by redshirt freshman Spencer Rattler. On the other hand, Texas is led by senior Sam Ehlinger, who has much more experience than Rattler. And don't count out Oklahoma State, who has the potential to make a run at the title behind star running back Chuba Hubbard. After taking all of this into consideration, I decided that in college football leadership and experience plays a big role in winning big games, and for that reason, Texas will win the Big 12. 
Big Ten
After many thought this season wouldn't even happen, the Big Ten announced just a couple days ago its plans to start the season on Oct. 24. This pick is nice and easy as well, as the best team in the Big Ten is Ohio State, and they will win this conference with ease. Justin Fields was one of the best quarterbacks in the country last year, and will only be better this season. Ohio State did lose a lot on the defensive side of the ball, but I don't expect that to be a big issue for them. There are many good teams in the Big Ten like Wisconsin, Michigan, Minnesota, but none of them have the talent to keep up with Ohio State, who is looking to make it to the college football playoff for a second straight year. 
SEC
This is by far the most difficult pick to make, as just like every other year, the SEC has so many teams up at the top. With 6 teams in the top 10 in ESPN's preseason rankings, it only makes the choice harder. Alabama seems like the clear option, but after losing star quarterback Tua Tagovailoa and having to start junior Mac Jones, their offense is unpredictable. It's the same story for Georgia, as Wake Forest transfer Jamie Newman opted out of the season, the quarterback spot is still up for grabs. LSU lost almost every starter on both sides of the ball, and would be a surprise team to win the conference. As a Georgia fan myself, I would love to pick Georgia as the winner of the SEC, but I don't see it happening. Florida is on the rise and could win the SEC east and eliminate them, but no matter what happens in the east, I think a surprise team will win it. That surprise team is Auburn, who is returning lots of starters on both sides of the ball, but most importantly, their quarterback is returning unlike any of the other teams. Bo Nix had a great season last year as a true freshman, and I expect him to have an even better season this year, and carry Auburn to the SEC title. 
About the Writer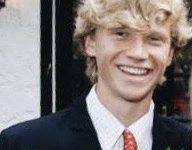 Luke Davis, Sports Editor
Luke Davis is one of the sports editors of The Forest Scout and is a senior at Lake Forest High School. Most of his work is done in the Sports section...