How to Decorate your Dorm featuring Sasha Sklarov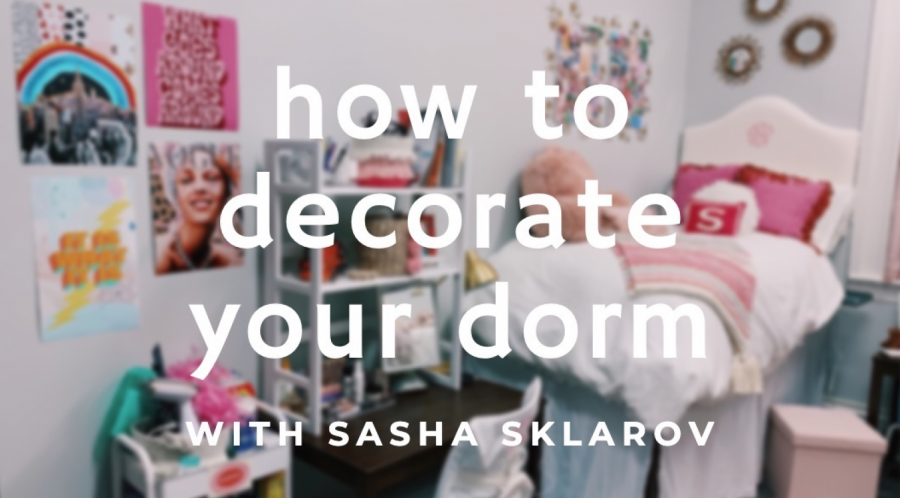 Decorating your dorm is an important aspect of a freshmen's college experience, as it really is your home away from home for the next year of your life. With many of us heading off to college next year, 'How to decorate your dorm' is a series ready to give you inspiration for your future dorm room, with help from students in college currently.
Year: Freshman
College: Elon University
Dorm: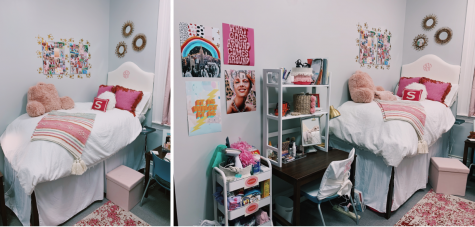 Headboard: Not Just Dorms
Not Just Dorms: Dorm Room Decor
Color: 010
Size: 9929
Duvet Cover: Anthropologie
Main Decorative Pillows: Anthropologie
Sold out
Throw Pillows:
Knit With Fringe Round Throw Pillow White – Opalhouse
Pink Initial Pillow: jonathan Adler 
Sold out
Pink throw Blanket ("Maddie Throw Blanket"): Anthropologie
Sold out
Side Table: Target
Fold Down Loft Tray Dark Gray – Room Essentials
Star Wall Stickers– Gold: Amazon
Pink Fuzzy Backrest Pillow: Nordstrom
Sold out
Bed Skirt: Amazon
Tailored Dorm Sized Bed Skirt – White
Mirrors (Above Bed): Urban Outfitters
Magical Thinking Woven Wall Mirror
Rug: Houzz
Surya Egypt Lara 9'x13′ Pink, Rust Rug
Bedside Bench/Stool: Container Store
(link is to the bench version, not stool (unavailable))
Desk Bookshelf: Container Store
White Solid Wood Stackable Folding Bookshelf
Speaker Mirror: Bed Bath & Beyond
iHome Pro Rechargeable Vanity Speaker Mirror in Silver/Nickel
Storage baskets: Target
White Roller Cart: Target
Three Tier Metal Utility Cart White – Made By Design
(Labels come from Paper source in Highland Park, IL.)
Posters: Redbubble
Lamp: Target
Seat Cover: Etsy
Trash Can: Bed Bath & Beyond
Umbra Skinny 2-Gallon Wastebasket in White 
Extra Storage (Underneath Bed): Target & container store
2-3 plastic mini "dressers" with drawers for clothes

1 plastic "dresser" for towels

1 small shoe rack

1 little basket for snacks

1 big basket for water bottles
Sasha's must haves:
 Attachable small side table. So useful to put your water bottle and phone on while you sleep! Worth $10-15. A 100% must have!

Drawer dividers for socks, smaller clothing items, etc! So useful to keep all your clothes contained while given such small storage. I got some from amazon.

Simple Houseware Closet Underwear Organizer Drawer Divider 4 Set, Gray

Cute little basket for easy access to water bottles! I got a huge bin from Target and put water cases in there for easy grab & go for classes. 

Desk shelf organizer. This saves SO much space on your desk & looks cute to decorate!

Cord wraps: keeps all your cords nice and tidy! I just put it in a bin and kept it all organized because I had SO many.

Silly but paper plates, paper utensils, paper towels! Comes in handy SO much.

Small hand held vacuum! Dorms get super dirty during the day because there is no air circulation and so much movement in such a small space. Definitely recommend a small vacuum!

Drying rack: I got mine from The Container Store! So useful to hang your wet clothes on if you don't want to put them in the dryer!
Sasha's "Ultimate Dorm Checklist," The Forest Scout (2019): 
Stay tuned for next 'How to decorate your dorm!'
About the Writer
CC Carter, In Style Editor
CC Carter is the In Style editor of The Forest Scout and is a senior at Lake Forest High School. This is her third semester writing in journalism, so you'll...