eLFHS: An Unprecedented Time Brings an Unprecedented Version of School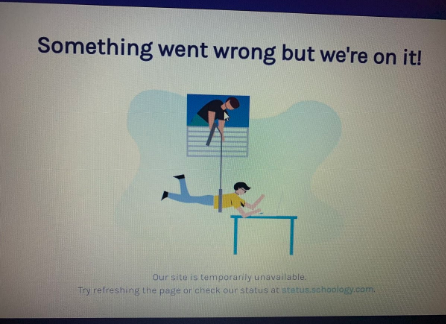 Midway through the final period of class on March 12, the students of LFHS started roaming the halls with confusion, disbelief, and sadness. For seniors, it may have been the last time they ever took high school classes. For athletes, it may have been the last time they got to see their team for that season. And for teachers, it may have been the last time they got to see the students they've seen on a daily basis for the past six months.
In the wake of COVID-19, students and teachers were forced to begin remote learning from their houses for an indefinite period of time, something that nobody has really ever done before.
Remote learning is the alternative to having to extend the school year. With everything based on Schoology so far, students have been keeping up with their work through assignments, projects, and tests — all from home. The expectation of students is to keep up with their daily demands, but on a more flexible at-home schedule. 
This new way of learning has made adjustments to the school's schedule. The week has shifted to having a "Scout Day" on Mondays only and block days Tuesday through Friday. It was even announced on April 1 that Mondays would be non-student attendance until May with the exception of March 13. This would allow for teacher planning days and an embedded emergency day to take place, all under guidance from the Illinois State Board of Education. 
Students are expected to work for no more than 60 minutes on the block days. Each day assignments are supposed to be posted by 8 a.m. and needed to be completed by 4 p.m. 
"
I am so impressed by my students' self-advocacy and adaptability"
— English teacher Sara Dreiling
Students and teachers have had varying opinions on the benefits and struggles of this new way of learning. A change for everyone, it can be a hard adjustment from seven hours of school each day, to only communicating with your classes online. 
"I would say that e-learning has been a different and difficult experience for students and faculty to adapt to, and we are doing a lot of work behind the scenes to be thoughtful about the e-learning experience," Math teacher Blaine Lakin said. "The difficulty with e-learning is its novelty and unfamiliarity. I miss the classroom, and I look forward to getting back to it eventually."
On the other side of the spectrum, however, some teachers are starting to get the hang of the new remote learning situation. 
"After going through for a few weeks now, I think I have found a groove to the whole thing," Science teacher Thomas Galla said. "I think it will be relatively smooth sailing from here."
Some students, however, are feeling questionable about the new remote learning. 
"I honestly don't like it. It can be hard to keep up with all work some days from home," said junior Mary Considine. 
Schoology has been having many issues due to the increased use of the service, often shutting down and preventing students and teachers to communicate the work that needs to be done. The tech team has been working hard to find solutions, but it has been a nuisance for some staff.
"Schoology constantly crashing makes me feel more like tech support than a teacher," said math teacher Nicole Frye.
Students have been set back in the e-learning experience by Schoology, but they seem to appreciate the efforts from their teachers to manage the situation. 
"
My biggest frustration is not being able to see my students. I miss their energy and how much they make me laugh."
— English teacher Jane Eccleston
"Problems with loading and lack of communications are hard. I also feel like the length of classes doesn't fit into our schedule regular schedule. But I'm still able to learn and keep up. I really like the YouTube videos teachers are doing to hear their voice so it feels like I'm learning the same way as I am in class," junior Erin Earls. 
In light of issues with Schoology, some classes are utilizing more communication through emails or other platforms within the limitations set by the district.
"Schoology has been difficult to get my work done in a timely manner. I think Google Meets are really fun though to see classmates and my teachers." said sophmore Lauren Milanik. 
Many teachers have agreed with this silver lining, and have taken advantage of the remote learning situation to reconnect with her students. 
"The brief moments when everything is working and I get to chat with students about math have been the highlights of e-learning so far," teacher Nicole Frye said. 
Although teachers can't see their students in person, some of the teachers are still happy to see their attendance and completion numbers from students very high. 
"I've been really proud of my students for how flexible, positive, and dedicated they're being throughout this experience," said English teacher Jane Eccleston. 
To go along with the high attendance numbers, many teachers are also holding video chats to connect with their students. Science teacher Thomas Galla has taken full advantage of this medium.
"I started using digital office hours which has been a fun way to communicate with my students,"  he said. "Not only to answer their questions, but just to see them and say hi again."
Many students and teachers are just grateful this is a viable option rather than having to extend classes into the months of summer. 
"I believe it to be a beneficial alternative rather than having to lengthen the school year," said Senior Lilia Simick. 
Teachers, however, recognize the challenging situation at hand, and many have been pleased with the work they are seeing from their students having to adapt to a new way of learning so quickly. 
"I am so impressed by my students' self-advocacy and adaptability" English teacher Sara Dreiling said.
Teachers around the school are going through this problem together. They miss seeing their students in person and are eagerly awaiting their time to see them again. 
"My biggest frustration is not being able to see [my students]," said English teacher Jane Eccleston. "I miss their energy and how much they make me laugh."
However, they seek to improve every single day despite the inevitable challenges.
"Much of my teaching philosophy has to do with students learning from one another," Dreiling said. "This has been challenging to replicate in an online format, at least in a genuine way, but we're going to keep trying new ideas until we see what works best."