New Media Holds Sky High Expectations for MMEA Seven Day Challenge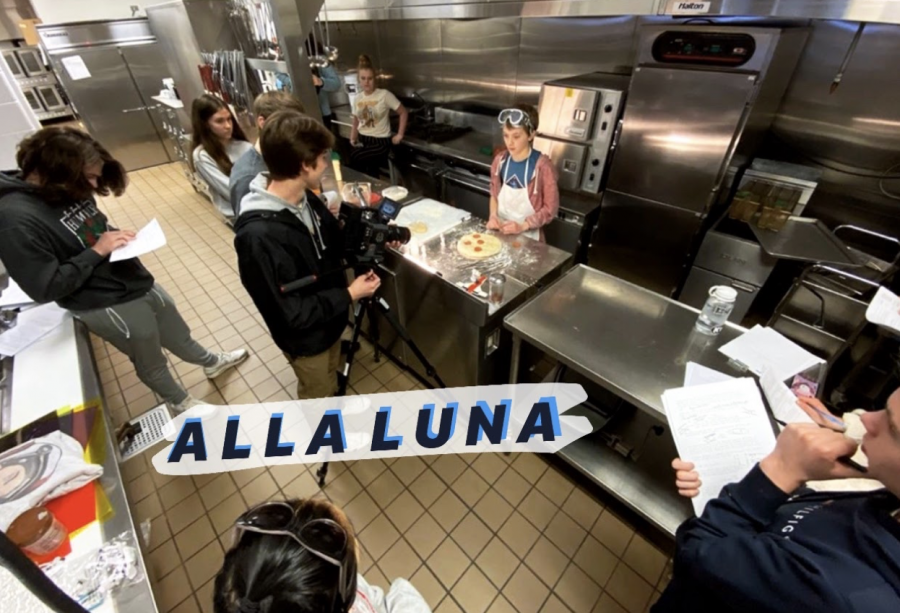 Luca Ferentino is the epitome of a dreamer. At just 11 years old, the young boy knows more about space than most astronomers, and his passion for the intergalactic world fuels his desire to explore life on a daily basis. With a Lego astronaut at his side and a pair of goggles practically glued to his forehead, the young boy refuses to "get his head out of the clouds," for he knows that one day he will be up there among the stars. 
But perhaps the most fascinating quality of little Luca Ferentino is that he does not exist; he is merely a character in LFHS' New Media department's latest film: "Alla Luna." 
And he was only developed over the span of a week.
As a whole, "Alla Luna" tells the heartwarming story of a boy who pursues his love for space in the same way that his parents want him to pursue their family business–a local pizzeria. While Luca isn't overly eager to run errands for the restaurant, he turns every task into a space adventure, constantly adding miscellaneous objects to his rocket-like-bicycle along the way. As his parents begin to express their frustration with Luca's absent mindedness, a customer's infatuation with the little boy's creativity forces them to reconsider their stances and offer their support for his passion. 
The film was the team's final submission for the 2020 Midwest Media Educators Association's Seven Day Challenge. The annual event asks students to craft and produce a seven minute short film based on two specific props and one line. This year's essential components were as followers: the integration of a cheese grater, a bicycle, and the iconic "Back to the Future" line "Roads? Where we're going, we don't need roads".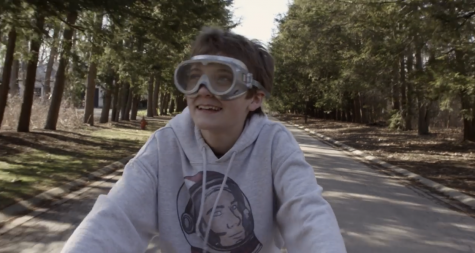 Senior Producer Isabel Wiesner "literally laughed out loud" when she first read these requirements.
"I thought MMEA was going crazy," Wiesner said. "But it ended up being a really fun challenge to figure out how to creatively use these guidelines to propel our story."
The unit spent hours on a Tuesday night filling a blank whiteboard to the brim with ideas on where to take this story. Countless concepts were developed within the session, but none drove home a vivid and compelling narrative like the tale of "the little space boy" did.
At that point, the crew had already been assigned their production roles and began working on their respective jobs. Department head Mr. Steve Douglass selected the positions from a pool of juniors and seniors, assigning junior Yana Savitsky to Director, Wiesner to Producer, junior Ian Jackson to Lead Editor/co-Director of Photography, junior Jack Frede to co-Director of Photography, and senior Caroline Zeeman to Production Coordinator, among many others as displayed in the credits. 
For Savitsky, this would be the first time Douglass had entrusted her with a role of such magnitude, and she was prepared to give it her all in order to lead the team to success. 
"This opportunity is about the closest you can get to creating professional media at the high school level," Savitsky said. "It felt absolutely surreal to find out I would be in charge of that."
After the writers established the basis of the script, the team began their casting process. New Media typically turns to students in their own department or interested students around LFHS to portray teens in their films, but this script called for a completely different ensemble: an 11 year old boy, his two parents, and a local neighborhood woman.
Luckily, the crew found eighth grader Ryder Gamrath, and the rest of the cast soon fell into place.
Douglass not only appreciated Gamrath's diversity as an actor, but his flexibility and enthusiasm towards tackling the hectic three day shooting schedule.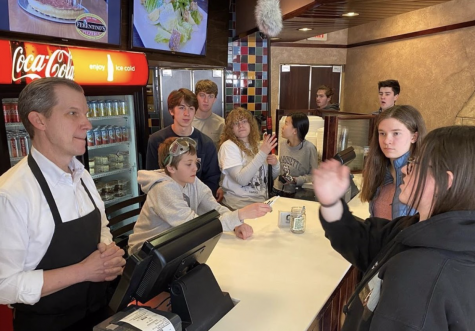 "Ryder made it clear in his audition that he would be a character we could easily build our script around, not only due to his range, but his willingness to ride a crazy bike, make pizzas, and give away his whole weekend to the production–all with a smile," Douglass said.
The film features an array of familiar areas around Lake Forest, including the school's cafeteria, the newly renamed Visconti Cheese Market, and, of course, Ferentino's Pizzeria. For Savitsky, shooting on these locations not only began to solidify her confidence with the script, but it motivated her to work more closely and collaboratively with her department. 
"We developed this sense of everyone, including the actors, finally coming together," said Savitsky. "With that, my entire vision just completely unfolded in front of my eyes. A director is only as good as the team that they are working with, and I certainly couldn't have accomplished anything without my team."
But, of course, Savitsky's certainty in the project did not come without complications along the way.
"There were times during the shoot where things didn't go as planned," she said. "Filming in Visconti's was a challenge because everyone kept walking by the camera as if they had no idea we were trying to shoot a scene. We even filmed a shot with Ryder in the wrong outfit, so we had to get him changed and film it all over again!"
Weisner describes the most charming part of the film to be the final shots inside a local treehouse. With Luca surrounded by his parents as they gaze up at the makeshift "stars" on the ceiling, "audiences are reminded of how comforting it is to know that the ones you love are willing to support you."
With a final product as inherently delightful as "Alla Luna", New Media hopes to bring home their third win from the MMEA Seven Day Challenege since they began participating in 2016. Despite whatever criticism the team receives from the judges, Douglass is confident that this will be a learning experience like no other.
"On the very first day, I set the expectations for everyone involved by simply reiterating the values of New Media- that we keep the big picture priorities of the story first, serving others before ourselves in collaboration while always looking to grow with your next level of challenge," Douglass said. "This is all built on the ethos of failing quickly and acting humbly when we do. The video wasn't perfectly executed, and neither was the project, so we look forward to the next opportunity to do it again, no matter the judge's results, because the process is just as important as the end product."
And as for the crew's lead actor, Gamrath describes the process as "unlike anything he has ever done before."
"One of my friends even told me to put their name in my Oscar speech," Gamrath said with a chuckle. 
For now, the status of the MMEA Film Festival is up in the air due to the COVID-19 pandemic. Fortunately, if you're looking to add another film to your "Quarantine Binge List", you can check out "Alla Luna" below from the Lake Forest High School New Media Facebook page:
About the Contributor
Kailey Albus, Editor-in-Chief
Kailey Albus is so excited to be returning to The Forest Scout - this time as an Editor-in-Chief! A senior at LFHS, you may find her in the choir room,...