'Go Cats, Baby': Junior Mac Uihlein Commits to Play Football at Northwestern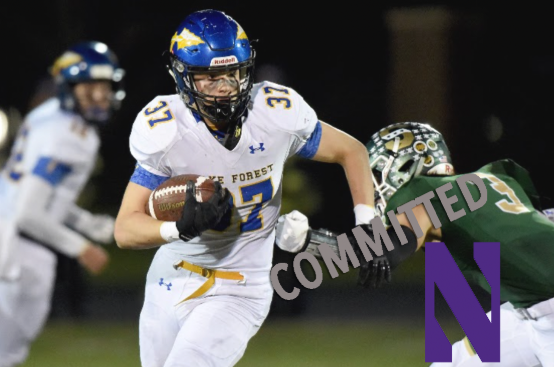 Mac Uihlein will be staying close to home for college.
25 minutes close.
The junior abruptly put an end to his football recruitment last Friday night, pledging to the Big Ten school that's just a straight shot from his house down Skokie Highway: Northwestern.
Uihlein, a consensus four-star recruit, has been pursued by top Division I schools since the end of his sophomore season. He chose the Wildcats over seven schools, including Wisconsin, Purdue, Minnesota, and Virginia.
He woke up Friday morning with his mind made up. Before officially announcing his commitment, he informed Scouts head football coach Chuck Spagnoli and later, a pair of coaches from Minnesota and Virginia. 
Just after 9 p.m., Uihlein revealed his decision on Twitter, replete with a graphic and a caption that would make head coach Pat Fitzgerald proud.
Go Cats 💜 pic.twitter.com/p3VlAFD9a3

— Mac Uihlein (@MacUihlein) April 4, 2020
"It's a relief to get the recruiting processes over with," said Uihlein. "It's a hard decision, it's a lifetime decision so it's obviously hard as a 17-year-old to make a decision like that."
"Go Cats, baby."
Uihlein did his due diligence in evaluating every college, taking campus and gameday visits to his top schools and four to Northwestern alone. 
The Wildcats officially extended a scholarship offer to Uihlein last spring, and since then he's been in near-constant communication with Associate Head Coach Matt MacPherson, linebackers coach Tim McGarigle, and Fitzgerald.
"I'm super happy with my decision," Uihlein said. "I'm super excited to be a Wildcat over the next four years after my senior year, and it's a huge relief that the process is over with."
After being called up to the Varsity team at the end of his freshman season, Uihlein has been a continual presence under the bright Varsity Field lights. A leader in the locker room and a constant occupant of the West Campus weight room, Uihlein plays both ways as a starting linebacker and situational running back.
The 6'1", 205-pound Uihlein anchored a defense that shut out its opponents three times last season, leading the Scouts with 111 tackles, 14 tackles for loss, and two sacks. In addition to his defensive workload, Uihlein scored eight touchdowns as a running back in goal line and short distance situations.
Considered the fifth-best player in the state of Illinois and tenth-best inside linebacker in his class, Uihlein is the biggest prize of the 2021 recruiting class for Northwestern thus far. According to 247Sports, he's the 11th-highest rated recruit to commit to the program this century.
At Northwestern, Uihlein will seek to add to a legacy of notable linebackers to wear purple over the years, including current senior and NFL draft prospect Paddy Fisher, Indianapolis Colts starter Anthony Walker, and Fitzgerald.
He downplayed comparisons to those Wildcat greats: "I've got a long way to go before any comparison can be made between Paddy Fisher or Pat Fitzgerald and myself, obviously those guys were all amazing," said Uihlein. 
But with his success in just two years at the Varsity level, it's fair to envision Uihlein going on to have a celebrated career in Evanston.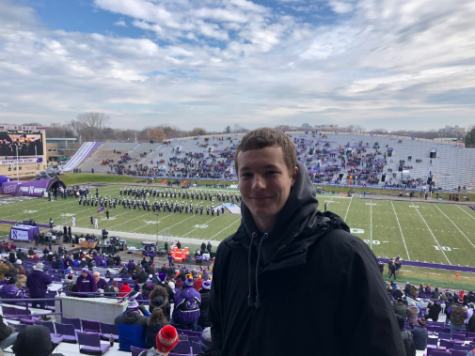 Uihlein joins a bevy of other Lake Forest athletes to commit to Northwestern as of late, including two-time tennis State Champion Kiley Rabjohns and soccer players Nicole Doucette, Ingrid Falls, and Bridget Mitchell.
Uihlein is the first Scouts football player to take their talents to Evanston since quarterback P.J. Carollo, a 2011 graduate. Uihlein is the highest-rated player from the Lake Forest program since Rylie Mills, a fellow four-star who decamped for Notre Dame in January.
Uihlein is uniquely suited to be a Big Ten athlete; his father Brian was a standout Lake Forest High School tennis player who went on to play at Minnesota. The younger Uihlein may not share his dad's proficiency with a racquet, but he is a standout on the lacrosse field, where several teammates and coaches have pegged him as a legitimate Division I prospect despite picking up the sport in eighth grade.
Northwestern does not have a men's lacrosse team, so Uihlein's two-sport status will end after his senior year of high school. But Uihlein isn't too concerned about that; if he spends any time thinking about his high school legacy at all, it's about the football team's postseason success.
With an early playoff exit in 2018 and the heartbreaking loss in the state quarterfinal game to Deerfield last year under his belt, Uihlein has his sights set on a deep postseason run. Now, with recruiting off his mind, he can finally expend all of his energy into his on-field performance.
"It'll be awesome to root for the Wildcats this [fall]," he said. "It'll be great to focus on my senior season and leading our group of guys."
Ever since his announcement, Uihlein has been inundated with congratulatory messages, from friends and relatives to coaches and trainers. 
He's fielded the tidings with grace and humility, but naturally, when you're responding to dozens of the same messages, fatigue starts to set in. 
So in an impromptu display of Northwestern-level ingenuity, Uihlein started copy and pasting the caption from his Tweet: "Go Cats 💜"
"I think I sent that text about 100 times," he said.
At Northwestern, he'll be tantalizingly close to home, but between his schoolwork, social life, and football-related activities, Uihlein doesn't imagine he'll be coming home to Lake Forest too often. But on game days in the fall, Lake Forest will be coming to Evanston.
"Some massive Uihlein family tailgates are in the future that I don't think Northwestern realizes."