Scouts Hold Off Grayslake Central's Furious Comeback, Win 45-42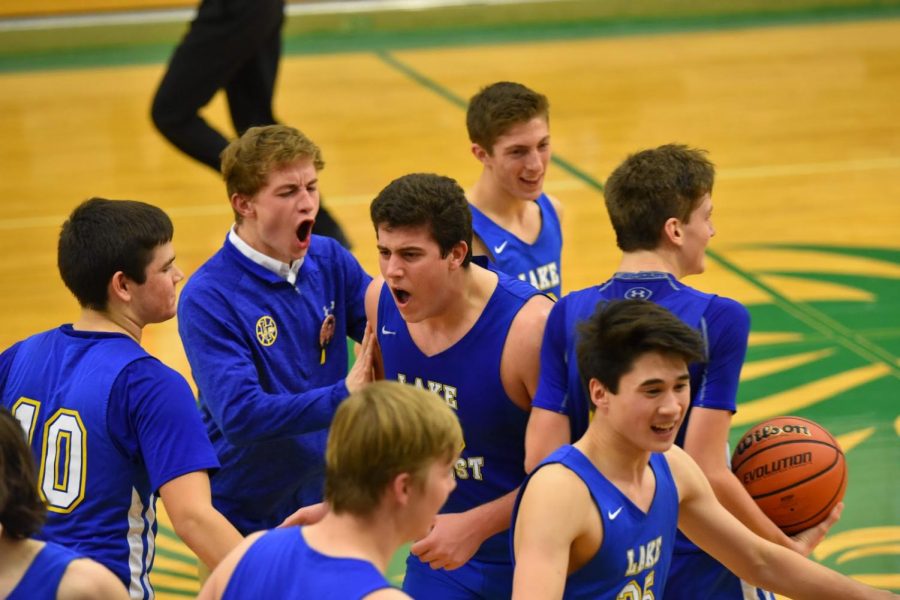 GRAYSLAKE, Ill. ― The Scouts marched into Grayslake Central High School on Wednesday night and came out swinging with a dominant first-half defensive performance, limiting the Rams to just four points in the first quarter and jumping out to an early 12-point lead, it seemed that they had the game under control.
However, that lead evaporated quickly as the Grayslake Central Rams unleashed a scoring barrage to take the lead in the fourth quarter. 
All of the momentum had seemed to have shifted in favor of the Rams, until Stephen Young delivered.
With defenders swarming, Young battled through contact to score a bucket and earn a foul shot. He turned toward the bench and emphatically pumped his fist, breathing new life into a dormant Lake Forest crowd. After sinking the free throw to give the Scouts a 39-37 lead with just under three minutes remaining, the Scouts faithful was immersed back onto the game with a roaring "D-Up" chant. 
The Rams then responded with a quick 5-1 scoring run to send their groutfit-clad student section into a frenzy. With time dwindling, the Scouts crossed midcourt and put the ball in the hands of their stellar freshman, Asa Thomas. Thomas, who had been held to just four points, calmly stepped up and drilled a dagger three to give the Scouts a 43-42 lead.
Senior Grant Kaus came up clutch with a steal on the next possession and subsequently sunk a free throw to ice the game. Young tacked on another more free throw in the final seconds to seal the 45-42 win.
Coming off a blowout loss to New Trier, Coach LaScala was pleased with the effort the Scouts displayed in the bounce-back win. 
"They did a great job," remarked LaScala. "They were physical and aggressive. I think the biggest thing was we came out with energy. The last couple of games we haven't come out with great energy, so I really liked that."
Young paced the Scouts in scoring with 12 points, while senior guard Andy Brown was right behind him, finishing with 10 points on 3-of-3 shooting. In addition to the strong offensive showing, Young played a large in role in limiting the effectiveness of the Rams' 6-foot-7 center Grant Hardy, holding him to just eight points. The senior also took his fifth charge of the season, furthering his lead among the team in an important statistical category.
"Our main goal was just to push him out of the lane, and [to not] let him get any inside catches. And then if he started to make a move we'd have someone come down and put a double [team] on him so he couldn't really get to the rim," said Young. 
Sophomore Cade Nowik continued his strong play on both ends of the floor, notching nine points, three rebounds, and one steal. At the end of the third quarter, Nowik drained a floater and then sprinted back down the floor and broke up a pass before plowing into the Grayslake student section to help quell the Rams' run. Fellow sophomore Leo Scheidler drained a three-pointer to score his first career Varsity points. 
Grayslake Central falls to 0-5 in coach Brian Centella's first season, while Lake Forest moves to 3-2 ahead of Saturday's home opener against reigning Mid-Suburban League East champions Prospect.
About the Writer
Ryan Peters, Editor
Ryan Peters enjoys playing darts and cornhole, doing crossword puzzles, sitting outside, and listening to 93XRT.