Scouts Fall Flat Against New Trier; Finish 4th in Thanksgiving Tournament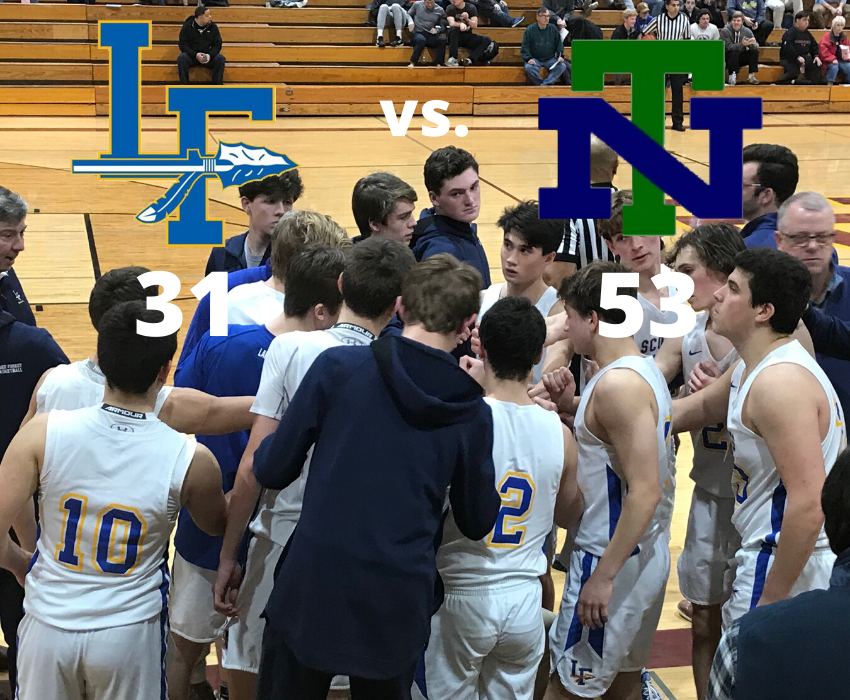 As the Scouts trudged off the court following a 53-31 loss to New Trier in the third-place game of the Loyola/New Trier Thanksgiving Tournament, one message was clear: this game was a wake-up call.
It was a wake-up call to the tough challenges that await in the loaded North Suburban Conference. The Trevians, fresh off a 24-win season, were a solid team that play a similar level of basketball to the likes of conference foes such as Stevenson, Libertyville, and Mundelein.
"Most teams in our conference, like Libertyville and Stevenson, are very similar to New Trier, so that was a good test for us to give us a sneak peek of the NSC. So we've got to take that game and work harder in practice and work like we're playing New Trier every day and get stronger, better, and more mentally tough," senior forward Stephen Young said.
New Trier (3-1) moved the ball efficiently, finding open players on backdoor cuts for lay-ups and open threes. All-Tournament selection John Carragher totaled 11 points for the Trevians, while Scouts forward Asa Thomas was limited to just five points.
"We talked about their backdoor cuts for two full days and they still hit us in the mouth to start the game," added Young. 
Lake Forest (2-2) was unable to get any easy looks on the offensive end, as they were held to a mere four points in the first quarter. On the other end, New Trier was lights-out from downtown, knocking down eight three-pointers.
"We just didn't do the simple stuff, and a lot of it was defense, like rebounding with two hands, cutting hard. Just as a team, we weren't there," said senior guard Grant Kaus.
Despite being denied a spot on the podium by New Trier, several bright spots arose from the tournament for the Scouts. Freshman forward Asa Thomas proved he was worth the hype, earning an All-Tournament selection. On Tuesday, in a close 58-50 loss to the eventual tournament runner-up, St. Ignatius, Thomas led the Scouts with 22 points, and sank a clutch floater to force overtime.
Sophomore guard Cade Nowik provided strong outside shooting and scrappy defense throughout the tournament, including two late steals and subsequent lay-ups against New Trier.
In a 53-48 win against Bulls Prep on Wednesday, junior Jack Malloy notched 17 points and snagged 10 rebounds, while senior Andy Brown added nine points and dished out four assists. The Scouts led comfortably for the majority of the game, but Bulls Prep stormed back late in the fourth quarter to cut it close. Nevertheless, the Scouts held on and scraped out a win, setting up the third-place matchup against New Trier.
The young Scouts were certainly awoken to the high-caliber basketball they will face throughout the season, and will use this experience as an opportunity to refocus themselves and grow ahead of conference play.
"[We're] just improving all the little things and doing them consistently because when we get [to that point] we'll get a lot better," avowed Kaus.
The Scouts have an opportunity to bounce back on Wednesday in a matchup with the Grayslake Central Rams. Tip-off in Grayslake is at 7 p.m.
About the Writer
Ryan Peters, Editor
Ryan Peters enjoys playing darts and cornhole, doing crossword puzzles, sitting outside, and listening to 93XRT.