2019-20 NBA Preview (Western Conference)
Which Duo Leads Their Team To The Finals In The West?
AJ Shaw, Sports Editor
October 25, 2019
As per usual, the Western Conference is expected to be a total blood bath this season as many of the top teams have only gotten stronger, and with the demise of the Golden State Warriors dynasty due to the loss of key free agents and injuries to star players, the West looks to be wide open for the first time in five years. Let's take a look at who will be making noise this season.
ALSO DON'T FORGET TO CHECK OUT THE PREVIEW FOR THE EASTERN CONFERENCE!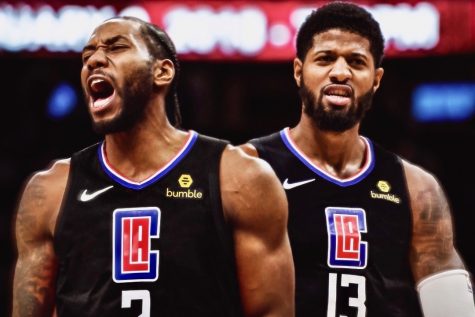 1. Los Angeles Clippers
Record Last Season: 48-34, 8th in West, Lost 2-4 in WCQF to Golden State
Record Prediction: 66-16 (+18)
Key Additions: Kawhi Leonard, Paul George, Maurice Harkless, Patrick Patterson
Key Losses: Shai-Gilgeous Alexander, Danilo Gallinari
Team MVP: Kawhi Leonard
Player to Watch: Landry Shamet
The popular pick of everyone to win their first NBA championship in franchise history, the Clippers have the talent and depth necessary to be the class of the NBA this season. While they did lose veteran shooter Danilo Gallinari in the Paul George trade and promising point guard Shai-Gilgeous Alexander as well in the same deal, George and Leonard will be complemented by Patrick Beverley, Lou Williams, Montrezl Harrell, and Landry Shamet, meaning that they will still have a large percentage of their core from last season that helped them win 48 games and make the playoffs. Anything less then one of the top 2 seeds in the Conference this year will be a major, major disappointment for the Clippers.
2. Denver Nuggets
Record Last Season: 54-28, 2nd in West, Lost 3-4 in WCSF to Portland
Record Prediction: 60-22 (+6)
Key Additions: Jerami Grant
Key Losses: Isaiah Thomas, Trey Lyles
Team MVP: Nikola Jokic
Player to Watch: Michael Porter Jr.
After narrowly missing the playoffs the prior two seasons, the Nuggets finally made it past that hump last season, winning 54 games and claiming the second seed in the Western Conference standings. Lead by All-Star center Nikola Jokic, one of the most exciting offensive players in the league, and lightning quick point guard Jamal Murray, the Nuggets will look to be back at the top of the standings again this season. Jerami Grant was added in an offseason trade with Oklahoma City, as he will provide rebounding and outside shooting (career-high 5.2 rebounds per game and career-high 39.2% shooting from three last season). But the big question this season will be Michael Porter Jr. The team's first round pick in 2018, the former high school standout has battled a back injury the last two seasons, his freshman year in college at Missouri, and his first season in the NBA. MPJ showed some flashes offensively during the preseason, albeit in limited minutes. While he will most likely get a minutes restriction this season, it will be interesting to see how the former #1 player in the country performs at the NBA level this season if he stays healthy.
3. Houston Rockets
Record Last Season: 53-29, 4th in West, Lost 2-4 in WCSF to Golden State
Record Prediction: 57-25 (+4)
Key Additions: Russell Westbrook, Tyson Chandler, Eric Gordon (re-signed)
Key Losses: Chris Paul, Kenneth Faried
Team MVP: James Harden
Player to Watch: Clint Capela
After a very disappointing season last year, at least to their standards, the Rockets enter the season with the hope of finally making that jump to be the team to make it to the NBA Finals out of the Western Conference. After reported rifts between Chris Paul and James Harden, the team decided to move on from the veteran Paul, shipping him and a bevy of draft choices to the Oklahoma City Thunder for former MVP Russell Westbrook, putting him back with former teammate James Harden. While the Rockets due have the most exciting offensive backcourts in the game, the team defense still looks shaky and that could end up being a problem for them in the postseason again, just like that was in their last two playoff trips. If the Rockets want to be the team to beat in the West this season, they will have to have some sort of a competent defense if they want to hang in with the top powers of the Conference.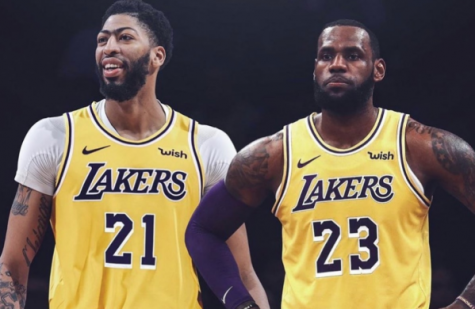 4. Los Angeles Lakers
Record Last Season: 37-45, 10th in West, DNQ
Record Prediction: 54-28 (+17)
Key Additions: Anthony Davis, Danny Green, Rajon Rondo (re-signed), JaVale McGee (re-signed)
Key Losses: Brandon Ingram, Lonzo Ball, Josh Hart, Tyson Chandler
Team MVP: Anthony Davis
Player to Watch: I Honestly Don't Know, Just The Entire Roster
If there is any team under a closer microscope in the NBA this year, it is the Lakers. This is the season that this team needs to prove that they have the team to make the playoffs. You have LeBron, you have AD, you still have Kyle Kuzma. If this team fails, which there is a chance of that occurring, management needs to be fired immediately, and I am not joking.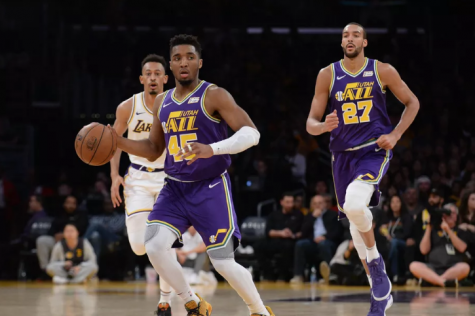 5. Utah Jazz
Last Season's Record: 50-32, 5th in West, Lost 1-4 in WCQF to Houston
Record Prediction: 52-30 (+2)
Key Additions: Mike Conley, Bojan Bogdanovic
Key Losses: Jae Crowder, Ricky Rubio, Derrick Favors
Team MVP: Donovan Mitchell
Player to Watch: Emmanuel Mudiay
One of the more solid and consistent teams in the NBA over the past few seasons, the Jazz bolstered their solid roster in the offseason by adding point guard Mike Conley Jr. in a trade from the Memphis Grizzlies. While they did lose some nice role players in Jae Crowder, Ricky Rubio, and Derrick Favors, this team still has the talent, and by adding a great player in Conley, the team could make some noise in the West this season if one of the top teams bows out early.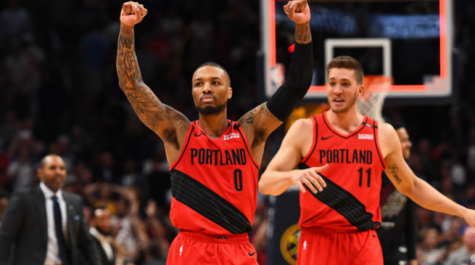 6. Portland Trail Blazers
Last Season's Record: 53-29, 3rd in West, Lost 0-4 in WCF to Golden State
Record Prediction: 49-33 (-4)
Key Additions: Hassan Whiteside, Pau Gasol, Rodney Hood (re-signed)
Key Losses: Enes Kanter, Al-Farouq Aminu, Seth Curry, Jake Layman, Meyers Leonard
Team MVP: Damian Lillard
Player to Watch: Anfernee Simons
The Trail Blazers made a surprising run to the Western Conference Finals last season, only to be swept by the Warriors. Overall, this team has some nice players, lead by the star backcourt of Damian Lillard and C.J. McCollum, but they lost a ton of depth during the offseason in Enes Kanter, Meyers Leonard, Seth Curry, and Al-Farouq Aminu to name a few, which will force them to rely on many young players like 2018 first round picks Anfernee Simons and Gary Trent Jr. While Portland is a playoff team, it won't be as strong a year as the past couple of seasons.
7. Golden State Warriors
Last Season's Record: 57-25, 2nd in West, Lost 2-4 in NBA Finals to Toronto
Record Prediction: 46-36 (-11)
Key Additions: D'Angelo Russell, Willie Cauley-Stein, Shabazz Napier, Klay Thompson (re-signed)
Key Losses: Kevin Durant, DeMarcus Cousins, Andre Igoudala, Jordan Bell
Team MVP: Stephen Curry
Player to Watch: D'Angelo Russell
The Warriors are a hard team to put a gauge on. After becoming the NBA's next dynasty with three titles in four years, the team lost to Toronto in the NBA Finals, and then lost a big chunk of their championship core, mainly Kevin Durant, leaving in free agency for the Brooklyn Nets. They were able to bring back Klay Thompson, but he most likely miss the entire season after suffering a torn ACL in the Finals last season. Until he returns, D'Angelo Russell will fill in at that position and will be the player to watch until Thompson returns for the Warriors. Otherwise, with questions facing the team, it will be hard to see this team near the top of the conference this season.
8. San Antonio Spurs
Last Season's Record: 48-34, 7th in West, Lost 3-4 in WCQF to Denver
Record Prediction: 44-38 (-4)
Key Additions: DeMarre Carroll, Marco Belinelli, Trey Lyles
Key Losses: None
Team MVP: DeMar DeRozan
Player to Watch: Dejounte Murray
While the Spurs are no longer near the unit that they were five years ago when they won their 5th NBA championship since 1999, they still have a formidable core of experienced and youth. DeMar DeRozan had a solid season in his first year with the Spurs last year, and players like LaMarcus Aldridge and Rudy Gay are here to bring scoring and experience. The big question for the Spurs this season will be who is their point guard going forward? Dejounte Murray is probably the most likely candidate for that distinction, but he suffered a torn ACL and missed all of last season, so it'll be questionable how he will look this season. Derrick White is also a consideration, but he hasn't proven his worth in the league yet. Until a full decision is determined, expect veteran Patty Mills to be that stopgap until one is ready to take that role.
9. Dallas Mavericks
Last Season's Record: 33-49, 14th in West, DNQ
Record Prediction: 43-39 (+10)
Key Additions: Seth Curry, Dwight Powell (re-signed), Kristaps Porzingis (re-signed), Boban  Marjanovic
Key Losses: Trey Burke
Team MVP: Luka Doncic
Player to Watch: Kristaps Porzingis
When it comes to exciting teams in the West, the Mavs are one of those teams. Lead by the two unicorns of Luka Doncic and Kristaps Porzingis, the Mavs have a very realistic chance of getting one of the bottom 3 playoff spots this season. Besides re-signing Porzingod and role players like Dwight Powell, as well as adding veterans like Seth Curry and Boban Marjanovic, the Mavericks have not only assembled the international All-Star squad, but they have the core to be successful in the West. The battle between them and San Antonio for that final playoff spot will be an absolute bloodbath, and will give NBA 2000s fans nostalgia of their great playoff battles from the mid 2000s for those two squads.
10. Sacramento Kings
Last Season's Record: 39-43, 9th in West, DNQ
Record Prediction: 41-41 (+2)
Key Additions: Harrison Barnes (re-signed), Trevor Ariza, Cory Joseph, Dewayne Dedmon
Key Losses: Willie Cauley-Stein, Alec Burks
Team MVP: Buddy Hield
Player to Watch: Marvin Bagley III
Last spring, I profiled this team and talked about how exciting this roster is and how much promise they have going forward. Led by their young backcourt of point guard De'Aaron Fox and Buddy Hield, the Kings look to end the NBA's longest playoff drought this season. However, this team is still really a piece or two away from making some serious noise in the West. However, Sacramento is not the most sought after town when it comes to where NBA Free Agents want to go, and if they want to add a third star next to Fox and Hield, they may need to move some young assets in order to do that. Hopefully, they are able to find that third superstar either through a trade or maybe on that current roster and finally, after years of turmoil and struggles, finally make the playoffs.
11. New Orleans Pelicans
Last Season's Record: 33-49, 13th in West, DNQ
Record Prediction: 39-43 (+6)
Key Additions: Zion Williamson (draft), Brandon Ingram, Lonzo Ball, Josh Hart, J.J. Redick, Derrick Favors
Key Losses: Anthony Davis, Julius Randle, Elfrid Payton
Team MVP: Zion Williamson
Player to Watch: Jahlil Okafor/Lonzo Ball
I really love watching this team play, and yes mainly that is because of Zion, but with the young core that has been assembled by new GM David Griffin in the offseason, there is a lot to be excited about in New Orleans this season. Unfortunately, Zion is out for the first 6-8 weeks with a torn meniscus, so this team may struggle to get off the ground running without him the lineup, and that is why that hurts their playoff chances. Once Zion does return however, watch out NBA, because this team is going to be really, really scare to play against.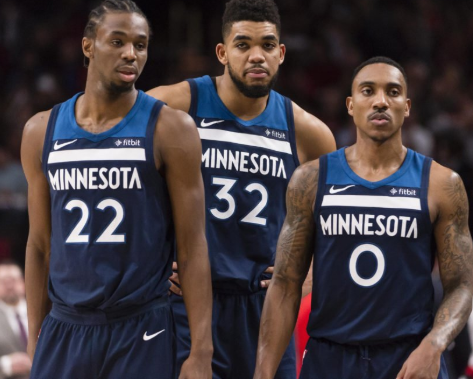 12. Minnesota Timberwolves
Last Season's Record: 36-46, 11th in West, DNQ
Record Prediction: 34-48 (-2)
Key Additions: Jarrett Culver (draft) Shabazz Napier, Jordan Bell, Noah Vonleh, Jake Layman
Key Losses: Taj Gibson, Dario Saric, Jeff Teague, Derrick Rose
Team MVP: Karl Anthony-Towns
Player to Watch: Jarrett Culver
Remember when the Wolves were supposed to be the next NBA dynasty? Yeah, those were some good times. In the past three years, no team has folded like a lawn chair out in the rain like the Wolves have. They went from having three legitimate superstars to basically one superstar and a bunch of blah around him. The team seems to be focused on bringing in youngsters who have yet to prove themselves like Noah Vonleh and Jordan Bell. Unfortunately, outside of KAT, there isn't much to be excited about from the T-Wolves entering this season.
P.S. Thanks for LaVine and Markkanen!
13. Oklahoma City Thunder
Last Season's Record: 49-33, 6th in West, Lost 1-4 in WCQF to Portland
Record Prediction: 27-55 (-22)
Key Additions: Chris Paul, Shai-Gilgeous Alexander, Danilo Gallinari, Mike Muscala
Key Losses: Russell Westbrook, Paul George, Jerami Grant
Team MVP: Chris Paul
Player to Watch: Shai-Gilgeous Alexander
Okay Thunder fans, here is a hot take for ya, you ready? It was time to blow it up. I'm sorry, but when you fail to win an NBA title with the amount of talent that you had over the past 10 years, it is time to go in a different direction as a franchise. "But the Warriors. Durant left. The West is too powerful!" ZIP IT! You guys know it was time and you do have some nice young guys to build around, mainly Shai-Gilgeous Alexander, who was acquired in the Paul George trade, and a lot of draft picks going forward. Unfortunately, the rebuild is going to take a while, so just be ready for that Thunder fans going forward.
14. Memphis Grizzlies
Last Season's Record: 33-49, 12th in West, DNQ
Record Prediction: 25-57 (-8)
Key Additions: Ja Morant (draft), Jonas Valincunas (re-signed), Jae Crowder, Andre Igoudala, Josh Jackson
Key Losses: Mike Conley Jr.
Team MVP: Ja Morant
Player(s) to Watch: Ja Morant/Jaren Jackson
While this team is not making the postseason this year, there is a lot to be excited about when it comes to the Grizzlies. The team's past two first round picks, Jaren Jackson and Ja Morant, will be the team's future for the next decade, and it will be interesting to see who the team adds around them. Otherwise, a lot of rebuilding will be occurring in Memphis this season.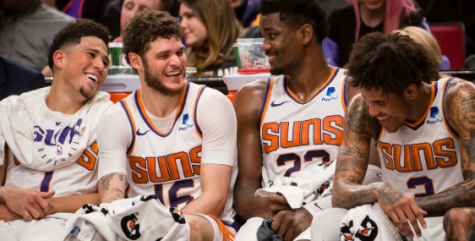 15. Phoenix Suns
Last Season's Record: 19-63, 15th in West, DNQ
Record Prediction: 21-61 (+2)
Key Additions: Ricky Rubio, Dario Saric, Kelly Oubre Jr. (re-signed), Frank Kaminsky
Key Losses: Josh Jackson, Jamal Crawford, Richaun Holmes, Troy Daniels
Team MVP: Devin Booker
Player to Watch: Mikal Bridges
This is simply not a good team. They have two young superstars in Devin Booker and DeAndre Ayton and some decent young role players, but the team just isn't in a position to compete yet, nor or are they in a position to have a record anywhere in the vicinity of .500. The goal for this year is mainly find a way to get Ayton and Booker a third star, whether that is through a trade, free agency next season, or the NBA Draft. However until then, like I have stated with many rebuilding teams, it is going to be a long year for the Suns and their fans.