2019-20 NBA Preview (Eastern Conference)
Who's Coming Out Of The East This Year?
AJ Shaw, Sports Editor
October 22, 2019
After a very eventful NBA offseason in which many star players moved to different teams, the 2019-20 NBA Season is just about to get underway as all 30 teams look to battle for the Larry O'Brien Trophy. 
Today, we are going to preview the Eastern Conference and preview what to expect from those 15 teams. So without any further fanfare, let's get into the preview, shall we?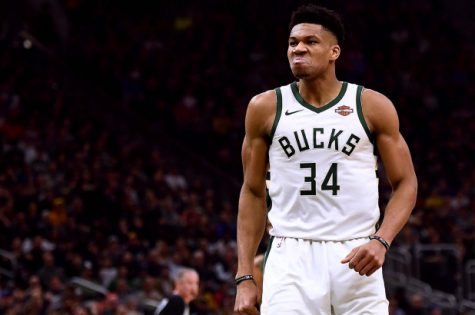 1. Milwaukee Bucks
Record Last Season: 60-22, 1st in East, Lost 2-4 in ECF to Toronto
Record Prediction: 58-24 (-2)
Key Additions: Robin Lopez, Wesley Matthews, Khris Middleton (re-signed), Brook Lopez (re-signed)
Key Losses: Malcolm Brogdon, Nikola Mirotic
Team MVP: Giannis Antetokuompo
Player to Watch: Sterling Brown
Coming off one of the best seasons in franchise history, the Bucks enter this season with one goal in mind. That goal is to win an NBA championship. The Bucks did lose some key depth pieces in forward Nikola Mirotic and guard Malcolm Brodgon, so it is going to be up to some of the young players on the Bucks to fill in those holes. Youngsters like Sterling Brown, Donte DiVincenzo, and D.J. Wilson may get more minutes this season to fill those spots and should be players to watch for Milwaukee this season.
2. Philadelphia 76ers
Record Last Season: 51-31, 3rd in East, Lost 3-4 in ECSF to Toronto
Record Prediction: 57-27 (+6)
Key Additions: Al Horford, Josh Richardson, Tobias Harris (re-signed)
Key Losses: Jimmy Butler, JJ Redick
Team MVP: Joel Embiid
Player to Watch: Ben Simmons
This is the season where if the Sixers want to prove they're the real deal, this has gotta be the year. The team is still lead by All-Stars Joel Embiid and Ben Simmons, and Tobias Harris and Al Horford have been added to give them a solid supporting core around the two stars. The Eastern Conference is going to essentially come down to between them or Milwaukee, and with the talent on Philly's roster, there should be zero excuse if this team fails to get one of the top 2 seeds.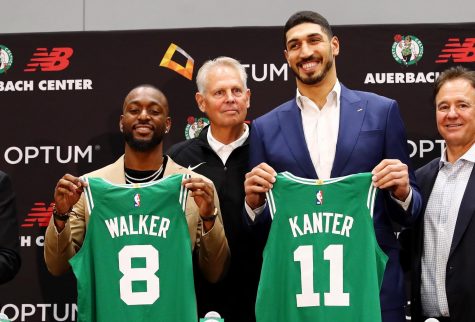 3. Boston Celtics
Record Last Season: 49-33, 4th in East, Lost 1-4 in ECSF to Milwaukee
Record Prediction: 55-27 (+6)
Key Additions: Kemba Walker, Enes Kanter
Key Losses: Kyrie Irving, Al Horford, Terry Rozier, Marcus Morris Sr.
Team MVP: Kemba Walker
Player to Watch: Jayson Tatum
After a year full of drama last season, the Celtics let go of many key pieces from their roster like Kyrie Irving, Al Horford, and Terry Rozier to name a few and brought in big pieces in Kemba Walker and Enes Kanter to replace them. While adding Walker is nice, and he is hands down the best player on the Celtics roster, the microscope is going to be on Jayson Tatum and Jaylen Brown this season. Both are incredible talents, but neither has fully broken out into the All-Star caliber talents that fans and even themselves project them to be. If the Celtics can stay drama free this season, this team will be at the top of the conference and a serious contender for the NBA Finals.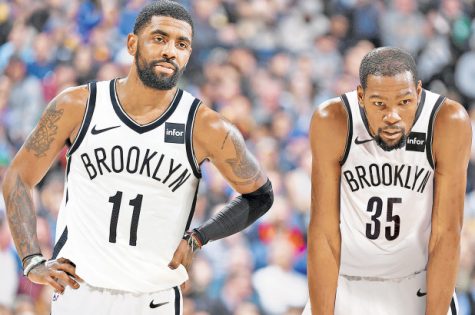 4. Brooklyn Nets
Record Last Season: 42-40, 6th in East, Lost 1-4 in ECQF to Philadelphia
Record Prediction: 53-29 (+11)
Key Additions: Kyrie Irving, Kevin Durant (will miss the entire season with achilles injury), DeAndre Jordan, Taurean Prince, Wilson Chandler
Key Losses: D'Angelo Russell, DeMarre Carroll, Jared Dudley
Team MVP: Kyrie Irving
Player to Watch: Jarrett Allen
After many years of painful rebuilding and bottom of the league finishes, the Nets finally made the playoffs last season as a 6th seed before bowing out to the 76ers in the first round. Typically, after a nice season like the Nets had last season, young teams will look to fill their depth and try to get stronger for the next season, but the Nets decided to go all-in as in the first hours of free agency, they signed top free agents Kyrie Irving and Kevin Durant and brought in DeAndre Jordan, spending close to $300 million amongst the three players. While Durant will miss the entire season with an Achilles tear, the Nets have plenty of depth at every position, and Irving is a much better point guard then D'Angelo Russell. The Nets can either have a great year or fall apart due to Durant's injury and other factors, but the expectation for this team should be a spot in the postseason come April.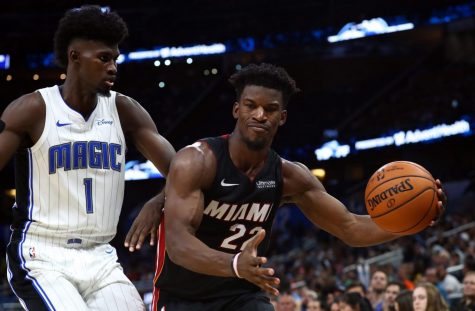 5. Miami Heat
Last Season's Record: 39-43, 10th in East, DNQ
Record Prediction: 46-36 (+7)
Key Additions: Jimmy Butler, Meyers Leonard
Key Losses: Dwayne Wade (retirement), Josh Richardson, Hassan Whiteside
Team MVP: Jimmy Butler
Player to Watch: Tyler Herro
Miami had an interesting offseason. After narrowly missing the playoffs last season, the team said goodbye to long-time star Dwayne Wade and went out and replaced him with Jimmy Butler, who is already on his third team in the last three seasons! The team did lose Hassan Whiteside, their best defensive player and rebounder, but Bam Adebayo should be a nice replacement entering his third season in the league. Erik Spolstra's job may be on the line if the team struggles this year, so it'll but up to Butler and Miami's young players to come through if they want to make a run in the East this year.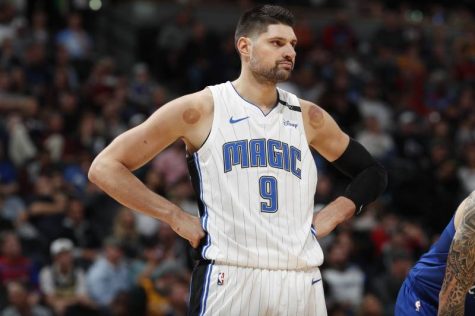 6. Orlando Magic
Record Last Season: 42-40, 7th in East, Lost 1-4 in ECQF to Toronto
Record Prediction: 43-39 (+1)
Key Additions: Nikola Vucevic (re-signed), Al-Farouq Aminu
Key Losses: None
Team MVP: Nikola Vucevic
Player(s) to Watch: Jonathan Isaac/Mohamed Bamba/Markelle Fultz
Like the Nets, the Magic ended a lengthy playoff drought last season before bowing out in the first round to the eventual NBA champion Raptors. However, unlike Brooklyn, the team didn't make big moves in free agency, only bringing back All-Star Nikola Vucevic and adding veteran winger Al-Farouq Aminu. The biggest key for the Magic will be their young players this season. Jonathan Isaac and Mohamed Bamba, the team's first round picks in 2017 and 2018, have battled lots of injuries since joining the league, and will need to stay healthy this season for their development. But the big question surrounding Orlando is Markelle Fultz. Fultz, the No. 1 overall pick in 2017, has failed to stay healthy due to a nagging shoulder injury since his first day in the league, and when he has been on the floor, he has failed to produce at the rate that was expected of him entering the league. It would not be surprising to see Orlando fall back this year with lots of questions facing the roster, but if they can put together a solid, injury-free season, this team will be a playoff team for sure.
7. Toronto Raptors
Last Season's Record: 58-24, 2nd in East, NBA Champions
Record Prediction: 41-41 (-17)
Key Additions: Marc Gasol (re-signed), Rondae Hollis-Jefferson
Key Losses: Kawhi Leonard, Danny Green
Team MVP: Pascal Siakam
Player to Watch: OG Anuoby
Congratulations, you guys finally won the NBA Championship. The problem is, it doesn't look like you guys will be repeating this season as your superstar, Kawhi Leonard, left in free agency and the rest of your roster is not going to give you the same production as he gave you. Hopefully, Pascal Siakam can continue to produce at the level he did last season, and Kyle Lowry and Marc Gasol can return to 2015 form. Otherwise, this season is going to be a long one for Raptors fans.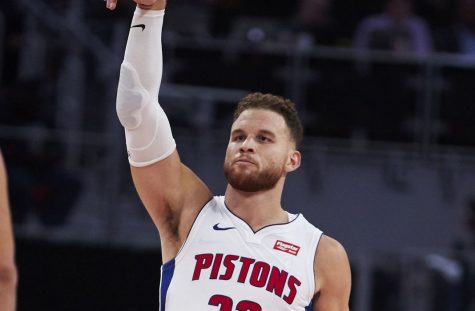 8. Detroit Pistons
Last Season's Record: 41-41, 8th in East, Lost 0-4 in ECQF to Milwaukee
Record Prediction: 41-41 (–)
Key Additions: Derrick Rose, Joe Johnson, Markieff Morris, Tony Snell
Key Losses: Jon Leuer, Wayne Ellington
Team MVP: Blake Griffin
Player to Watch: Thon Maker
This is a very confusing team to put a finger on. On paper, they have a solid roster, but they lack something, and it is really hard to figure it out. Do they not have the guards necessary to compete? Is their bench the main issue? Are the decisions made by former head coach and executive Stan Van Gundy hurting this team's future? Whatever the answer may be, the Pistons will remain in the same mediocrity until something happens to change the fate of their franchise. Otherwise, it is going to be an up and down year for Pistons fans and their players.
9. Indiana Pacers
Record Last Season: 48-34, 5th in East, Lost 0-4 in ECQF to Boston
Record Prediction: 38-44 (-10)
Key Additions: Malcolm Brogdon, Jeremy Lamb, T.J. Warren
Key Losses: Darren Collsion (retirement), Bojan Bogdanovic, Thaddeus Young
Team MVP: Domantas Sabonis
Player to Watch: T.J. Leaf
This team would easily be a playoff team if it weren't for the injury to All-Star Victor Oladipo. The Pacers are still unsure of when he will return and until he is able to play again, the team will have to rely on young big men Domantas Sabonis and Myles Turner. Fortunately, the team's guard situation isn't a walking trainwreck as the offseason additions of Malcolm Brogdon and Jeremy Lamb will provide nice work on the offensive end until Oladipo inevitably returns. This team could be a playoff team if they can stay consistent, but it is hard to expect that when the team struggled mightily when Oladipo went down last season.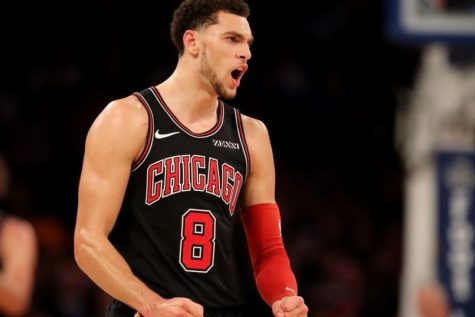 10. Chicago Bulls
Last Season's Record: 22-60, 13th in East, DNQ
Record Prediction: 36-46 (+14)
Key Additions: Coby White (draft), Thaddeus Young, Tomas Satoransky, Max Strus
Key Losses: Robin Lopez
Team MVP: Zach LaVine
Player(s) to Watch: Wendell Carter/Coby White/Lauri Markkanen
The Bulls have a lot of questions entering this season as well as a lot of promise. Zach LaVine and Lauri Markkanen look to lead the Bulls to the playoffs after back to back 50-60 loss seasons. Other players like Otto Porter, Thaddeus Young, and Tomas Satoransky are on-board to provide a veteran presence for the young players. However, the main focus for the Bulls will be the development of their young players like Coby White and Wendell Carter. If the Bulls can mainly stay healthy, then they will be in contention for one of the final playoff spots in the Eastern Conference this season.
11. Atlanta Hawks
Last Season's Record: 29-53, 12th in East, DNQ
Record Prediction: 32-50 (+3)
Key Additions: De'Andre Hunter (draft), Vince Carter (re-sign), Jabari Parker
Key Losses: Kent Bazemore, Dewayne Dedmond
Team MVP: Trae Young
Player to Watch: Kevin Huerter
Like the Bulls, the Hawks have a very nice young core of players, led by point guard Trae Young. The team also added De'Andre Hunter in last year's draft, who will provide two-way play on the wing. Other youngsters like Kevin Huerter, John Collins, and Cameron Reddish also have promising futures and should be players to watch throughout this season. While the Hawks are still far away from a playoff team, there is a lot to be excited about in the ATL.
12. Washington Wizards
Last Season's Record: 32-50, 11th in East, DNQ
Record Prediction: 27-55 (-5)
Key Additions: Thomas Bryant (re-signed)
Key Losses: Bobby Portis, Tomas Satoransky, Trevor Ariza
Team MVP: Bradley Beal
Player to Watch: Rui Hachimura
This team is very infuriating to watch. Three years ago, the Wizards looked like one of the top teams in the conference, but since then, the team has battled injuries and inconsistent play. Last year was a walking nightmare for the club, as star point guard John Wall tore his Achilles and the team struggled mightily the remainder of the season. The biggest issue for the Wizards organization is the direction that they're going in. Does this team have enough to compete? Are they are going to tear it down and rebuild? A lot of questions face this team and until they're answered, this is going to be a long year for Wizards fans and players.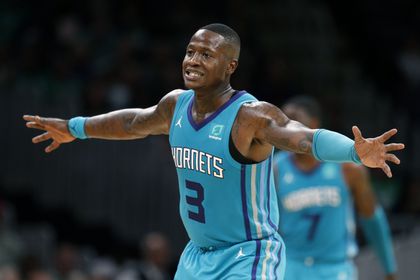 13. Charlotte Hornets
Last Season's Record: 39-43, 9th in East, DNQ
Record Prediction: 25-57 (-14)
Key Additions: Terry Rozier
Key Losses: Kemba Walker, Jeremy Lamb, Frank Kaminsky
Team MVP: Terry Rozier
Player to Watch: Terry Rozier
After losing the best player in franchise history over the past offseason, not much is expected from the Hornets. The biggest keys for this season will be seeing if Terry Rozier is a worthy replacement for Walker and if their young players like Miles Bridges and Malik Monk are worth the real deal. Otherwise, it should be a year of rebuilding for Charlotte.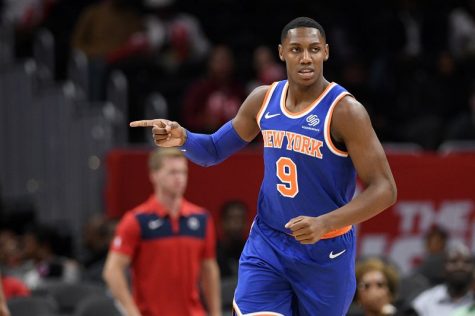 14. New York Knicks
Last Season's Record: 17-65, 15th in East, DNQ
Record Prediction: 23-59 (+6)
Key Additions: R.J. Barrett (draft), Bobby Portis, Taj Gibson, Julius Randle, Marcus Morris
Key Losses: DeAndre Jordan
Team MVP: R.J. Barrett
Player to Watch: R.J. Barrett
Despite drafting a potential franchise face in R.J. Barrett in the NBA Draft, it was otherwise a very disappointing offseason for the New York Knicks as they failed to acquire one of the many superstars that they were rumored to be getting for months. Fortunately, the team did add some quality veteran depth in free agency and they have many young players like Mitchell Robinson, Allonzo Trier, Kevin Knox, as well Barrett who have promising futures. This year should be focused on how those guys develop and hopefully sooner rather than later, the Knicks can return to contention in the Eastern Conference.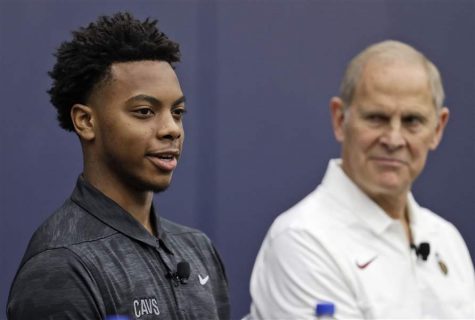 15. Cleveland Cavaliers
Last Season's Record: 19-63, 14th in East, DNQ
Record Prediction: 21-61 (+2)
Key Additions: Darius Garland (draft)
Key Losses: None
Team MVP: Darius Garland
Player to Watch: Collin Sexton
Not much to see here, just a bunch of bad contracts still on the books from the LeBron James era, but their is a lot of promise surrounding the young players like 2018 and 2019 first round picks Collin Sexton and Darius Garland. However, outside of them there isn't much to be excited about. Come back in a few years and maybe the Cavs will be back to 2016 form for all we know.
And that is the Eastern Conference preview. Come back tomorrow and look at the Western Conference preview once it is released!