Thanksgiving Crafts
Hang on for a minute...we're trying to find some more stories you might like.
Thanksgiving is around the corner, which means that the majority of next week will be spent with close friends and family. Despite Thanksgiving only being one day out of the week, we have five days off from school, which gives plenty of time to travel, make plans, and prepare for Thanksgiving day. But on the rest of the days when there's nothing to do, grab your friends and family and spend some quality time with them by trying out the following activities and/or crafts!
Bubble Wrap Sun Catchers
Things you need:
Bubble Wrap

Green construction paper

Googly eyes

Multi-colored markers
This is an easy and simple craft if you want to decorate your windows for the autumn season. Take some bubble wrap and cut it in the shape of a corn cob. Then, cut the green construction paper in the shape of the corn husk. Glue them together, and you're basically done! Add some googly eyes and color for some finishing touches on the corn, and draw whatever shape of mouth you'd like. You can take away or add any steps you'd like to make your perfect corn sun catcher.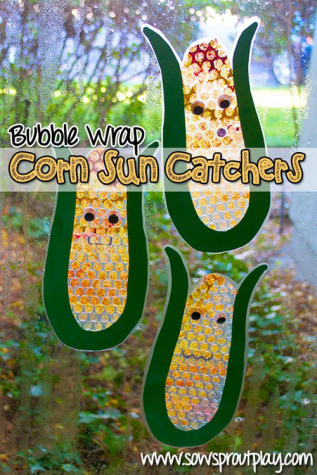 DIY Cookie Pilgrim Hat
Things you need:
Regular & Fun-Size Reese's

M&Ms

Icing
This is a fun and simple dessert you can make for your family, friends, or anyone you want to give a simple treat to. First, unwrap your regular and fun size Reese's. Then 'glue' them together using some (preferably yellow) icing. Make sure the fun size one is flipped over when you're sticking it to the bigger one. Lastly, to top off the sweet treat, add an m&m to replace the gold buckle on pilgrim hats. After that, you're all finished! Add any designs or decorations you want to make it your own.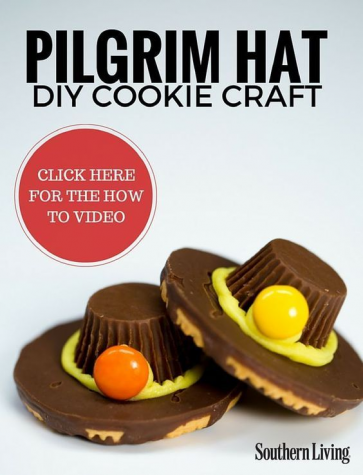 Fall Teepees Food Craft
What you need:
Plain ice cream cone

Pretzel sticks

Melted chocolate

Sprinkles
The picture is kind of self explanatory, but the first step in this is to take your cone and break the tip off. This is so you have space to put the pretzel sticks. Then, dip the wider end of the cone in melted chocolate and roll it in your sprinkles. That way the sprinkles stick to the cone, Then, put the melted chocolate on the broken tip of the cone and cover that in sprinkles as well. Lastly, fit as many pretzel sticks into the smaller hole on the end of the cone. Now you're finished with your food craft! Like before, add any designs you'd like.