Club Feature: Latin Club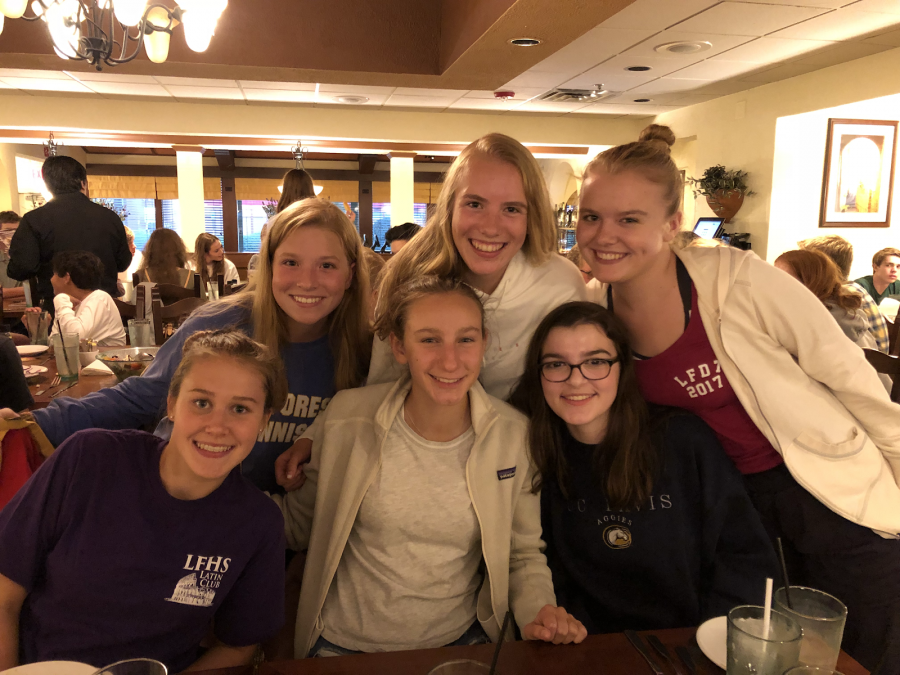 At LFHS, there are many different clubs and organizations that bring a group of together and create what many would call a family within the school. After being around for 30+ years, Latin Club members have shown a constant appreciation and love for the club over their four years in high school.
"I am proud of the strong and consistent commitment to Latin Club," Latin teacher Ariel Landvick said.
Thursday night, Latin Club had their first event; their Fall Banquet at Olive Garden. They had their highest numbers at the dinner compared to the past few years with 60 students in attendance, all elated for the coming year and what it will bring. Every table had a bubbling conversation.
"There is no such thing as a strange face," said senior JD Collins, a current AP Latin student and member of Latin Club.
Sarah Markee, a current junior at LFHS and Latin 3H student, was very excited for the kick off to Latin Club as well as the school year. She always enjoys her time at with the people involved in Latin.
"We can all relate to each other and it is always a fun time to talk about our lives and Latin in general," said Markee
Throughout the year, Latin club has three big events; the dinner at Olive Garden, Saturnalia and Trivia Night. Saturnalia, an ancient Roman holiday, involved masters dining with their slaves and was a predecessor to Christmas. Both Collins and Markee are anticipating this holiday come winter.
Another greatly anticipated event that is taking place this week, is the reveal of the yearly Latin Club t-shirt. The t-shirt includes a fun quote in Latin that the majority of the members can understand and relate to. A past year's t-shirt stated "I have 99 problems and the ditch is all of them," relating to the Cornelius family and their endeavors in Ecce Romani.
This coming summer, Latin Club will be making its tri-annual trip to Italy, which Landvick is looking forward to, as well as Collins and Markee.
"The very best thing is just seeing the awe on their faces when they go 'I can't believe I am here'," Landvick said while looking through pictures from past years. "What teacher doesn't want to give students the best experience of their life?"
About the Writer
Susanna Noble, Staff Writer
Susanna Noble is a current junior who enjoys spending her time at Lake Forest High School playing badminton and performing with the school band as a flute...