The Forest Scout Friday Five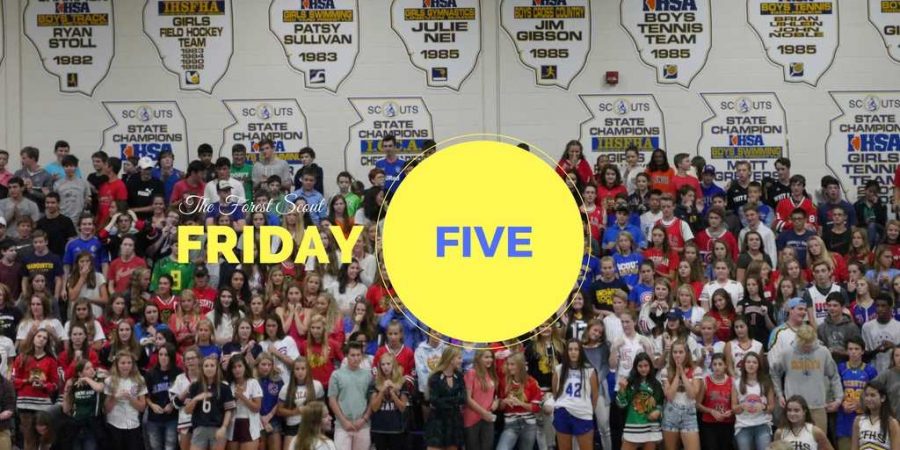 The Forest Scout Friday Five is a weekly segment that celebrates five people making a distinct, profound, and positive difference in the Lake Forest High School community. To visit our most recent installment, click here. To recommend a student, teacher, support staff, or community member for inclusion in The Forest Scout Friday Five, please email [email protected]
Senior Sarah Larimer always sees the glass half-full.  Be it in the classroom during a discussion or in badminton amongst her teammates, her positivity and persistence drives everyone around her to be their best.
"Sarah is very passionate about every subject and loves to learn," said fellow senior Meghan Krieg.  "She inspires a lot of people with her dedication and makes others want to succeed. Since freshman year, she has been engaged in many school extracurriculars and sports and even now continues to impact the LFHS community."
"Sarah is a wonderful classmate and an even better friend!" remarked senior Charlotte Moore.  "We've gone to the same school since our elementary days, so I've gotten to know her pretty well throughout the years.  She is a great person to talk to. Sarah always offers such great insight and perspectives to the topic being discussed.  I remember in our sophomore year in English with Mr. Ruda; she'd always share her opinion on the text we read, and would willingly argue with just about anyone in the class.  Sarah is an extremely smart and passionate person, and I love being around her!"
As the trumpet section leader in the band, Sarah leads her important section with jokes and a great sense of humor.  She takes the music seriously and she works her hardest to lead by example. Sarah pays attention and gives her energy to the task at hand–and the energy that she gives is always positive.
Academically, Larimer pushes herself.  She is an active participant in class discussions, and her assignments are done not only accurately, but also with integrity and precision.
If there's anything about Sarah that strikes people outright, it's her contagious smile and "how are you?"  They may seem small, but it is surprising how much of a difference they make on the days of individuals, be it in the hallway, in the classroom, or in the community.  Her positivity is definitely one of the brightest hues in the colors of the LFHS community.
Freshman year is tough time for any student.  By focusing on trying to find one's way around to tackling new and challenging classes, it's hard to be unique and stand out as a confident and positive individual.
However, even in her first three days of high school, freshman Margherita Zaramella has done just that.  She has made a splash quite literally as a member of the JV swim team, and she has also contributed time to the high school band, playing the clarinet.
Described by her sister as "super bubbly," and "always positive," it's almost impossible to see Margherita without a smile.  "She is one of the greatest people I know–yes I am her sister, but she is also my best friend," junior Carla Zaramella said of her younger sister.  "She's passionate about everything that she does. It's actually something that our parents always say: if you're going to do something, you have to do it well, or just don't do it.  She really thinks about that and takes it into consideration every time she does something. I am the proudest older sister."
Even Margherita's swim coach Cindy Dell had glowing remarks.  "[She] is a super fun girl who is constantly smiling! Her personality is contagious and she has a great outgoing personality!"
Margherita is heavily involved in the band program and it is evident that her energy makes those around her more comfortable and relaxed.  She has a spark that not many people, regardless of age, are willing to share. Those in her clarinet section laugh along with her, and when she smiles, they do as well.
Sure, every one of us has our bad days.  But even on hard days, follow Margherita's attitude.  Do well, smile, and put positive energy in all that you do.  Margherita Zaramella is going to have a greatly positive impact on our school community–she's already doing just that.
Hi, I'm JD O'Keane, football player and student body president.
That's what one might hear when JD O'Keane introduces himself. JD exudes confidence and friendliness that is contagious.  Anyone can go to JD when in need to talk, in need of a ride to practice, in need to help you out, or in need to send you the homework from your class missed. JD is a friend indeed.
When junior Kathryn Hardy was asked if she knew JD O'Kean, her immediate response was, "I mean, who doesn't know him? He's the Student Body president!" She later added that she took Biology with him and he was always "on top of everything in bio, a super involved guy, and very hardworking." Catherine Greub, who took Chemistry with JD said, "He always has a joke to say or funny comment to add into conversation. He's my best friend and I always feel welcome when I am in his presence."
While JD shows his undeniable dedication to his classmates in school, you can find him protecting our Scouts on the field. During math class, Matthew Garrigan made it a point to whisper the best he could, "He's really nice and caring about all the guys around him and the team." Junior punter Kai Kroger added, "I love JD; he works hard, and though he wanted to be playing on defense, he still gives 110% on offense, and he is just a fun guy to be around!"
JD is not only Student Body president and a great leader, but he is always ready to make new friends. When current senior Trevor Jackson walked into Lake Forest High School, he felt "very out of place" being from Maryville, Tennessee. Jackson explained O'Keane walked up to him and "introduced himself and was very friendly."
Those are the kind of people we need representing our high school! Keep it up, Mr. President!
While sophomore Charlie Valentincic's passion for golf is undoubtedly what he's most known for, anyone who knows Charlie can attest to his cheerful and welcoming attitude toward others. Whether it's in the halls, on the course, or anywhere in between, Chuck is always up for a quick laugh.
"I've known Charlie since 3rd grade and he never fails to make me laugh," shared classmate Flynn Bradley.
To simply earn a spot on the storied golf program at LFHS is impressive in itself, but Charlie's hard work has propelled him to a top position on JV this year. Specifically, in a home tournament earlier this week, he led the charge for the Scouts with a one-over 37 – the low score of the day.
Sophomore Will Webb, another golfer for the Scouts this year, explained, "It isn't simply Charlie's natural skill that makes him such a great player. His mental toughness is off the charts, and I've never seen anyone spend so much time working to improve their game."
To summarize, if you're looking for Charlie, head down to Lake Bluff Golf Course and you'll almost always find him there practicing.
An experienced player of Charlie's caliber in many cases would choose to stay away from struggling freshmen, but Charlie does just the opposite.
"He was great to have around during those first few weeks of practice," a freshman golfer told TFS. "Charlie made my high school transition a lot of fun." In fact, this theme was echoed by most newcomers to this year's team, and with a 30+ roster (including a practice squad), this is no small accomplishment. Charlie simply enjoys getting to know others who share his love for the game.
Aside from golf, Charlie also played for baseball and intramural basketball through LFHS. This trifecta takes enough time in itself, but Chuck still manages to fill his school day with rigorous courses; the likes of AP Seminar, English 2 Honors, and PSGA contribute to Charlie's incredibly busy schedule. That being said, nothing can obstruct Charlie's endless pursuit of the perfect golf swing.
When walking the halls in LFHS, it is difficult to find a more vibrant student than  senior George Schoettle.
George's work ethic, attitude and personality are exemplary, and he does a wonderful job setting an example for his peers in and out of school. George's well-rounded nature can be seen through his incredible talent on the lacrosse field, his impeccable grades and his warm and sunny disposition towards his peers.
Classmate and good friend Bobby Winebrenner said, "His diverse academic and athletic background allow him to create meaningful conversation with anyone he encounters in the hallways."
George is unique in the way that he brings people together. Whether it be a presentation on the didgeridoo in physics or a casual conversation about Birkenstocks in the hallway, George leaves his classmates gleaming from ear to ear. On top of that, George has been a key cog in the debate team's success in the past two years.
George has brilliantly handled publicity and advertising for the team. However, George's most exciting news may have come more recently as he committed to Swarthmore College to continue his lacrosse career.
George's love for high school and lively conversation are unmatched. If you're ever in need of some friendly conversation, George Schoettle is your guy to go to.
About the Writer
Ghost, Author
Ghost is a section of The Forest Scout that chooses to publish material anonymously in order to increase the depth of their investigative reporting. Ghost...