The Forest Scout Friday Five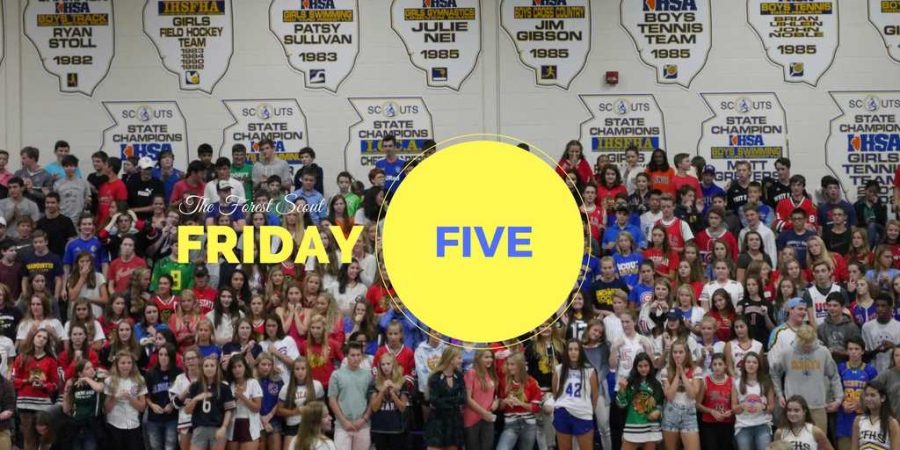 The Forest Scout Friday Five is a weekly segment that celebrates five people making a distinct, profound, and positive difference in the Lake Forest High School community. To visit our most recent installment, click here. To recommend a student, teacher, support staff, or community member for inclusion in The Forest Scout Friday Five, please email [email protected]
Mr. Steve Van Nuys: Lake Forest High School Social Studies teacher Mr. Steve Van Nuys is fully bought in on LFHS. The Village of Lake Bluff resident, who will send his kids to the high school when they graduate from Lake Bluff Middle School, graduated from here himself (shout out, Class of 1987), so he knows all about the high school experience his kids will soon enough receive. All of his community involvement–whether it be stressing the importance of the Battle of Antietam or coaching his son in recreational league baseball–aside, however, Van Nuys is a teacher who is rooted deeply in LFHS culture. He is perennially cited as one of students' favorite teachers due to his energy, enthusiasm, and passion for teaching the details of our country's history.
Scott Frevert, who encounters Van Nuys more as a parent than he does as a coach, mentioned, "[Van Nuys] is always trying to lift his team up and succeed at the same time, but he understands the fun in the game as well. He really makes the most out of that baseball experience for his children, which is refreshing to see." As far as the classroom experience goes, senior Kyle Wix shared, "He keeps the class upbeat by being interactive with the students; there is never a moment where he's sitting down or quiet–he owns the information and relays it passionately to students."
It's clear that Mr. Steve Van Nuys does a lot of common things with an uncommon attention to detail that is rooted in pride for his school and community. So as seniors wrap up the final month of their high school experience and you hear the adulation for Van Nuys ringing from various groups of seniors, you'll know why. He has made each students Lake Forest High School experience a bit like his own: memorable.
Kirsten Larson: It is hard to put it into words how consistently empathetic, kind-hearted, and loving Kirsten is. The only reason it has taken so long for her to receive a Friday Five is because everybody already assumed she had gotten one way earlier on. I have been lucky enough to have grown up with Kirsten by my side from fourth grade on. I first met her as "the new kid with the really long, poofy hair," and she ended up following me into my fourth grade classroom.   
There isn't a day that goes by where Kirsten is not laughing. She laughs at everything and when she starts you can't help but laugh with her, even if nothing is funny.
Kirsten is a junior who is an active participant in school, clubs, and out of school activities. She plays squash, lacrosse, and swims and is also an enthusiastic member of the First Presbyterian Church of Lake Forest. She attends youth group every Sunday and has been an avid youth elder during her junior year. In addition to her hobbies, she will talk your ear off about the Steelers and the Penguins, as most of her family is from Pittsburgh.
People will often describe Kirsten as easy to talk to with lots to say. It is often hard for teachers to move her away from her friends, so she won't be too talkative, because she knows absolutely everybody. Junior Eli Fietsam shared his thoughts about Kirsten in saying, "she's unconditionally optimistic and anyone who's friends with her loves having her around because she radiates positive energy. She's always there when you need her."
Addie Sidles, a junior and one of Kirsten's lacrosse teammates was extatic to talk about Kirsten. "Being on the lacrosse team with her is so fun because she always is working hard and so inclusive. Her attitude about life can make anyone feel better," Sidles adds. Overall, Kirsten is a lively free spirit with a whole heart that is willing and ready to boost anybody's mood with her smile.
Gianna Pasquesi: Anyone who knows Gianna Pasquesi knows she is one of the brightest, bubbliest, and most dedicated girls that walks the halls of Lake Forest High School. The freshman wasted no time upon her arrival at LFHS this past fall, immersing herself in extracurriculars such as Student Council, Women's Club, and Student to Student. Along with the clubs she joined, Gianna displayed her time management skills as she managed to maintain stellar grades and make Honor Roll after her first semester at LFHS. On top of her already time consuming academics and clubs, Gianna is a three sport athlete– something not many high schoolers can call themselves. The freshman participated in a sport each season her first year at LFHS: volleyball in the fall, gymnastics in the winter, and track and field in the spring. Though she excelled in each sport, she particularly shined in gymnastics, leading the team alongside fellow freshman, Kristin Fisch and older sister, senior Jessica Pasquesi. "Coming in as a freshman," Jessica said, "I was so proud of how she stepped up and was ballin' all season." Gianna not only competes for the Scouts, but also does club gymnastics at Flips all year long. Meanwhile, during her track season, Gianna focused on sprints, mainly running the 100m dash, 400m dash, and 4x100m and 400m relays. Senior Brett Chody, who also was Gianna's track sister, praises her for her omnipresent kindness and good attitude, saying, "Gianna always gave one-hundred and ten percent at practice and was so sweet to everyone on the team. She is definitely going to continue killing it on all fronts her next three years at LFHS."
Although Gianna has copious commitments whether they be athletic, academic, or extracurricular, she still finds time for her family and friends. Gianna is well known in the freshman class, always smiling and greeting  her peers in the hallways. Gianna is the middle child of the Pasquesi clan: the younger sister of Jessica and LFHS class of 2016 graduate Micaela, and older sister to ten year old twins Luke and Ava. In the fall, with Jessica enrolling at Northwestern University and Micaela entering her junior year at the University of Wisconsin-Madison, Gianna will be the oldest in the Pasquesi household. However, her young siblings are in extremely good hands as she has proven she is a mature young woman who can handle anything life throws at her.
If you have not yet gotten the chance to get to know Gianna, you must. She is the definition of a well-rounded person, being involved in sports, clubs, working hard in school, and being kind to everyone she knows. Watch for her as she continues to do big things both inside and outside of school these next few years.
Charlotte Yehle: While some may look at underclassmen and see that there's room to grow, there is one sophomore that we all could learn a thing or two from. Charlotte Yehle is a friend to all and is easily one of the most friendly people at Lake Forest High School. Anyone who comes in contact with her can tell you that she is one of the nicest people you will ever meet. She walks the halls each day with a smile on her face and is always ready to greet her friends with a warm welcome. Longtime friend and sophomore Emily Robinson shed light on her fun loving personality. "Charlotte is incredible at making some feel welcomed and she always has a smile on her face while walking in the hallway even if she may have a broken bone."
For those who don't know her, she has had a few minor accidents along her high school career, but her ability to bounce back is remarkable. At LFHS, Charlotte participates in both JV swimming and JV Lacrosse. On those teams she is a big advocate for her teammates and is their biggest cheerleader. It is these qualities that also allowed her to be selected for this year's upcoming group of Link Crew Leaders. Her kindness is bound to make an impact on the class of 2022.
Outside of school, Charlotte spends her summers at Camp "Ogichi Daa Kwe." Charlotte knows that camp is her favorite place on earth. Considering she spends most of her summer there, it is evident that she loves it and relishes the opportunity to be there each summer. There, she goes on Kayaking trips that truly test her endurance. However, Charlotte takes those challenges and conquers them with a smile on her face.
If you have not had the opportunity of interact with this one-of-a-kind girl, you are missing out. Charlotte is a friend worth making. Her kindness, charisma and genuine self has made impact on those around her that  can not be replicated by anyone else but her. The fact that she is only a sophomore goes to show that her future is extremely bright and that she is going to leave a big make here at Lake Forest High School. Charlotte's ENglish TA and senior Holly Malnati had a few words to wrap up Charlotte as a whole. "Charlotte is someone who can brighten my day just by saying "Hi" to me in the hallway. She always asks me how I am and it is clear that she really cares about her friends. I'm really lucky to have gotten to know her."
Johnna Deering: It is not often that a parent of an LFHS student makes the Friday Five. But if there is any parent who deserves recognition, it's Ms. Johnna Deering. She finds ways to help out in every facet of our community. From being a team mom, to helping preserve our beautiful town, to just plain and simple being a friend to all; Deering is a difference maker.
She helped out the football team more than her fair share this season, bringing her positivity to every event setup. Perhaps the most noble thing Deering helped the Scouts out with this year was hosting the annual "Mohawk" head shaving team dinner before the first game. I can't imagine cleaning up all of that hair, but I'm sure Mrs. Deering did it all with a smile on her face thinking about the positive memories that she gave those boys. "Mrs.Deering was awesome," said senior team member Chris Cavaleris. "She was so supportive of our team and made sure to do everything that she could to make the season as memorable for us as possible," he added.
Deering doesn't stop making her mark with mohawks, however. She is an active member of the Lake Forest Preservation Foundation. She acknowledges that our town is a very special place and does what she can to help keep it looking warm and welcoming. "Johnna does a lot to make other people happy, including myself," explained close friend and Lake Forest community member Kathleen Trkla. "She is a truly wonderful person and I'm happy to call her my friend," Trkla added wholeheartedly.
I think we can all agree with her in saying that Johnna Deering is someone that we are proud to have in our community and hope to have her around for a long time. Thank you for all you do Mrs. Deering, Lake Forest appreciates you.
About the Writer
Ghost, Author
Ghost is a section of The Forest Scout that chooses to publish material anonymously in order to increase the depth of their investigative reporting. Ghost...