The Forest Scout Friday Five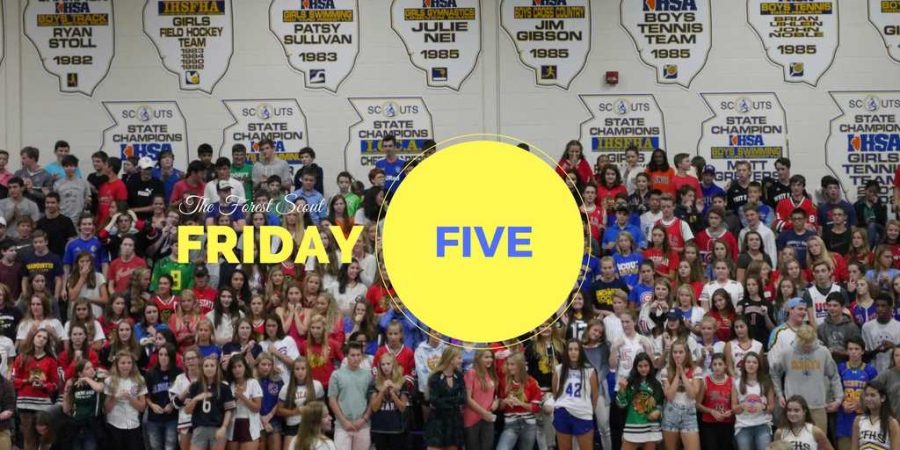 The Forest Scout Friday Five is a weekly segment that celebrates five people making a distinct, profound, and positive difference in the Lake Forest High School community. To visit our most recent installment, click here. To recommend a student, teacher, support staff, or community member for inclusion in The Forest Scout Friday Five, please email [email protected]
Tom Galla: Lake Forest High School gained a new powerhouse addition to the science department this past Fall as Mr. Tom Galla was welcomed in. Mr. Galla went to Buffalo Grove High School before graduating Bradley University, and after college he spent a few years teaching down in Wheaton before deciding to come back to the North Shore. During his time in high school is when he found his true passion for science, chemistry in particular. AP Chemistry in his senior year of high school was one of his favorite classes he ever took. "I liked all the classes, but chemistry in particular I thought was a lot of fun, going into the lab mixing stuff together and seeing what happens." This year, Mr. Galla is back in his environment teaching Chemistry along with Material Science for the first time. In the classroom, Mr. Galla likes to get to know his students on a personal level and is a really understanding teacher. "He is young and relatable so that's kinda fun." mentioned senior Will Sanford
During his time at Buffalo Grove, Mr. Galla was a strong contributor to the swim and water polo teams, so when the boys water polo season was just around the corner and the team still did not have their coaching situation figured out, Tom Galla came to the rescue. He became assistant Varsity and Head JV Boys Water Polo coach at LFHS this season. Teammates and students alike both have high praise for the man who was suddenly introduced to the coaching experience. He really stepped up to the challenge at his first year as boys coach. Players across both teams hope he sticks with it so that his insightful mind continues teaching the boys great plays. With Tom Galla running the show, Lake Forest Boys Water Polo has got a bright future ahead of them.
Overall, the addition of Tom Galla to the LFHS staff has been a wild success. Students and teammates alike love to be around him. If you haven't had the pleasure of meeting Mr. Galla, then you're missing out on a great guy that is truly part of the Polystyrene that holds LFHS together.
Mr. Jimmy Juliano: The tech wiz of the school is not often classified as one of the most social faculty members, but Mr. Jimmy Juliano is certainly an exception to that. Outside of just being a member of the Educational Technology Team at the high school, Mr. Juliano can also be referred to as TEDx Creative Director, author, creative writing teacher, Ed Tech Avenger, Google Certified Teacher, and just an overall gem of a guy.
The recent father and loving husband has taken all of his increased responsibilities in stride as LFHS has welcomed technological advancements in all areas of the school in recent years. "Everything ranging from email help, to running a Google site, to instructing students how to use Mixtape 1285, Mr. Juliano simply does it all with a smile on his face," mentioned one LFHS colleague. A student who works extensively in Mixtape 1285, senior Chris Cavalaris, also adorned Mr. Juliano with gracious praise. "He has always been very helpful in having me explore different ways of journalism. He's also the best with the new technology and explains complicated things in a simplified, easy-to-understand way that makes us all better."
Still relatively new to the grand scheme of things at LFHS, Mr. Juliano has solidified himself as someone who is there to help, and is necessary for LFHS to run smoothly on a daily basis. His selfless service and congenial spirit has helped things like TEDx,LFHS, ChromeBook use, and online cumulative folders become the normal standard of technological excellence at the high school. So next time you think to yourself, "hmm…that was easy," most likely it is because of Mr. Juliano's tireless work in the top floor of the library as well as so many other places.
Will Webb: Freshman student Will Webb has a lot going for him in a small body. Right now, he plays golf and tennis for the high school's frosh/soph teams, but look for him to work into a force to be reckoned with in both sports in the future. Aside from that, Webb, a cheery, happy-go-lucky student often donning a polo shirt and khaki shorts, is up for any challenge in the classroom as well.
"He loves to compete," mentioned one of his teachers. "He also holds himself to high expectations and is quite hard on himself, but that's because he wants to succeed." Clearly, Webb channels his competitive spirit in athletics and blends it into his classroom approach as well. "He's just an all-around funny guy," shared fellow freshmen classmate Davis Gramza."
Will Webb has an affinity for golf: that much anybody who knows him simply understands. However, the cordiality and politeness that often goes hand-in-hand with the sport of golf is exhibited by Webb in his relationships with all of those he comes into contact with. "He's very polite," mentioned one of his teachers. "He looks you in the eye when he speaks with you and is always listening." Listening, as many can attest, is a part of communication that is often lost on today's next generation of students, but people like Will Webb have ensured us that the true communicators are alive and well.
Leland Keller: Lake Forest High School is chock full of kind and considerate people, but you would be hard pressed to find a person that is as genuinely nice as Leland Keller.
Leland has a caring, humorous, and affectionate personally that is contagious to those that are graced her presence on a daily basis. The only junior captain on the girls soccer team, Leland is an exceptional leader who leads by example through hard work and dedication to the team's success, not just her own. "Leland is such an incredible teammate and captain, she is extremely mature for her age and is someone that anyone can count on," said senior teammate Kylie Murray.
Leland is also a teacher's assistant for the freshman class Wellness for life, where she does an amazing job helping freshman adapt to high school and the challenges and pressures that come with starting a new school. She is perfect for the role as a teacher's assistant as she's always willing to help her teacher and any student in need. Teacher Mr. Busse states "Leland is one of the hardest working students I have ever met.  She takes each task and views it as an opportunity to get better and does it with a great attitude. She has been such a refreshing addition to the WFL TA program. Leland is a phenomenal TA she is really good with the students and helping them understand the content of the class better. Senior Chris Cavalaris added, "She is also a great person and is always smiling and seems genuinely happy at all times of the day."
Leland Keller has impacted the Lake Forest community in so many positives ways, whether it be through her infectious personality that lifts people's spirits, or through her hard work on the soccer field that rubs off onto her teammates to dedicate themselves to hard work, Leland is truly one of the high school's best people and will continue to make the high school a better place next year as a senior.
Audrey Kaus: Senior Audrey Kaus has earned a lot of well-deserved, hard-earned recognition for her accomplishments in athletics throughout high school. Kaus, an All-Conference basketball player in the winter and one of the established leaders of the girls lacrosse program in the spring, is one of the school's most decorated female athletes. And for those that know Audrey best, they are not surprised at all. Still, however, it's not just hardwood floors and open grass playing fields that wind Kaus' clock–she is one of the most hard-working, caring people LFHS has to offer.
Evidenced by her commitment to attend the University of Chicago in Hyde Park next year, a world renowned institution of higher education, Kaus is no stranger to academic success. Yet, her teachers would attest that Kaus has rightfully earned every academic accolade she has received with a fervent work ethic and an impeccable attention to detail that leaves every t and i in Kaus' path dotted and crossed and double-checked. "Simply put: one of the hardest workers I've ever come across in education," mentioned one of Kaus' senior teachers, who has watched her excel through perseverance and dedication, not simply passively using her natural talents.
To many, the LFHS faculty who have been graced with her presence in their classes included, Audrey Kaus exemplifies the toughness and grit necessary to succeed in competitive environments. "She's the ultimate competitor, but a great team player at the same time," shared one of her closest friends. "That combination at our age is certainly uncommon. Audrey's maturity and understanding of what it takes to be successful proves clearly why she's so accomplished herself."
When people look at a resume like Audrey's on paper they might think to themselves, she is simply blessed with natural talent. That may be. But Audrey Kaus has used her natural talents, combined them with a work ethic she has perfected individually over time, and is striving each day to reach her potential. And she's in high school! How about that Audrey Kaus?

About the Writer
Ghost, Author
Ghost is a section of The Forest Scout that chooses to publish material anonymously in order to increase the depth of their investigative reporting. Ghost...