LFHS Prom Red Carpet looks of 2018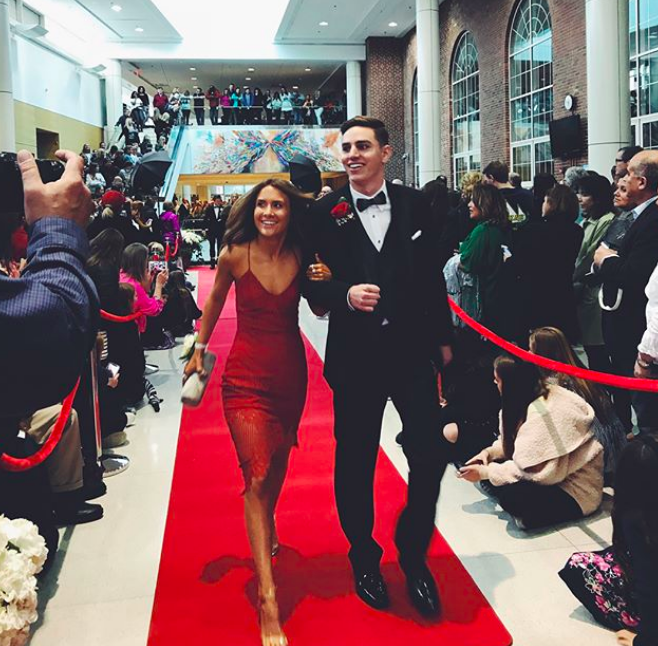 Contributions were made to this article by multiple Forest Scout writers.
Though prom is a spectacular night filled with dancing and great company, there is also a much more creative side to it. All of the suits and dresses were wonderful, of course, but here are some of the most eye-catching looks from the night of LFHS prom
Cade Coughlin
Cade kept his look simple but sophisticated. His silky powder blue blazer looked clean paired with his bowtie and white boutonniere. He finished off his look with some insane B&W striped Christian Louboutin dress shoes with small leather tassels.
Hadley Seymour
Hadley wore an adorable, beige, layered leather dress with some strappy heels. What really catches the eye with this look is the adorable leather Kate Spade french bulldog handbag!
Josselyn Joanem
Josselyn dazzled everyone with this beautiful two-piece diamond engraved dress, with lanes of jewels tailing all the way down the fabric. She also held a diamond encrusted handbag along with a fur shawl to top off the beautiful look.
Gabriel Rickabugh
Gabe wore a classic look of a black tuxedo (jacket not pictured), but added a staple hypebeast item. He was seen the whole night rocking his Nike Air Jordan One Flyknit Breds. He also wore a red bowtie to match, which made for a super clean fit.
Henry Lunn
Henry wowed the red carpet crowd with his floral suit which he actually sewed himself! He stitched his own lapels onto the jacket and even cut and sewed his own bowtie as well. Very impressive and super innovative for one of LFHS' most fearless individuals.
Jane Nugent
As florals were definitely a popular staple this year at prom, Jane's look had a unique twist. Her sheer dress had dozens of delicate flowers embroidered onto it along with cute little leaves and stems. The colors definitely stood out against the black, layered fabric.
Annalise Craig
Last but not least, Annalise Craig, a fearless trendsetter, flexed her best fit in a Gucci floral jacket. Famously worn by Harry Styles in 2016, Annalise put a popular twist on the look with a cream-colored button down, tuxedo pants, and some black pumps. She also pulled the look together with some gold Gucci earrings.
About the Writer
Ghost, Author
Ghost is a section of The Forest Scout that chooses to publish material anonymously in order to increase the depth of their investigative reporting. Ghost...