The Forest Scout Friday Five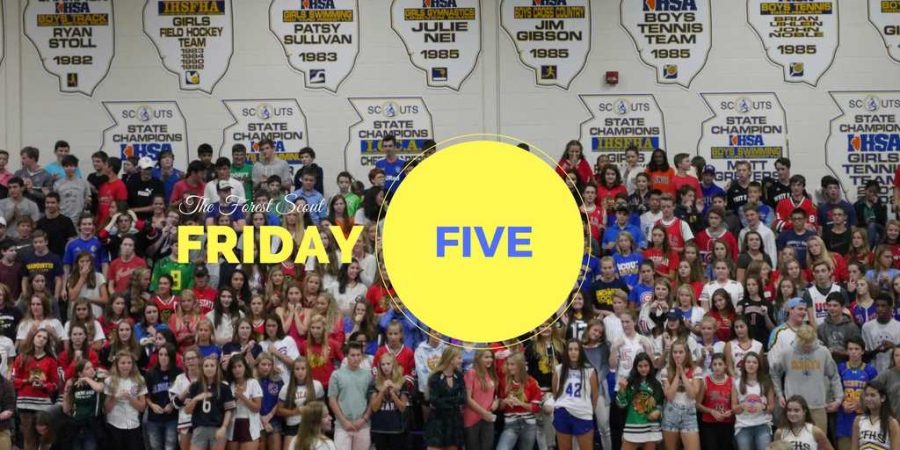 The Forest Scout Friday Five is a weekly segment that celebrates five people making a distinct, profound, and positive difference in the Lake Forest High School community. To visit our most recent installment, click here. To recommend a student, teacher, support staff, or community member for inclusion in The Forest Scout Friday Five, please email [email protected]
A.J. Shaw: Most everybody that knows sophomore A.J. Shaw would agree that his mind is a steward of knowledge: Cubs scores, baseball trivia, anecdotal details of small moments. But all that know him well, including those who deal with him in the realm of athletics, would attest that "Shaw," to which he is affectionately referred to as, is as selfless and team-first as they come.
As the manager of the sophomore baseball team, A.J. dutifully keeps the book, assists his coaches, cheers on his peers, and does everything in his power to make his teammates feel loose and comfortable, whether it be downing several cheeseburgers before the game or simply barking out his oftentimes hilarious trademark cheers when teammates are up to bat. A.J's position on the team is, of course, unpaid and comes without any glory or notoriety. He simply wants to be there for "his guys," and loves coming to work every day.
Shaw, an avid Chicago Cubs fan who can pinpoint the score and major details of every Cubs game from his lifetime (true story), is a trivia mastermind. Yet, his greatest gift comes in his unwavering support of LFHS athletics. A.J. also serves as the color commentator alongside Connor Clark for Scouts basketball broadcasts on the NFHS network in the winter, and is excitable and enjoyed by many in every class or situation he finds himself in at the high school.
"Shaw is one-of-a-kind," shared one of his teammates. "There is no one like him. He gives you all he has and asks for nothing in return. That's just who he is–that's part of his mental make-up." One of his coaches, Mr. Austin Scott, perhaps said it best regarding A.J.'s positivity. "There is no student in this high school I enjoy spending time with more," regarded Scott, "and it's because [Shaw] is so positive and so selfless. He's always asking for ways he can help, and how he can be involved. That's the true spirit of high school–learning how to help people and being in it for the team, not the individual glory–and A.J. has that down pat."
Taylor Brinker: Generally speaking, confidence begets a certain spunk, a firm boldness in the way that young people think, act, or even dress, and freshman Taylor Brinker is fluorescent light, shining brighter every day in the sea of freshman bulbs.
Whether it be her unique approach in writing, one of her favorite things to do in school, or the way that she embraces new ideas in class regardless of the subject matter, Taylor pursues each day intending to make it her masterpiece. "Taylor doesn't take days off," mentioned a close friend. "Every class, every discussion, even every conversation, she's locked in and puts her own creative touch on it, which is cool to see because we're only freshman. Usually you only see that out of upperclassmen."
Despite her age, Taylor has a brazen belief in herself, and employs that in every opportunity that she can. "She never settles for the status quo," mentioned another one of her classmates, "whether that's in the way she dresses–always pushing conventional high school fashion forward–or in the way that she embraces extracurricular opportunities as well.
In the world of freshman, there aren't very many cooks in the kitchen when it comes to developing something new; rather, most just sit and wait for the next trend to be filtered down to them by way of television or simply watching the upperclassmen. But for freshman Taylor Brinker, she is unsatisfied in the waiting and has chose to forge her own path full speed ahead, and people are surely starting to notice.
Lizzie Kelley: Very few people at Lake Forest High School, regardless of position within the building, have done more and have asked for less in return than senior Lizzie Kelley. But that's just how it is for the hardworking, humble senior, and that's the way it has always been. Whether it be working diligently as a Teacher's Assistant for her favorite English teacher, Mr. Lubliner; shouldering a heavy load in the creation of the school yearbook with her good friends Isabella and Francesca Mancini, as well as Lizzie Muelbroek; or simply being her cheery, positive self, Lizzie Kelley does a little bit of everything.
"That's just who Lizzie is, she keeps herself busy by helping others selflessly in any way that she can," mentioned one of her senior classmates. With it being AP test week, Kelley was, of course, super busy accommodating her loaded schedule of AP coursework. But, as only Kelley can, she took it all in stride, and understood both the importance of the tests and also the eustress involved in all of this with regards to helping her prepare for college. "She's always been very mature, even as a freshman," relayed her freshman English teacher. "It's not surprising that now, as a senior, she has taken so many leadership roles in stride and has become one of the school's most respected leaders. Lizzie leads by example, and she leads from the front. She understands the importance of accountability and reliability and how that goes about developing her reputation. I truly admire the pride that she has in every single thing that she does."
Kelley, who will attend St. Louis University in St. Louis, Missouri next year, is not at all worried about the heightened rigor of the next level. She's prepared herself for four years with all sorts of duties and jobs and assignments. She has developed the confidence that there is nothing she can't handle. After all, habits are created and confidence is earned, not just absorbed passively–and no one has mastered those understandings better than senior Lizzie Kelley.
So next year, when her absence causes someone else to shoulder so many jobs and responsibilities–all with a gleaming smile–they'll understand the standard and expectation set forth by one of LFHS' greatest, Ms. Lizzie Kelley.
Frank Lesniak: Being a dean at LFHS is not a job everyone can handle, and is certainly not for the meek or the timid. From making sure all students are safe at all times, disciplining those who stray wayward, and being a person that students can trust, dean of students is certainly a difficult role.
That said, the best deans are the ones that can balance enforcing the rules and caring for each individual so that no student feels excluded. Mr. Frank Lesniak embodies all the best aspects about being a dean: he is a kindhearted person who genuinely cares about each student, but also understands the line between being an approachable figure and his duty to impose the rules of LFHS.
Mr. Lesniak, a longtime veteran of the school, is also a former LFHS football and baseball coach, and impacted kids significantly in that role as well. "Coach Lesniak has had a profound impact on me in high school from being my head football coach freshman year to my senior year dean. Mr. Lesniak has been an adult that I knew would always give me a straightforward answer if I had a question," said senior Chris Cavalaris.
Mr. Lesniak is a fan of each student–and supports them wholeheartedly– and always will encourage kids to expect more of themselves, whether it be in a sporting event or at a debate team competition. "Mr. Lesniak is always so friendly whenever I see him and always goes out of his way to say hi and catch up on what's going on with me," added senior Brett Chody.
Mr. Lesniak has impacted the lives of many students at the school with his friendly personality and his willingness to go out of his way to check up with each student. Deans are often thought of as yellers and screamers and merciless disciplinarians. But Mr. Frank Lesniak will continue to perform his job at a high level, as he tries to balance disciplining students while being one of the friendliest faces LFHS has to offer.
Anna Aquino: Junior Anna Aquino embodies everything we celebrate in The Friday Five: She is distinct in her own fashion sense, profound beyond her years, and continues to make a positive impact each day through her incredibly down-to-earth personality and creative insight. In the classroom, Anna contributes to every conversation and isn't afraid to make a point and, at home, she escapes into her own artwork and journaling (@anna.journals). To her peers, Anna stands out as a keen and kind friend. "She's the kindest and most organized person I know" adds fellow peer Emma Johnson. "She truly goes above and beyond in her work," and it's all true.
Whether Anna is crafting a perceptive paper in AP Lang or doodling the art printed on everyone's prom t-shirt, Anna's personality comes out in her own handcrafted work. "I always liked that Anna isn't afraid to take risks." adds Ms. Laughlin, Anna's English teacher, "whether it is in her artwork, her own personal style, or what she does in the classroom. Those risks pay off." Anna's unique artistic talent lends itself to one of LFHS's most unique students. Her work can be seen either on little hand-drawn pins that adorn her backpack or on this year's prom tee-shirt as mentioned prior. Recently, Anna's talent was even on display at last year's Art Fair on the Square in which she was featured as a young artist.
Aside from her hobbies, Anna also packs her hard work and creativity into her extracurriculars. Since freshman year Anna has been a member of LFHS's Art Club and has also played the violin for the school orchestra. Most recently, she was a member of pit orchestra which was involved in the production of "Beauty in the Beast," the spring musical at LFHS. She currently holds the position of Secretary and Librarian in the orchestra as well. "She is super involved and insanely talented," commented Erin Shalala, and "she even goes out of her way to share her talent with others." During the summer Anna works with Bravo Buddies—a not for profit music camp—where she teaches younger kids to play the violin. Anna's drive to help others is a direct representation of who she is as a person. Never afraid to reach out to a friend in need or to just ask you how your day was. It is Anna's kind-hearted dedication to her work and to her peers that truly qualifies Anna Aquino for a spot amongst the Friday Five, and as Ms. Laughlin puts best: "Anna is the sum of so many wonderful things, she is creative, authentic and independent" and through her day-to-day personality Anna continues to make LFHS a better place.
About the Writer
Ghost, Author
Ghost is a section of The Forest Scout that chooses to publish material anonymously in order to increase the depth of their investigative reporting. Ghost...