The Forest Scout Friday Five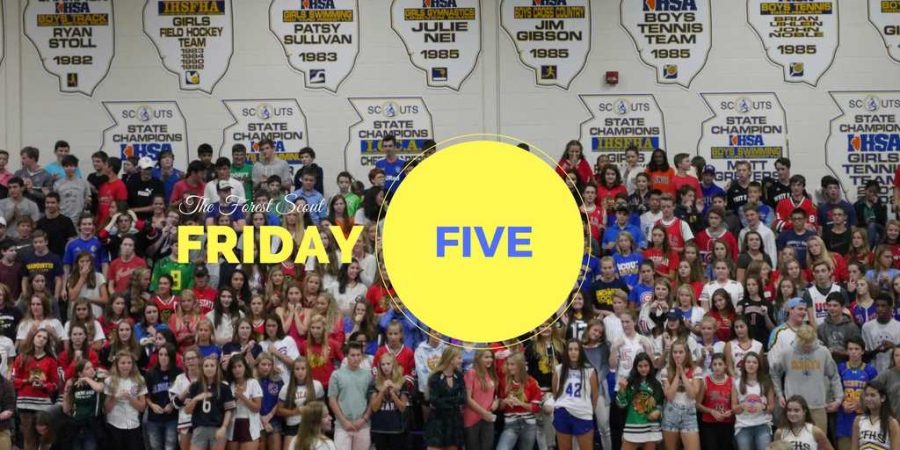 The Forest Scout Friday Five is a weekly segment that celebrates five people making a distinct, profound, and positive difference in the Lake Forest High School community. To visit our most recent installment, click here. To recommend a student, teacher, support staff, or community member for inclusion in The Forest Scout Friday Five, please email [email protected]
Brennan Marzella: Few people at LFHS have made as quick an impact as sophomore Brennan Marzella, who, depending on the context in which you know him, has made an a profound difference in various areas of the school. As a student in choir, Marzella shares his voice, kindness, and passion with those around him in the music wing. A close friend of his, Joey Goodsir validated all that Marzella does for the LFHS choir."Brennan is hilarious, but also very passionate for all the the things he works hard at every day, such as his sports and music, and in both of which he has great talent! The biggest thing that makes Brennan stand out to me though is the certain outcome of a smile on your face every time he crosses your path. If you have a conversation with him, you will have a good time. If you hang out with him, you will look back on it with a laugh. He is one of the easiest people to be friendly with, a genuine human being, and I am truly blessed to have him as an outstanding part of my closest friends."
As an LFHS athlete, Marzella was brought up to the varsity last year as a right side hitter on the Scouts' volleyball team, and has been instrumental in the team's success so far this season. "He's a great guy and the consummate teammate, added senior Will Gescheidle." As he continues to grow as a player, look for Marzella to help build the program off of the success of this season with his maturity and leadership.
Above all else, though, Marzella's peers know him best as a genuine person."Brennan's one of the best guys I know and one of the closest friends I have. He's super hilarious and genuinely kind, and whether it be sports, movies, or music, Brennan is a blast to be around. He's a great and special person and I'm truly lucky to have him as one of my best friends," added Mark Smirnov, one of Marzella's closest friends.
To have such a well-developed reputation of goodness in the 10th grade is no easy feat. But that just may be because Brennan Marzella is no ordinary person.
Will Pattie: The most successful programs at LFHS are the ones that, year after year, have involved charismatic and enthusiastic students as role models for their peers.  Sophomore Will Pattie, a percussionist who is enrolled in Advanced Percussion is just that: he is friendly and calls you by your name when he sees you.  His undeniably sunny attitude and positive outlook on life inspire all those who surround him.
"I really appreciated his can-do attitude and year-round dedication to the drumline," added senior Will Steck, who has been instrumental in developing the marching band and pep band into one of the school's most reputable programs. When he stepped in for Steck at the pivotal center snare position this fall, Pattie led with integrity and enthusiasm.  In true Will Pattie fashion, he relished the role and performed with a smile on his face, happy just for the opportunity to showcase his talents.
"He's really talented," added junior drum major Katie Pierce, "and is destined for great things in the next couple of years. More than anything, though, people enjoy being around him–his personality is contagious."  Attentive and thoughtful, Will learns not only from his teachers, but his peers also, who have encouraged him to succeed and grow as a musician and a person.  That's something that not everyone does easily–but for Will, it's a simple task.
With all that he has on his plate, it would be easy for Pattie to only make time for those who can scratch his back, but instead he goes above and beyond for everyone that he meets, establishing him as one of the kindest students LFHS has. So when you're looking for one of the band's role models in the coming years, keep your eye out for Will Pattie, smiling as he strides towards greatness in all that he does.
Megan Grumhaus: While most students at Lake Forest are known for one moment, one talent, or one characteristic, there are few well rounded students that are known for all of these things. Megan Grumhaus is one of the most involved students here at Lake Forest High School. Whether it be her dedication to athletics or her love for CROYA, Megan is "all in" and has made countless friends along the way. Long time friend Sarah Newtown shed some light on Megan's go-getter personality, "Megan's always been someone who keeps herself busy whether it's school or sports, but still manages to be there for her friends."
Within LFHS, Megan is active in sports and clubs alike while also striving for excellence in the classroom. Megan is busy year round as she swims in the fall and plays lacrosse in the spring. Not only that but she is also an active participant of LFHS' Spanish Club, Big to Little, and Student to Student. Her involvement at the high school not only has benefitted her but all those who she came in contact with.
For those who know Megan, they can easily tell you that she is one of the sweetest people you will ever meet. She will go out of her way to say,"Hi" to you in the halls and makes her love for others very well known. Her kindness is something others should truly strive for. After school, you can often find Megan at CROYA. In fact, he was a leader on the latest retreat this spring. Apart from clubs and athletics, Megan often dedicates her freetime to babysit local families– something not many high schoolers would willingly do when they could be out with their friends– but for Megan, it's just another selfless act.
Megan is not only known and loved in Lake Forest, but also at the summer camp she attends in Minnesota, Camp Mishawaka. Fellow LFHS student Bee Ward also attends Mishawaka, "When we went to camp, She always made sure to include everyone, and when we are home, she remains positive and happy constantly. I've been so lucky to have a friend like Megan."
Overall, Megan makes an impact no matter where she goes. She is truly a one of a kind girl. Her good friend Maggie Mick had an amazing way to summarize her, " Megan is one of my best friends and is always there for me when I need her. She can always cheer me up when I'm sad or in a bad mood and make a joke at any time. What I love about her is how she always checks in on me and makes sure I'm doing okay. She has so much joy and spreads that to the people around her. Megan is the type of person you can just sit around with all day and not get sick of each other. She would put her stuff aside to help anyone else, which shows how selfless she is. I love Megan and I don't know  what I'd do without her." If you have a chance to interact with Megan, it will definitely be a friend worth keeping.
Mr. Bart Castillo: All athletes know the stressors of injuries and the nagging pains they get from competition. To relieve those you have to partake in various exercises and maintain both ice and heat to be able to return and stay in competition. In the basement of our school–or after school at West Campus you can find the room where all this "healing" goes on, and the leader of the room is Bart Castillo.
In his first year with Lake Forest, Bart Castillo took over for Mr. Dooley in the summer, where he started to work with all the high school's summer camps. Mr. Castillo is known to many athletes in our school and has had a major impact on their careers here, from both an athletic standpoint and on a personal level. Bart is an easy person to talk to and he does an excellent job of keeping things lighthearted when students could be going through a struggling time in life with a significant injury.
"Bart is the man. He really cares for each athlete individually and does a great job catering to each one's needs. He will do whatever the athlete needs so they can keep playing. Bart has also made me as an athlete realize what I have to do stay on the field. He is a hilarious guy, he has an infectious personally that makes others feel welcome," said Senior Chris Cavalaris. Bart's personally is one that makes going to the trainer less dreaded, and he keeps the athlete's mind off of the worst parts of being hurt and focuses on the positives of recovery, which has a tremendous impact on the athlete's ability to focus on what they need to do to get back to playing.
Aside from his personality, however, Bart is great at his job, helping not only heal injuries but also preventing them. He doles out bits of advice that students can use to make sure that they don't have to return to the training room.  A lot of students and community members don't realize the profound impact Bart has had on our school–from keeping people on the field to lifting the spirits of hurt athletes–he has changed the way our school views the trainer and makes it feel more welcoming to go in.
James Lu: Sophomore James Lu might not be on the basketball team, but he loves basketball. Anyone who knows him would understand that. He comes in before school in the mornings to work out with some of the guys on the team, is always talking hoops in the hallway, and genuinely loves the game. "He's always around, smiling and having a good time, saying "hi" to people or interacting with them during the game," added senior Sean Trkla. "And he's not at all in it for the fame or notoriety."
As it turns out, James' babysitting responsibility at home takes precedent over basketball, so he was unable to try out for the team last year but still enjoys working out with the guys. For a guy as kindhearted as James, family comes before fun, and he has made that quite evident in his decision. Still, however, James shares his smile and lighthearted personality with just about everyone he encounters, dancing after made 3-pointers, sharing laughs, and just simply enjoying his time.
"He's a lock for a hallway 'what's up, Coach?' every time I see him," shared Mr. Austin Scott, the Varsity Assistant Basketball Coach at Lake Forest. "I admire his accountability with his baby-sitting, too. It's clear that his decisions affect more than just him, and he understands that fully."
There are few students of the high school age who have the maturity to understand the impact their decisions–and their attitude has on others–and James Lu is a great example for those striving to be "next level" mature at LFHS.
About the Writer
Ghost, Author
Ghost is a section of The Forest Scout that chooses to publish material anonymously in order to increase the depth of their investigative reporting. Ghost...