The Forest Scout Friday Five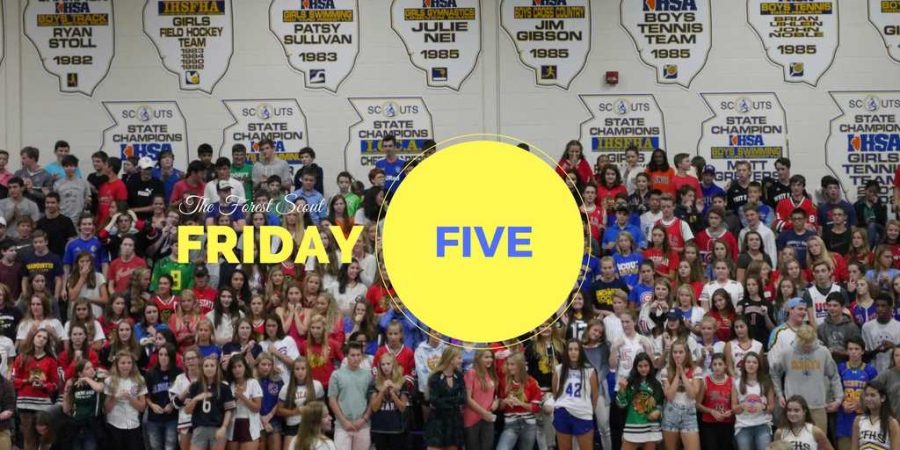 The Forest Scout Friday Five is a weekly segment that celebrates five people making a distinct, profound, and positive difference in the Lake Forest High School community. To visit our most recent installment, click here. To recommend a student, teacher, support staff, or community member for inclusion in The Forest Scout Friday Five, please email [email protected]
Anna Randall: Freshman Anna Randall's summer was something out of a Hollywood movie. Move from Ohio to Lake Forest before her freshman year of high school and start brand new at a new school in August? Most would complain in bitter resentment, but Randall–who is so unabashedly herself–has found joy in the change and embraces her new school culture with open arms.
To get involved, Randall joined the tech crew for all of LFHS' plays during the 2017-18 school year, including 'Beauty and the Beast', which focuses the most intense set preparations and stage production in recent memory. But those who know Anna would testify that her spunk and lighthearted charm is present long before rehearsals start. "She brings energy to every class, and she is so open to trying new things in class–she embraces everything in stride," shared one of her teachers. "She's a phenomenal kid who has confidence–not arrogance–in her own abilities and is willing to learn new things each and every day."
Sure, Ohio may have been comfortable for Randall, who enjoys music, writing, and of course, musicals and theatre, but she has certainly made the best of her new beginning. "She was never shy, not even on day one," one of her close friends shared with TFS. "She is who she is and loves to laugh, smile, and joke around–being around Anna is always a fun time." For someone as young and impressionable as 14 years old, high school can be a lot. Yet, it becomes a lot more manageable when you have the confidence in yourself to take each new experience in stride, just like freshman Anna Randall.
Elliot Sarno: It has become increasingly rare for a high school student to go out of their way to help a younger student without some sort of compensation involved, be it NHS hours, an hourly fee, or even a line on an academic resume or profile.
In the case of junior Elliot Sarno–an AP Research student who challenges himself in his own coursework–he went out of his way to volunteer to help a student seeking more hands-on assistance. And it wasn't just during some offshoot study hall where he was trying to kill time. Sarno came in before school to mentor his AP Seminar protege, and wasn't offered any additional credit in doing so. The kindness of his heart, and his willingness to help a fellow student shined through, earning him the favor of both Mrs. Flangel and Mr. Boruszak, two members of the LFHS Social Studies department.
"He was flexible and responsive–he didn't help in a patronizing way that was imposing," shared a glowing Flangel, tremendously proud of the Sarno's selflessness. "His assistance and hands-on help made all the difference in the psychology of the student; it powered her to a tremendous improvement and a successful presentation." Needless to say, Sarno went above and beyond for one of his peers, which doesn't happen all that often. Though his story perhaps seems altruistic in a sense, Sarno's eagerness was real, and his open willingness to trade his own convenience for the satisfaction of seflessness is something rare in this world.
So often we see students sign up for things and shy away from them when it requires either more work than they expected or harder work than they anticipated. But for junior Elliot Sarno, owning his responsibility, wanting the role, and investing in the process of helping others with open arms was something of the utmost importance to him. After all, help–we all need it: how do we get it? And how do we give it?
Spencer Silvernail: If you have had the pleasure of coming into contact with senior Spencer Silvernail, you would have nothing but the best things to say about him. Whether you have a story about how he has helped you in class, been a solid friend, or has just said "hi" to you in the hallway, Spencer is someone that everyone is drawn to. To those that know him best he is revered as funny, kind, compassionate, outgoing and an overall highly respected individual. Spencer has been heavily involved in many different clubs and activities throughout high school. He was a member of the Lake Forest High School Varsity Golf team, he is currently the chairman of CROYA, and was involved in Kairos throughout his junior and senior year. Throughout these activities Spencer puts all of his qualities into action. Whether it is going above and beyond to ensure that everything is run with a purpose and to the best of its abilities, or just being there to support those closest to him, his positive spirit is always felt. One of Spencer's close friends, Morgan Kamholz, had this to say about Silvernail. "Spencer is one of my closest friends and I'm so lucky to have a friend like him. He gives 100% to the things and people he loves and I think that's super admirable."
To everyone Spencer meets he makes them feel included. Christophe Wetterman, a close friend of Spencer had this to say about his good friend. "Spencer has always been very inclusive to me and everyone he knows. When I was having friend troubles he was there to include me. He is a great guy and an even better friend." It doesn't matter the activity that he is participating in, he makes everyone feel welcome. Spencer is one of the nicest and most inclusive people that attends Lake Forest High School. Even though he only has a short time left at LFHS, make sure that you get to know this incredible person. Lake Forest will seriously miss his presence next year.
Mrs. Nicole Frye: Mrs. Nicole Frye is a difference maker at Lake Forest High School. She could quite possibly be the kindest faculty member that we have to offer. She knows how to properly connect with students of all ages, and she has no issue helping naive freshmen pick up Algebraic skills one period and then giving all of her energy to help squirly second semester seniors have a full Trigonomic arsenal before they head off to college next fall. She is passionate, patient, and above all else, Mrs.Frye is selfless. No matter what she is doing, she has the best interest of those around her at heart.
We asked Mrs.Frye's close friend and fellow math teacher, Ms. Rebecca Schwartz, what it is like working around such a great person and we're thrilled with what she had to say. "Mrs. Frye and I started working at LFHS in the same year and I can't imagine coming to work each day without her here," complemented Schwartz. "She is one of the best curriculum writers in the math office. She designs learning activities with the students' best interest in mind and is willing to share those activities with her fellow teachers, trying to make sure that all students have fun in math class" she added about her unselfish colleague.
Ms.Schwartz then went into detail about Mrs.Frye's character beyond the classroom. "In addition to being a great colleague, she is the sweetest friend. Whether it's grabbing dinner in between attending student events, or just hanging out on the weekends, her exuberant personality is contagious" she kindly added.
We can assure you that all who have had Mrs.Frye as a teacher, coach, or friend at LFHS are extremely grateful for their experiences with such a terrific person. Thank you so much for all of the dedication and positivity you bring to our school Mrs.Frye–it does not go unnoticed!
Collin Thiergart: Collin is not one to get himself involved in any sort of commotion. His laid back, quiet persona keeps him out of the typical high school drama and instead he's someone who resolves conflict. The levelheaded junior keeps to himself and is extremely kind to those lucky enough to be acquainted with him. Students would recognize Collin by his signature glasses look and the constant smile on his face that is a welcoming sight for some while enduring the stressors of school. Collin is a conversationalist–he's always willing to chat about anything and will hardly bring up himself during discussion as he is always wondering about how others are doing.
His business incubator idea, Battle Buddiez, displays his character perfectly. The product pairs children diagnosed with cancer with high school students looking for service hours, and creates a remarkable bond between the two. A very inspiring and admirable plan which Thiergart is responsible for, Collin has helped the idea ascend into fruition. Along with being a high quality member of the business department, Collin is also known for his talents on the lacrosse team. As a two-time varsity contributor, Collin played a lot his sophomore year and every game of his junior season. Collin's attitude towards the team has really made a profound impact. "Collin is a hard worker. He always is trying to improve and learn more each day at lacrosse. He is a great teammate and always wants the best for the team, " said senior teammate Chris Cavalaris "Collin's a really good player. He always pushes me to get better. During practice, I try to put myself against him in hopes that his high level of play rubs off on me," said junior teammate Bobby Winebrenner. Collin has had an impact at the school whether in the classroom or on the field, and he has truly has made the most of his time at LFHS.
About the Writer
Ghost, Author
Ghost is a section of The Forest Scout that chooses to publish material anonymously in order to increase the depth of their investigative reporting. Ghost...