The Forest Scout Friday Five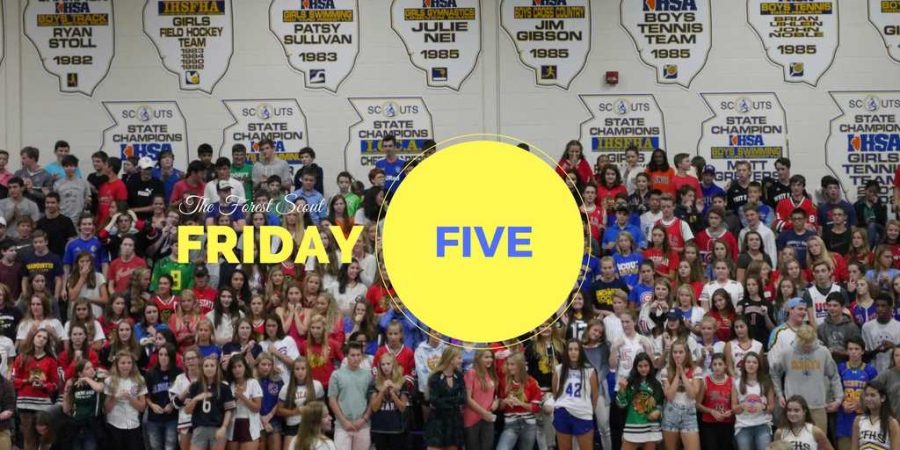 The Forest Scout Friday Five is a weekly segment that celebrates five people making a distinct, profound, and positive difference in the Lake Forest High School community. To visit our most recent installment, click here. To recommend a student, teacher, support staff, or community member for inclusion in The Forest Scout Friday Five, please email [email protected]
Richard Ardell: Walking around the second floor, the one designated for seniors of LFHS, you will see a young man wearing his signature Bears hoodie and shorts combo, or on Fridays in the fall his number 74 football jersey.
He'll always have a huge smile on his face and ask you how your day is going. His name is Richard Ardell, and everyone knows him on a personal level and is aware of the welcoming feeling you get in conversation with him. His subtle humor draws a crowd and you will always find Richard making others laugh.
Few people, however, know his drive and dedication to make those around him better. Richard is a hard working kid that never took a day off in his four-year high school football career. "Richard was a great teammate. I knew him as a player that I could always trust to do his job. He always put the team first instead of himself. He was a key part in a lot of the team's success these past two years," said senior football teammate Chris Cavalaris. Richard has impacted the lives of many at the school in his four-year tour of duty at LFHS, whether it would be on the football team or in his friendships. "Richard Ardell is a legend. He's filled with joy and is always smiling. He is a great friend and I love having him around. My Lake Forest High School career–and I'm sure many others' wouldn't have been the same without him," mentioned senior Jack Brush.
Richard has impacted so many people in our community with his infectious smile and humor. So when you see him in school, don't be afraid to say hello because he will treat you like one of his closest friends.
Mr. Lester Long: There certainly aren't many that can pull off the time-honored language and wardrobe of Mr. Lester Long, one of LFHS' longest tenured coaches. Between all the "huns" and "darlings" and beneath the pinstriped suits and top hats is one of the most caring and considerate individuals Lake Forest High School has ever seen.
"JV basketball was what it was because of Mr. Long," echoed 2016 alumna Maikal Yamauchi. "He's simply the best. He makes you feel comfortable and confident, even when you're struggling." Perhaps his best coaching attribute is his patience, demonstrated by him rarely losing his cool on the sidelines like so many coaches. Long, who starred as a hooper himself at nearby North Chicago High School, coached the boys in the late '80s and early '90s at LFHS before joining the girls staff under head coach Kyle Wilhelm. In the spring, Long helps out the track team, as he was also a decorated track athlete during his time in high school and college.
Even in a flashy three-piece suit topped off with his trademark glasses, nothing about Mr. Lester Long is without substance. The respect that he's earned at LFHS is the stuff of legend, as his name certainly carries with it a reputation and legacy that has been carefully curated over time. Aside from coaching, he makes his presence known at a variety of sporting events, always donning some accent of blue and gold to ensure that he's pulling for the Scouts. "Without a doubt, he's one of the most supportive people of other athletic programs in our school community," one coach stated. "If you don't know Coach Long, you haven't been around too long, as he is someone that is a rite of passage for athletes at LFHS."
Annie Aberle: If any senior has left their impact here at LFHS in the past four years, it's been Annie Aberle. Being active is an understatement for the well-seasoned senior. She is a friend to all, and helper to most. Throughout her tenure at our school, she has made more of an impact than one could imagine. Aberle has been a leader as a varsity athlete, a mentor in the classroom as a two-year Wellness for Life Teacher's Assistant, and a hard-working businesswoman as a two-year member of the business incubator class.
Aberle was a two-year varsity basketball player under coach Kyle Wilhelm and her experience showed. Throughout her senior season, she did more than a fair share of work off the court for her teammates. She did a phenomenal job as a senior with plenty of varsity experience, helping the four underclassman on her team feel comfortable. Players are not forced to give any effort beyond the boundaries of the court; but Aberle constantly did. She was the teammate that every player wants to have and was a big reason why the Scouts had such a successful season this year, whether she knows it or not.
Aberle didn't let her passion and personality stop in the athletic forum, however, as she has also been a helpful mentor as a Wellness For Life TA for almost two full years now under Mr. Joe Busse. We asked Mr. Busse what Annie was like in the classroom and were not surprised with what he had to say. "Annie Aberle is one of the most personable TAs I've ever seen. She connects with every student in the classroom and she makes everyone feel welcome," he complemented.
A lot of kids are okay just going through high school with no real effort to "give back," but Annie Aberle is not one of those people. Thank you for helping LFHS daily while your selfless attitude Annie, you will be missed next year.
Cooper Sampson: Cooper Sampson may be the most joyful student at LFHS. He is kind, confident, and artistic. You may know him as the tall, bubbly upperclassmen with the colorful hair; but those who spend extended amounts of time with Cooper know that he is so much more than that. Whether it is perfecting his newest sculpture in the ceramics room or helping execute the latest school play in the theatre, Cooper is always going to give you 110% of what he has.
His sculpture teacher, Mrs. Thomas, had high praise for the warm-hearted senior. "Cooper is always willing to help others. He is the opposite of shy and is eager to use his knowledge around the classroom to help less experienced students," complemented Thomas. "I don't even need to ask him. He does it out of the kindness of his heart," she added.
Cooper never lets his creative mind have a break. We asked Mr. Pulio, a leader in the theatre department, about what made Cooper such a great kid and were thrilled with the response. "Cooper never gives up. He has the strength to overcome hurdles and challenges in his life beautifully. I admire how he doesn't let the outside world affect him and continues to be a positive upbeat person," added Pulio.
From there, the veteran staff member went into detail on how much Cooper has done for the theatre program, saying "He has had a great impact on the theatre program here. He is an incredibly artistic kid. I don't think you'll ever see a day where Cooper is not a positive person, which is remarkable. You'll never here him complain."
I think it's fair to say that Cooper Sampson is a joyful, hard working, helpful human being that Lake Forest High School loves to have around. Thank you for all you have done for our community and keep your wonderful attitude after your time here is over, Cooper. LFHS will miss you.
Mr. Brian Sheridan: 
Everyone in the school knows where to find the most relaxed room with Hershey's kisses for students–the Business Ed. office. There, you can find Coach LaScala yelling at his computer because somethings wrong with the "bandwidth," or Ms. Cole discussing the latest Prom dress fashions with her students. But you will also see one man repping a pair of faded jeans with a nice t-shirt and sometimes on game days donning a Joe Maddon Cubs #71 jersey. That's Mr. Brian Sheridan. And he's the one of the coolest teachers in the school, but few know his backstory.
Mr. Sheridan is a former Kidzapalooza bass player, and recorded one of his bands songs for the Mickey Mouse Clubhouse. Mr. Sheridan is not your prototypical teacher, as his combination of a relaxed demeanor and a get-your-work-done attitude is one students can really connect with, and all people who interact with him feel like doing well to impress him. He has a genuine passion for the things he teaches and its evident in the way he conducts his class.
"Mr. Sheridan is an awesome teacher, I had him for Sports Management and it was one of my favorite classes throughout high school. Mr. Sheridan made that class fun but also we learned a lot," shared senior Chris Cavalaris. Mr. Sheridan has the ability to connect with his students through his energetic personality all the while making class extremely enjoyable through entertaining projects. "Mr. Sheridan is a great co-worker, has great integrity, and makes his classes fun through organization of really enjoyable projects," echoed fellow Business Ed. teacher Mr. Phil Lascala. As Mr. Sheridan continues to teach, he will impact more and more lives of his students with his infectious personality and his care for the well-being of all his students. So if you're a student looking for a class to fill a study hall, look to take one of his classes–you won't regret it.
About the Contributor
Ghost, Author
Ghost is a section of The Forest Scout that chooses to publish material anonymously in order to increase the depth of their investigative reporting. Ghost...