The Forest Scout Friday Five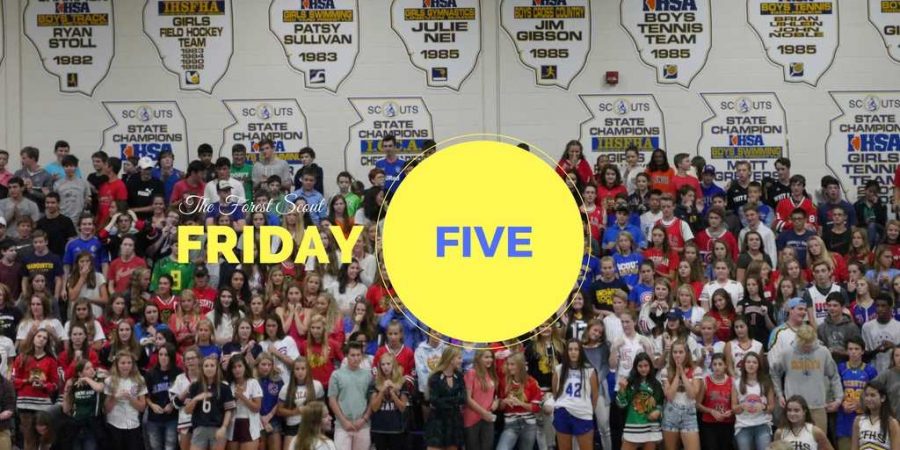 The Forest Scout Friday Five is a weekly segment that celebrates five people making a distinct, profound, and positive difference in the Lake Forest High School community. To visit our most recent installment, click here. To recommend a student, teacher, support staff, or community member for inclusion in The Forest Scout Friday Five, please email [email protected]
Mrs. Carolyn Bielski: There are a few teachers at LFHS who have seen students' lives at the high school from multiple perspectives. In the case of Art teacher Ms. Carolyn Bielski, she has been a longtime teacher at the high school, known for her ability to help young students develop a lifelong passion in art and self-expression, but is also a mother to an LFHS student as her freshman daughter, Morgan, is now officially a Lake Forest Scout. Using both of these roles to her advantage, Bielski has championed the school district's emphasis on mindfulness and "slowing down" as well as anyone. "She's one of the most empathetic people, not just teachers, that I know," mentioned one of her Photography students. "She's just incredible. She gets so excited about the things that we do in class, and really celebrates our creativity."
Truth be told, more students than just Morgan get motherly vibes from Bielski, who celebrates each individual accomplishment of her students as if it's one of her own. Though she was a New Trier Trevian and an eventual Michigan Wolverine in her own education, Bielski has done wonders to make sure the individual art experiences of each Lake Forest student is fruitful and supported. "Every new school initiative or idea, she is behind it 100%," mentioned one of her colleagues. "The power of her positivity is unlike any other person in the building."
Aside from the Art department, Bielski makes sure that each department feels her support and encouragement. After all, she trusts them enough to send her daughter through the District 115 school system, so she must think quite highly of her colleagues. In the end, though, the true spirit of Mrs. Carolyn Bielski is that she doesn't just want just what's best for her, or what's best for her daughter, but rather what is best for the entire school and community. That's how she thinks–and we cannot thank her enough for that.
Owen Bauder: It is rare that a freshman has such a profound impact on such a large group of people, but Owen Bauder accomplishes just that with his ability to inspire the class of 2021. His funny and outgoing personality serves him well for all the activities in which he participates.
Bauder was a starter on the soccer team, the Freshman B basketball team, and actively participates in CROYA. Bauder's well-rounded personality comes from being the youngest of three, and the Bauder family has been a staple in the community for awhile, having older brothers Billy and Luke paved the way for Owen to learn the ropes and positively affect everyone he comes into contact with. CROYA chairman and close friend, Spencer Silvernail, had this to say about Owen: "Owen Bauder might be the nicest, most genuine kid I have ever had the pleasure of meeting. Whenever I run into Owen in the hall, he always has the biggest smile on his face. Owen has recently started coming to CROYA and his presence there is unbelievable. He is the perfect example of someone who always gives unconditional positive regard."
Owen is the epitome of a good friend, always there for others to brighten the mood with a joke or there to help out in any dire situation. Everyone who knows Owen knows he is a genuine and loving person who would do anything for others. One of Owen's best friends, Brody Hender, mentioned, "Owen's a really good friend that can lighten any mood. He always has the biggest smile on his face and is constantly making people laugh." Owen is one of those people that everybody wants to be able to call a friend, and he offers many that luxury. He is a happy-go-lucky kid who welcomes everyone, and LFHS is lucky to have Owen's presence for the next three years because, in the end, every school should have an Owen Bauder.
Sammy Long: A common LFHS freshman can be seen walking down the halls with their headphones in, head down, praying nobody notices them going from class no class. 15-year-old Sammy Long is far from the common freshman, however. The first things you'll notice about Sammy is his ear to ear smile brightening up our school, his perky posture that lures you to his side, and a commanding voice that might be mistaken for a senior's.
Not only does Sammy display great confidence around the school, but he is already showing exceptional leadership qualities in the athletic forum as an underclassman. Assistant varsity basketball coach Mr. Austin Scott recognized the ninth grader's outstanding commitment level. "It's not very often that we have a freshman come to that many of our off-season workouts. It makes his passion for our program and persistence on improving his skill set very evident," Scott complemented. That's extremely high praise coming from someone who deals with mostly upperclassmen
Not so shockingly, Long's teammates had very similar things to say about the two sport athlete. "I can always hear him cheering for me when I'm at the plate", said Long's baseball team member and friend Kernan Lynch. "He's the type of kid that you want to have in your dugout," elaborated Lynch.
It's fair to say that Sammy Long is the type of kid that we love to have around LFHS. Thank you for being a great friend, a great teammate and most of all, for being yourself, Sammy. Your actions aren't unnoticed and you are making our community a better place each day. 
Scott Notz: It's certainly true that LFHS is made up of some of the cheerful, congenial people you'll ever meet, evidenced by the success of The Friday Five. Most of these simpatico students also happen to be extremely hard working, in and out of school. This is quite impressive in itself, but what really sets sophomore Scott Notz apart is his remarkable ability to not only conduct himself in an agreeable manner, but also to offer encouragement to everyone around him at just about every opportunity.
In the fall, Scott is a force for the sophomore boys soccer team. Unlike many, however, Notz chooses not to stop there; along with the freezing cold of winter comes the intramural basketball season, during which he is starting Small Forward for "The Milkmen." In addition, Scotty is currently playing in the "1 Doubles" slot, a highly-coveted position, for the Junior Varsity Tennis team. At face value, this is already an extremely impressive resume, but Scott's true value to these teams is simply intangible. "He genuinely cares how you're playing," shared one tennis teammate. "
Besides displaying his athletic prowess on the field or court, Scott also truly exemplifies what it means to be a student-athlete. Tough classes such as AP Seminar, PSGA, Chemistry, and Latin 2 Honors constitute his busy schedule.  A classmate of his told TFS, "Notz is always on top of homework. It's inconceivable to me how someone so involved in athletics manages to perform so well consistently in class."
As a friend, teammate, and peer of many, Scott Notz continually displays how one can both support of others and take care of number one. A close friend of his, Luke Lanigan, explained, "Having Scott around is fantastic. Besides being funny and wildly encouraging, he's an excellent Fortnite player."
Anne Cook: If their happens to be a personified antidote to the daily drudgery that school often brings, freshman Anne Cook just might fit the bill. "She builds everyone up, all of the time, regardless of the situation," mentioned Caroline Carter, a close friend of Cook's. Cook, who has a twin sister, Grace, simply loves high school so far, and she has no qualms about wearing those positive emotions on her sleeve.
"Anne is the most positive person I've ever met," mentioned freshman classmate Lily Trkla. "She makes every class exciting and tries her best on everything she does." Often, one of the hardest concepts to have freshman understand is the value in their day-to-day education at one of the state's best high schools, but this is no struggle for Anne. Having just turned 15 this month, she already is on top of the ball–she challenges herself with hard classes, works diligently to keep up with tennis and soccer, her two athletic extracurriculars, and maintains her cheerful temperament on a daily basis.
"She is very outgoing for a freshman," mentioned a senior student who has encountered Anne in his own capacity as a TA, "which is exciting, because freshman are sometimes in competition to be like everyone else, but Anne is a breath of fresh air because she is comfortable and confident in her own skin."
The more stories we hear about Anne Cook, the more we look forward to the future of LFHS as these students continue to grow and develop into the next leaders of our high school community.
About the Writer
Ghost, Author
Ghost is a section of The Forest Scout that chooses to publish material anonymously in order to increase the depth of their investigative reporting. Ghost...