The Forest Scout Friday Five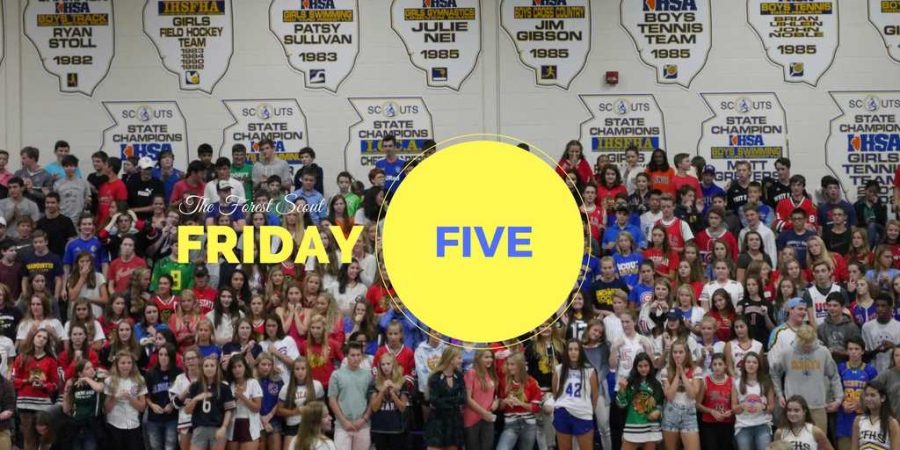 The Forest Scout Friday Five is a weekly segment that celebrates five people making a distinct, profound, and positive difference in the Lake Forest High School community. To visit our most recent installment, click here. To recommend a student, teacher, support staff, or community member for inclusion in The Forest Scout Friday Five, please email [email protected]
Thomas Cutting: Not many students have the opportunity to travel to different ends of the world in their life–especially at the ripe age of 17 years and 5 months–but junior Thomas Cutting has done it, and relished in the opportunity. Now, as a junior, the worldly young man who has traveled to  New Zealand, Barbados and France, and spends a great deal of time in England as it is the residence of many of his father's family members, loves professional soccer and the outdoors utilizes his experience to bring perspective to those around him.
Though he may not be the loudest junior in the class of 2019, Cutting makes his presence felt through his dutiful involvement in athletic activities like the boys soccer and boys track teams, as well as in some of his favorite classes, like AP Language and Composition with Ms. Laughlin, Law Honors with Ms. Cole, and US History with Mr. DeRosa. Cutting uses his life experience to deliver a measured and balanced perspective to his classmates on issues, and is never one to be short on passion when pursuing independent pet projects. "[Thomas] is a hard independent worker, always striving to learn more. He has a hunger for knowledge that will certainly lead him to great things as he continues on in his education."
As mentioned prior, Thomas' time overseas in England has led him to develop a fervent passion in professional soccer, but he also finds time for volunteer work and a job caddying in the summers at a local golf club. Cutting, his surname in which which his close friends call him by, is the epitome of someone who quietly goes about his daily successes without seeking any fanfare or special attention. It is for that reason that we should all recognize and celebrate Thomas for the consistent kindness he displays on a daily basis.
Emma O'Connor: You can always count on seeing sophomore Emma O'Connor laughing through the hallways at LFHS. Her bright personality is easily recognizable by her peers as she strives to please everyone she meets. Her close friends would describe her as extremely funny and hardworking. Sophomore Caroline Lewis notes, "Emma is one of the sweetest and funniest people I know. She is always ready with a joke to cheer me up or lighten the mood. Emma is always there to help anyone out with schoolwork or any other problems they may have. She can instantly lift anyone's mood with her easy going personality. She never takes herself too seriously and is always down to go on an adventure."  Emma is the type of person to go out of her way to make someone's day, insofar as goes above and beyond to make those around her feel special. Emma has a knack for breaking the ice and quickly become friends with those she meets.
Not only is Emma a great friend, but she has also proved her great skills on the athletics playing fields this spring. Emma plays JV volleyball for the high school and has been a member of the varsity lacrosse team since freshman year. Fellow teammate and senior Ginger Leonardi adds that, "she might be the shortest on the team but what she lacks in height she doesn't lack in skill. She is a very hard worker and has improved so much these past seasons. She is super fun to joke around with and she is like a little sister to me."  Whether you have seen Emma dominate the field or crack a few jokes in class, her upbeat personality and contagious smile will brighten your day.
Mr. Jacob Buddell: Running Cross Country or Track isn't everybody's cup of tea, but everyone at practice has a better day after seeing Coach Jacob Buddell, one of the assistant coaches for the track and cross country teams at LFHS. An avid runner and passionate teacher and coach, it's hard to find someone who's more invested in the cross Country and track programs at the high school, seeing as he was a former member of those teams himself when he was a student here. In addition to his roles on those teams, Mr. Buddell is also a Special Ed aide at LFHS. You will usually see him roaming the halls in between classes with a smile on his face and he will always greet you with an "Oh! Hey!"
While he's a relatively quiet guy, he is well spoken and kind, and gets along with almost everyone. A former cross country runner at LFHS described him as, "the nicest and most laid back guy you'll ever meet." He is not only well-liked by students, but is also highly thought of by his co-workers. A fellow coach had this to say about him, "Mr. Buddell is a phenomenal coach and teacher. He's an incredible asset to our school." Part of his passion likely could be attributed to his love for Lake Forest High School and teaching, as he is an LFHS alum and enjoys being a part of the fabric of the community as much as anyone. If you haven't had the pleasure of meeting Coach Buddell, then you're missing out on a great guy that is truly part of the glue that holds the positivity of LFHS together. 
Jack Brush: In a class full of booming voices, Jack Brush is an extremely refreshing kid to have around. He is a great example of how just a subtle smile in the hallway or an unexpected kind word can influence peers. Jack goes to school everyday leaving an outstanding impact on his classmates, whether he knows it or not.
"Having Jack around makes my day better," said Jack's friend and senior classmate, Sean Trkla. "Every first period Jack comes in with a certain positivity that makes me proud to know him as well as I do," he explained.
Jack's incredible stoic demeanor goes far past the classroom; it transfers into great leadership skills in the athletic forum as well. Brush, both an incredible kicker for the football team and state-qualifying  sprinter for the track squad at LFHS, is taking his his athletic gifts to DePauw University in Greencastle, Indiana next year. Students who are also superb athletes often misuse their leadership role and can become self-consumed, but this is far from the case for Brush.
A four year runner, Brush was honored with being named a captain for the varsity track and field team this year under coach John Brummond-Smith. This accolade, of course, was earned, not given. Brush leads his teammates everyday out on the track, ensuring the best results for the program, not just himself. He finds a way to make practice just as enjoyable as it is productive, with his instruction and kind humor.
Ryan Marquis, Jack's teammate for both track and field and football, had only great things to say about the warm-hearted senior. "I love Jack," mentioned Marquis. "You can really tell how much he cares about the programs. He's the type of guy coaches want to have around."
I think that we can agree with Ryan and his coaches in saying that we too enjoy having Jack Brush around. Don't change, Jack. LFHS is going to miss you next year.
Mary Gregg: Mary Gregg is one of the most outstanding students and people here at Lake Forest High School. She is an incredibly hard working, friendly, and talented individual. Some may know her through cross country, while others may know her through soccer, while others still many may know her through one of the many AP classes that she takes, or from her cheerful personality and British accent she employs as she walks the halls, engaging in casual conversation. She strives for excellence each day at school and on the field, and beyond that, she is a great friend and is always there if you ever need someone.
For many, it is difficult to figure out who they are as people even as seniors. High school is a time of change for many and figuring out where you fit in in the larger picture can be very difficult. Mary Gregg represents the rare exception to this situation. Since her freshman year, Mary has been excelling and helping Lake Forest thrive as a community. Not only is she a valuable member to the high school, but she also is an active member at her church. Gregg participates in the youth group at First Presbyterian Church in Lake Forest where she goes on the work trip each year to help build houses in various states. This, however, is just one of the many amazing traits people associate with Mary; she is always looking to help others and often puts others needs ahead of her own.
Furthermore, her participation in team sports such as soccer and cross country demonstrate this same dedication to others. In both sports, individual performance is strongly complimented by a need to be supportive of others and helping them to reach individual goals that contribute to the larger task at hand. During times of personal success or injury, Mary is always there for her teammates to support them and help them better themselves. Mary's sister, Christina, who is also a senior and plays soccer with Mary said that her sister, "applies herself to everything she does and is always super supportive on and off the soccer field."
Mary is an excellent friend to those in need. She is always there for you whether you need a good laugh, or help with a tricky calculus problem. Her presence is always appreciated by everyone around her, and she can bring a smile to anyone's face with her humor and positive attitude. One of her close friends, senior, David Tanna, mentioned, "Mary is a really amazing friend. She's always there for me if I need anything and she's super nice and super smart. I know that I can always count on her, and everyone that knows her, knows how great of a person she is."
Mary Gregg is an invaluable member of our community who uses her strengths to help others, and has been making the high school a better place since the moment she got here.

About the Writer
Ghost, Author
Ghost is a section of The Forest Scout that chooses to publish material anonymously in order to increase the depth of their investigative reporting. Ghost...