The Forest Scout Friday Five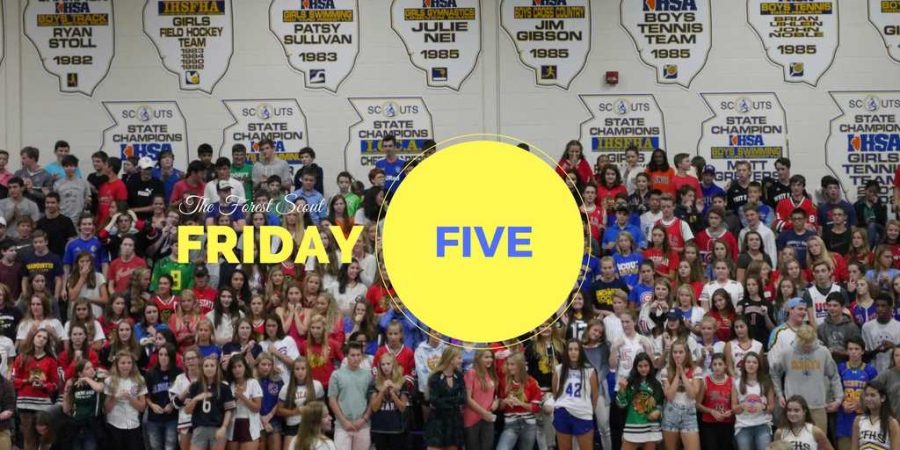 The Forest Scout Friday Five is a weekly segment that celebrates five people making a distinct, profound, and positive difference in the Lake Forest High School community. To visit our most recent installment, click here. To recommend a student, teacher, support staff, or community member for inclusion in The Forest Scout Friday Five, please email [email protected].
Laine Gamrath: 
Sophomore student Laine Gamrath seems to have it all figured out at the ripe age of 15 years and 8 months. The Lake Bluff native participates in both the school's theatre and choir programs, giving as much of herself to each group as she can muster. That, in fact, is what Laine Gamrath has become known for among her peers. "She gives more of herself to clubs, people, and student groups than anyone I know," shared a fellow sophomore student. "And she never asks for anything in return."
Jack LaVanway, a sophomore student at LFHS, labeled Gamrath as, "the nicest person at LFHS," and many of her fellow classmates and teachers would certainly agree. Laine's parents, who both work at nearby New Trier High School, have instilled in Laine a fierce hunger for learning, but also a kindness, empathy, and respect for her peers and superiors that commands their respect in return. Kacey Shalala, who works under Gamrath's direction in the Bel Canto chorus at LFHS, described her as, "unbelievably welcoming." It would be easy for Gamrath to treat freshman condescendingly after she moved on to sophomore year, but instead she empathizes with what they are going through and treats them as equals, which they of course appreciate.
In all, Gamrath embodies a levelheaded maturity of someone far beyond her age. Though she may be smart enough to come off as uber-serious, Gamrath is well-known for her kindhearted, easygoing attitude, which, like all her other qualities, attracts others to her presence. A hearty bravo goes out to sophomore Laine Gamrath for lighting up every room she's in. She is one of the many young women at Lake Forest High School who has done great things without demanding a spectacle be made for all of her hard work. Rest assured, Laine, that we have noticed all your hard work, and commend you for all that you have accomplished already.
Jill Barrere: Though she already graduated from LFHS a few years ago in 2016, University of Illinois sophomore Jill Barrere still bleeds Scout blue and gold. If you don't believe us, just ask her. Barrere, who was the Student Council vice president, head varsity cheerleader, a TA for multiple classes, and much more during her time at the high school, makes it a point to stay up to speed with all that is happening at LFHS from downstate in Champaign.
"She always reaches out with encouragement when something big happens, and she was very vocal about how she thought moving The Forest Scout online was a good idea," mentioned Austin Scott, an English teacher who worked closely with Jill in her senior year. Undoubtedly, part of the high school spirit has never left Jill, though she has now taken on a leadership role in her sorority at U of I, Delta Gamma. Whenever a major LFHS event hits social media, like it did earlier this month with Annalise Craig and Whitney Perschke's "LF vs. LB Rap Battle" video, you can usually sometime after find a shared post on Jill's account–be it on Facebook or Instagram–with a prideful "S C O" label attached to it.
Any teacher or fellow peer in the class of 2015 would attest that Jill Barrere has always had a tremendous amount of pride in Lake Forest High School. Her school spirit was always contagious, and the fact that she consistently led by example evidences just how much she cared–and continues to care–about LFHS. That said, what is most impressive about Jill is the fact that she's never too cool to support the Scouts–never too old as she continues to represent the place that helped mold her into the admirable leader she has become outside of Lake Forest. In high school, Jill helped make it cool to support your school, your classmates, and your teachers in any way possible. In college, she has continued to do, championing the efforts of those who perhaps looked up to her, all the while balancing excellence at a new institution.
Many of LFHS' alumni are rooted in successful careers, and in a few short years Jill Barrere will be no exception. But what many current Lake Forest High School students can learn from Jill is that Scout pride is not a four-year diagnosis–it lasts a lifetime. And we should hold the next generation responsible for keeping the flame lit within each class.
Jack Fitzgerald: If you ever happen to wander through the commons after school and notice a short kid among a tall group of seniors you may think something is out of place. That short kid would be freshman Jack Fitzgerald. The youngest son in the Fitzgerald family stands tall at 4'10 but his personality is anything but short. "Personable, funny and charismatic," says senior Ben Streightiff, and he is right. He's the type of guy that makes you feel like you've know him your whole life even if it's your first conversation with him. Jack is also involved with a few sports inside and out of school. He comes from a devout hockey family and has been playing with the Falcons team ever since he was six years old. He conveniently lives right across the street from West Park, allowing him access to all the activities one can participate in at the park. In the winter time you can catch him skating and shooting around at the rink; and in the summer you can find him tossing the lax ball around with his buddies. Simply put, the kid just loves to be active and outside. He plans to play lacrosse this spring for the Scouts and is very excited for the season. His hockey coaches will attest to his hard work and passion for the sport. His dedicated mindset will undoubtedly transfer from the ice rink to the lacrosse field when he starts playing this spring.
Jack Fitzgerald possesses all the traits one would want in a friend. His ability to come into a conversation and effortlessly make everyone laugh is a skill most wish they had. If you haven't met Jack Fitzgerald yet, you will. And when that happens you will be glad you took the time to talk to him. Everyone likes to have someone they can casually strike up a conversation with–or just be friendly in the hallways–and for a lot of students at Lake Forest High School that person is Jack Fitzgerald.
Ms. Natasha Mah: When thinking of a teacher's particular talents, you may think of things such as being amazing at calculus or being able to perfect the writing of an analytical essay. However, one talent that is truer than most is Ms. Mah's ability to play the piano. If you are ever lucky enough to walk into the choir room when she is rehearsing without the choir, you will be in awe of her unparalleled skills. Ms. Mah is the accompanist for all three Lake Forest High School Choirs. Many won't understand the intensity and range each choir includes, but you can rest assured it's a tough job. Still, if you ask anyone they will tell you that she is the glue that holds all of the choirs together. Whether it be covering up a mistake in a recital, giving amazing advice, or just being someone to talk to, Ms. Mah is, without a doubt, a fan favorite.
Aside from being the accompanist, she is also the leader of the holiday a capella group, the Bel Cantos. The group is made up of freshmen and sophomore girls and requires a ton of work. The group begins auditioning the second week of school and performs all the way up until winter break. "When I was in Bel Cantos, she helped us create a tight-knit group and really inspired us to be passionate about what we were doing. She motivated us all to work hard because we could tell how much she cared and we wanted to make her proud," said former Bel Canto's leader and current senior Grace Duggan.
Musical talents aside, Ms. Mah has always been there for all her students. She is able to create relationships with all of them and makes each feel important. She makes a point of staying up to date on the lives of her students and will always make time in her busy schedule to stop and chat.
Ms. Natasha Mah is about to take on the challenge of traveling across the world to Italy with about 100 people. Sure, there will be other chaperones, but considering her popularity among the choir kids, she is bound to pick up some extra responsibility. Senior Holly Malnati had a few words to wrap up Mrs. Mah's character as a whole. "I am so lucky to have Ms. Mah as a chaperone. She has easily been one of the most influential teachers in my high school career. She has the ability to make everyone feel loved in choir and encourages us to do our best. It has truly been an honor to get to know her the past four years."
Henry Carlson: It's not often you'll find someone who doesn't know Henry Carlson. Although Henry keeps himself busy with a rigorous hockey schedule, he still finds time to spend with friends, whether it be in clubs, classes, or just hanging out. Specifically, Henry is an ardent member of the Latin Club, and chooses to challenge himself with some of the toughest courses available.
In and out of the classroom, Henry exudes a quiet confidence that many feel is quite contagious. Junior Tommy Hanson, a lifelong friend of Henry's, shared his thoughts on Henry's demeanor, saying, "Henry is always in control of the situation. The kid has always got a smile on his face."
For someone who has played hockey just about every day from a very young age, Henry Carlson fills his school day with incredibly tough courses. Between Latin 4H, Honors Enviro, AP Lang, and AP Calculus AB, it's fair to say that Henry works hard in the classroom. One classmate of Henry's attested to his academic prowess, stating, "The way he juggles his commitment to hockey while still getting good grades is really impressive"
Although Henry doesn't play for the Scouts Hockey Program, his Chicago Young Americans U16 team is widely recognized as a national powerhouse. Playing in the state championship, the team unfortunately fell to Chicago Mission. Hunter Weiss, a member of Chicago Mission, told TFS, "Henry's a great kid; because of his competitiveness he's one of my favorite kids to play against." He continued, "He's one of the few players who knows how to have fun in games… and leave it on the ice afterwards. No matter what happened, we're still great friends."
About the Writer
Ghost, Author
Ghost is a section of The Forest Scout that chooses to publish material anonymously in order to increase the depth of their investigative reporting. Ghost...