The Forest Scout Friday Five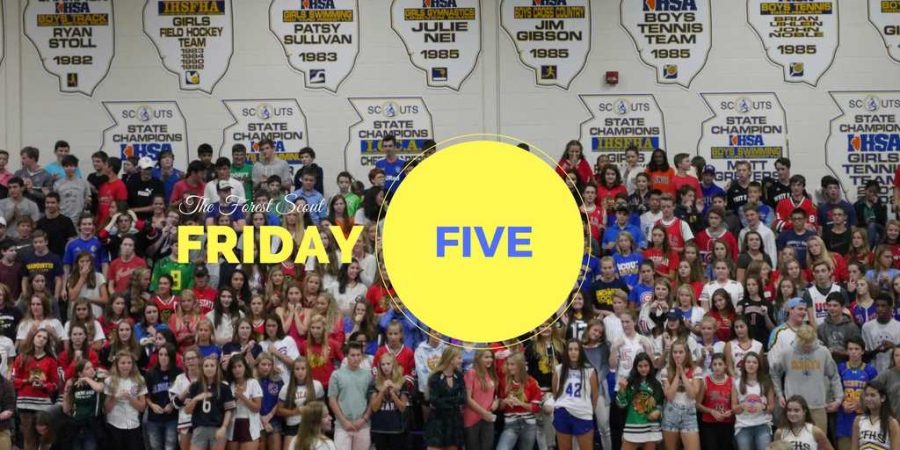 The Forest Scout Friday Five is a weekly segment that celebrates five people making a distinct, profound, and positive difference in the Lake Forest High School community. To visit our most recent installment, click here. To recommend a student, teacher, support staff, or community member for inclusion in The Forest Scout Friday Five, please email [email protected]ols.net.
Ms. Tia Rupnik: When an 18-year-old Sheboygan, Wisconsin native named Tia Rupnik decided on Lake Forest College to continue her volleyball career, she most likely never dreamed of the impact that Lake Forest, as a city, could have on her life. Nearly a decade after she made that decision as a high schooler, Rupnik has now found a home at Lake Forest High School as a math teacher and do-it-all coach for the Scouts.
Rupnik, who teaches Plane and Solid Geometry as well as Math Analysis-H in the LFHS math department, receives praise from her students and athletes on a daily basis. "Mrs. Rupnik is the best. She is always there to help us out," mentioned one PSG student. "You can come into the Resource Center and have a million questions, and she'll patiently walk you through each one. "
Not only does Rupnik volunteer her time to help students come to a conclusion on some of the complexities of the math world, she has also derived quite the algorithm for assisting young girls in becoming better people outside of the classroom. In her four-year tenure at LFHS, Rupnik has coached volleyball, her keenest expertise, basketball, and lacrosse, all at the lower levels. Coaches from all sports shower Rupnik in adulation for her ability to mentor young girls and teach them how to be great competitors, yes, but more importantly, women who win at life. "She always stresses respect–for yourself, your teammates, and the game," one of her basketball players shared. "She is always so poised. It just simply wouldn't fit if we were reckless and had bad attitudes on the floor."
For all that Ms. Rupnik is doing so effortlessly by just sharing her personality with her students and athletes, it is clear that she is making a difference in tailoring the model LFHS female student athlete. Whether you're setting, shooting, or sprinting down the lacrosse field, Ms. Rupnik has taught us all to be just a little bit better each day. For students in high school, that just might be the missing variable.
Sarah and Michael Metzger: Even high schoolers know the fastest way to someone's heart is often through their stomachs. Food and drink, of course, is the key ingredient to making someone feel welcome. Well, as far as Lake Forest's culinary artists go, Sarah and Michael Metzger, a Lake Forest couple who have raised two daughters at LFHS, Hannah ('17) and Sophie ('18), share their savory, sweet, and succulent cuisine as well as anyone.
"Mr. Metzger's blueberry pancakes are a thing," mentioned senior Brett Chody. "They're honestly some of the best pancakes I've ever had." Not only is the Metzger family cuisine a fine art in and of itself, but they never make you ask twice. "As soon as you walk in, something is offered," mentioned senior Jenny Ortega. "They literally love to host people and make you feel welcome." Not only is their Dutch colonial home on Atteridge Rd., which the family bought from Ms. Metzger's parents in 2006, a Lake Forest staple for hospitality, their simple kindness and outgoing nature has been recognized in other ways as well. In fact, some teachers remember Mrs. Metzger for her clever and creative notes when her daughters were occasionally late to school, each one signed "Saintly Mother Sarah."
Outside of raising daughters who are simply just "good at field hockey," Sarah and Michael have raised two fantastically kind and personable young women. At the end of the day, grades and athletic achievements are fine and good, but it is the people whom you share your high school experience with that you remember. And it is certainly hard to forget a Metzger, be it Michael, Sarah, Hannah, or Sophie.
Caroline Skinner: Senior Caroline Skinner, better known as just "Skinner", is known for her brilliance, hilarious outbursts, and athletic ability. "She has been athletic her entire life," senior Brett Chody says. "When we were little, she was always the best at any sport we did." Skinner proved her athleticism early on in her high school tenure, making varsity lacrosse as a freshman. She's an integral team member, teammates testify. She also played varsity basketball last year before opting to not play this winter because of her strenuous course load. No one can blame her. Her schedule boasts Multivariable Calculus, AP Physics C, AP Spanish, AP English Literature and Composition, AP Research, and AP Economics. "Skinner is the most low key genius I've ever met," senior Elizabeth Porter says. Fellow senior Emma Riley added, "She's so humble. You'd never know how smart she is." Furthermore, Caroline is an extremely diligent student, proven by her National Merit Scholar Semifinalist nomination and earning As in each one of her college-level classes.
Apart from being a star student and incredible athlete, you can often hear Caroline's infectious laugh filling her classes, the halls, and the upper commons. Her AP Spanish classmate, Holly Malnati, says, "Skinner makes me laugh daily in Spanish, especially when we joke about the Spanish TV show we watch in class, Él Internado. She's the Evelyn to my Paula." Another classmate of Caroline's accredits her to boosting her mood. "Skinnie is a ball of sunshine that brightens my day, everyday. She's the best."
Clearly, Caroline Skinner has a big fanbase. From teachers, to students, to parents alike, everyone knows and adores Caroline.
Blaise von Ohlen: You've heard him in the hallways, and seen him in your classrooms. Senior Blaise von Ohlen is a character unlike any other. His constant chatter and spontaneous rants of knowledge bring a surge of laughter to just about any person or group he's around.
You may recognize him from some of his most common catchphrases such as, "who said sit down," "you think darkness is your ally," and "he loves goooooooldstein." Aside from his outgoing personality, Blaise shows an immense passion for each activity that he is involved in. Whether he's at debate team, chess club, model UN, math team, or a scholastic bowl tournament, his determination and enthusiasm fails to waiver. Not only is Blaise actively involved in clubs and teams, but within school he keeps his schedule full with classes such as AP physics C, AP calculus BC, AP lit, AP economics, and more.
For any student, especially a senior at Lake Forest High School, taking part in such a demanding and rigorous lifestyle is rare. However, Blaise conquers it all. Classmate Elizabeth Porter explained, "Blaise brightens my day with his antics and incessant energy. Sometimes he says the pledge of allegiance in Latin. He's like an encyclopedia of information. I can't even argue with him because he knows everything." It's people like Blaise that make Lake Forest High School such a fun, exciting, and interesting place to be.
Thomas Knipe: Few students at LFHS have as interesting a background and experiences as Thomas Knipe. Thomas grew up in Copenhagen, moving to the US pretty early on in his childhood. He has taken Mandarin and Spanish at LFHS and is fluent in those languages along with Polish and Danish (and I may be missing a few more). According to friend and fellow LFHS senior Hadley Seymour, "he speaks so fluently you would think he spent 5 years abroad [in those countries]."
Perhaps that is because Thomas has extensively traveled abroad. He goes to Central America every other year for a service trip to interact with local kids. Many LFHS students are involved with service, but Thomas takes that commitment, and multiculturalism, to the next level. He has also travelled to Italy with the Band/Orchestra and to China through the Chinese exchange program. In 2016, he went to Krakow, Poland for World Youth Day.
Thomas plays tennis at LFHS and is a prominent member of the Chinese club. Senior Eleanor Asma, who knows Thomas through church, added that, "Every time I see Thomas he is happy and in a good mood and genuinely wants to know how you're doing." She pointed out that in addition to his kind, laid-back personality, Thomas is "incredibly smart." His persistent positivity and friendliness do not go unnoticed by his teachers either. His former Spanish teacher Mrs. Serrato added that, "It is a privilege to know Thomas."
Anyone who's been in class with Thomas knows that he is always willing to help his classmates out. He is a great asset to any class or group project and truly embodies the dedicated student, team player, and community member that we all strive to be.
About the Writer
Ghost, Author
Ghost is a section of The Forest Scout that chooses to publish material anonymously in order to increase the depth of their investigative reporting. Ghost...