The Forest Scout Friday Five (Veterans Day Edition)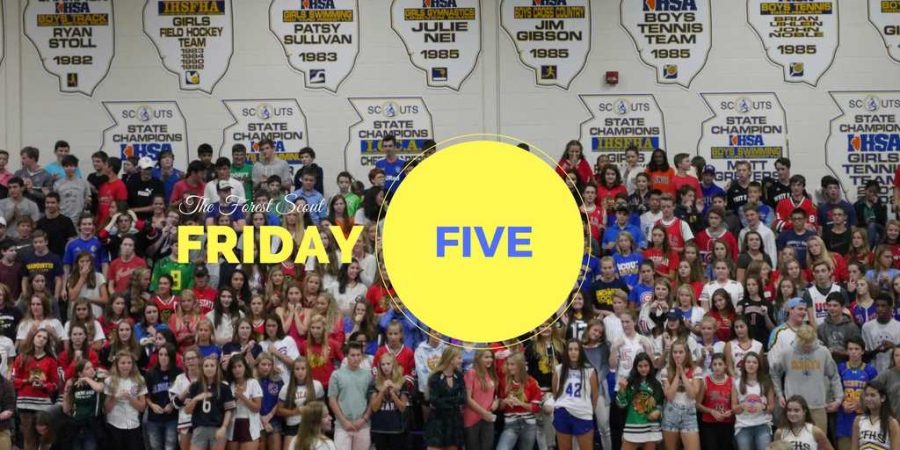 The Forest Scout Friday Five is a weekly segment that celebrates five people making a distinct, profound, and positive difference in the Lake Forest High School community. To visit our most recent installment, click here. To recommend a student, teacher, support staff, or community member for inclusion in The Forest Scout Friday Five, please email [email protected]
Mr.
Larry Lilja: For as long as anyone in the communities of Lake Forest or Lake Bluff can remember, Mr. Larry Lilja has been helping turn young, high-school-aged boys in to mature young men. How does he do it each year, tirelessly and without fail? Disciplined habits.
Lilja reinforces the same disciplined habits on Lake Forest football players that he forged in to himself decades ago as a member of the ROTC camp at Northwestern Univeristy. The Scouts' strength and conditioning coach is the ultimate hard hat, lunch pal type of guy. There's never been a player who has shown up to the weight room before him, which is extra special considering he also rides his bike to and from West Campus each summer morning. An accomplished athlete in his own right, having played football for Northwestern University before moving on to play for the New York Giants and Atlanta Falcons of the National Football League, Lilja has never outgrown his outwork-and-outlast mentality that has made him one of the best around at his craft.
Mr. Joe Harmsen, who worked under Lilja's tutelage when he was a basketball player for Northwestern in the late 90s, argues that Coach Lilja was the same intense, early riser that he is today. "Coach Lilja is one bad dude," shared former Scouts punter Ryan Durburg. "You walk into the weight room and you see Coach Lilja, and you know he knows exactly what he's talking about." According to senior Chris Cavalaris, "Coach Lilja embodies the word grit." Durburg vividly remembers Lilja showing up at West Campus about a week after his back surgery. "He was just walking up and down the bleachers, just after back surgery."
Lilja's toughness might not have been on display in combat, but his disciplined habits were formed in ROTC and he continues to share that discipline with the young people in today's world.
Billy Yeo ('14): Billy Yeo, a 2014 alumnus of Lake Forest High School, always knew that he was different from the average high school student. In class, he was boisterous, always sharing his loud, booming voice with the group, whether it was prompted in discussion or not. Outside of the classroom, he excelled in theater and the musical productions that the high school had to offer. He could sing, he could act, he could write, and he could certainly talk–everyone loved Billy–but there was always something missing from his identity that he had yet to delve in to. Though he often referenced growing up in a military household, Billy's assignment notebook was never in hand (or in his possession for that matter). He, like many other high school students, struggled to write things down, stay organized, and on task. But, as is often the case with people who find their true calling, something special was about to change that.
At a young age, was raised to understand the importance of sacrifice in serving one's country, but also to be caring and compassionate. This, among many other life lessons, Billy learned from his mother Michelle Kovacs. So when he got to Bowling Green State University in the fall of 2014, Billy finally heard his calling to the military, louder and more clear than it had ever been before. His grandfather, also a military man, was an airborne paratrooper who won three purple hearts while serving in an airborne unit. As for Billy's grandpa's youngest protege? Well, he just received his wings as a paratrooper on October 5 at the US Army Airborne school in Fort Benning, GA and recently became engaged to Ms. Traci Johnson, the soon-to-be Mrs. Billy Yeo.
Lake Forest High School is proud to have an alumnus as courageous, confident, and comfortable in their own skin as Mr. Billy Yeo. As he anxiously awaits selection, we wish him all of the best of luck in his future endeavors with the US Army.
Palmer Ferris ('16): When Palmer Ferris graduated Lake Forest High School and enrolled in Auburn University in Alabama, he had hoped that something that the school had to offer would fulfill him personally. The son of a military veteran, Ferris left Auburn soon after arriving in the fall of 2016, citing that he felt that he wasn't doing anything important. From there, Ferris enrolled in the Marines and has since finished boot camp, graduated Lance Corporal, and is ready for the next step of his journey, infantry.
Those who know Ferris from the football field know all too well that he is cut out for a life of discipline. In fact, many players remember Ferris to be one of the hardest working players on the 2015-16 football team that reached the IHSA 6A Quarterfinals. A defensive end in football as well as a rugby player, Palmer Ferris used his unyielding loyalty to win over the favor of his favorite teachers, namely Ms. Jen Van Skyock, his former English teacher.
Having left an indelible legacy of courage after choosing to leave the comfort of a college campus to pursue the self-fulfilling benefits of a life in the army, Palmer has left a phenomenal reputation for his young brother, Turner, a senior, to follow. In such a time of political uncertainty, Lake Forest High School is proud to have those who have walked through the halls of our school stand in training for the United States Army.
Mr. Donald Murray: Mr. Don Murray is a charismatic, thoughtful 97-year old WWII veteran who lives in Lake Forest, Illinois. He enrolled in the US Army at age of 18 and recalls going into the war clueless despite all the training he and the other airmen training he underwent. He decided he didn't want to have to sit in trenches and shoot from the ground, and instead wanted to fly in the planes, so he joined the Air Force.
Murray remembers having to take orders from men who were amateurs themselves. At 25, Murray was able to become a leader and gave orders rather than spend more taking them when he became a pilot. Later on in the war, Murray and his team decided to fly over Germany instead of Switzerland and Poland. This soon backfired when the Germans started firing at their plane. The plane, which soon went down, held Murray and the other airmen inside of it, so they jumped from the plane and dropped down into German territory, falling slowly with their parachutes. As soon as they were able to touch the ground, however, Germans were grabbing them by the arms to take them to a German prison camp. There, they had very little to eat and became immensely thin. Aside from hunger, the men weren't treated too poorly and they had each other to keep them company. Murray and his team were prisoners of war until 1945 when the war ended. When the war ended, the men that were guarding the prison fled, leaving Murray and his team to walk many miles out of Germany into safe grounds.
Don Murray, despite all that he went through in war, could arguably be the sweetest man in Lake Forest. He lives in a nice, little house in west Lake Forest with his wife, Jo Murray. Don is as active as you can be at 97 and very frequently goes outside to water his plants, get his mail, and enjoy the outdoors. He is a kind-hearted man who loves seeing the bright, smiling faces of young people of the next generation. Junior Bridget McGreevy mentioned, "when I was younger, I would often go to the Murray's house to sit on their couch and talk to fill them in on things happening around the neighborhood. In their living room, the Murrays have a big glass window that lets you see into their backyard and we would always look out to see squirrels, chipmunks and birds eating the birdseed that Mr. Murray had put out. He was always very friendly to me and the other kids in the neighborhood and loved hearing our stories and the activities we were involved in."
His unforgettable memories of WWII and amicable demeanor make Don Murray a valuable member of Lake Forest. Not to mention, a captivating person to talk to with plenty of life lessons to impart on the young kids of the neighborhood. 
Mr. Joe Mislinski: If you have ever met Lake Forest resident Mr. Joe Mislinski, you will know him to be a proud father, an extremely knowledgeable and intelligent, quick-witted man. Very few, however, know him as the West point Graduate, secret service agent and past member of the Explosive Ordnance Disposal (EOD).
You can always find Joe cheering on his son, Jack, and the Scouts at various high school sporting events. Yet, if you truly want to see his team spirit, you can find him in the stands chanting "Go Army, beat Navy" at the annual Army vs. Navy football game. Joe went to West Point as part of the class of 1978 and served in the US Army until 1988, eventually earning the title as Captain. At West Point, Joe was a part of many teams and clubs, such as the parachuting club and handball team. During his service, he was sent to South Korea and Germany to work with the EOD. Joe is still currently involved with West Point as he is a recruiter who helps kids in the area understand the application process for Army, and is also on the board for the Congress for the nomination process. You will see him proudly wearing his Army pride on his finger with his class ring.
There is much more to Joe than his Army pride, as senior at Lake Forest High School, Peter Carney, can attest to. "He's the best cook I know other than my mom," Carney explained, alluding to Mislinski's culinary expertise. Joe's experiences from serving in other countries has given him a vast array of knowledge about different culture and their foods. One of his famous meals is a Korean dish consisting of beef, rice pear sauce and other ingredients, all displayed beautifully. As delicious as this meal is, Mr. Mislinski is most famous for the way he prepares his meats, especially bacon. Joe has his very own "bacon blog" where he discusses the best recipes and funny stories involving bacon. His bacon is so renowned that last summer, he was invited to speak at the bacon festival in Ann Arbor, Michigan to discuss crimes involving bacon. If you would like to know more about those crime stories, just ask Joe. He would love to tell you more about them.
"Everytime I talk to Mr. Mislinski I learn something knew," claimed senior Catherine Nicholson. As you could have guessed with a background like Joe's, it is no surprise that he is very smart, so much so that it shows through his witty sense of humor. He picks from hundreds of jokes that keep everyone around him laughing and constantly entertained. Next time, ask Joe his famous Hydrogen joke, it will get you. Augy Cirame, a senior and friend of Jack Mislinski (Joe's son) agrees on Mr. Mislinski's extensive knowledge. "Mr. Mislinski knows a lot about random thing,  like at our baseball game one year, Jack dislocated his finger and Mr. Mislinski immediately put it back into place perfectly and Jack pitched the rest of the game."
If you have been lucky enough to have met Mr. Mislinski, I'm sure he has either taught you a thing or two, made you laugh, or told you an impressive Army story. That's what the Army represents, confident, intelligent, resourceful men like Lake Forest's very own Mr. Joe Mislinski. 
About the Contributor
Ghost, Author
Ghost is a section of The Forest Scout that chooses to publish material anonymously in order to increase the depth of their investigative reporting. Ghost...