The Forest Scout Friday Five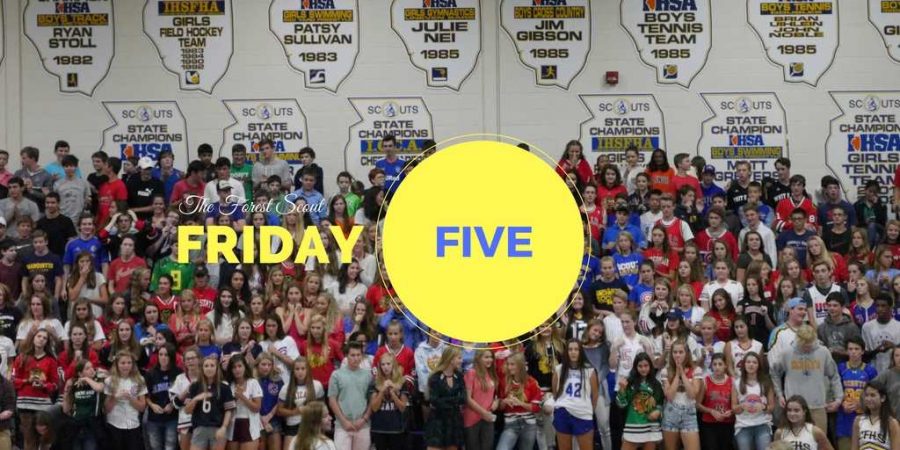 The Forest Scout Friday Five is a weekly segment that celebrates five people making a distinct, profound, and positive difference in the Lake Forest High School community. To visit our most recent installment, click here.  To recommend a student, teacher, support staff, or community member for inclusion in The Forest Scout Friday Five, please email [email protected]
Sra. Marni Levinson: Some call her Señora Levinson, while others know her as Coach Lev. To everyone, she is Lev, one of the most motivational, sweet, and positive teachers LFHS has to offer. She is a Spanish teacher here at Lake Forest, leading the Spanish 2 and Spanish 5 classes after studying Spanish as a major at the University of Iowa. In addition to that, she recently received her Master's degree from Northeastern Illinois University to become a counselor. Some form of music (most days, "Despacito") along with a huge smile always follow around Mrs. Levinson as she greets her students each day as they walk in the door.  
Though her title is a Spanish teacher, she is also the assistant varsity cross country coach. No matter what the itinerary for the day's practice consists of, Coach Lev is always there waiting for the girls to gather before going off on their warmup, never forgetting to ask how our each member's day was. As they run, either on or off the track, Coach Lev accompanies them on her bike, measuring every step with her orange GPS watch.
Aside from running, Sra. Lev, a yoga guru, leads the team through sun salutations, stretches, and the everybody's favorite, Savasana. "This is your time of the day to not think about anything, move away from your busy lives. If a thought comes to your mind, realize that it is just a thought and let it go," she tells the young women as they relax. Some days they get the background noise of construction workers or landscapers, but when they are lucky, they are greeted with the perfect silence of birds chirping and a slight breeze in the distance.
Competition days can be both nerve-wracking and thrilling for every runner. All of the hard workouts on the track and long runs during the week prepare them for the day of the meet. With all of this stress, Coach Lev is consistently there to calm the team down and set their focus for what lies ahead. "As we huddle up, she reminds us: you are all so strong, you got this, it will be a great race," assured senior Mia Johnson. "Before each race, we all complete her signature handshake of a side slap and fist bump for good luck. Throughout the race, it's hard to miss Coach Lev screaming your name, motivating you to pass the girl in front of you."
An avid athlete, Coach Lev has completed a half marathon, numerous triathlons and marathons, and is also an active hiker. She is committed to herself, fitness, but most of all, to inspiring and motivating others. 
When members of the cross country team were prompted to describe Coach Lev in one word, the following answers ensued:  selfless, passionate, motivational, inspiring, encouraging, powerful, empowering, knowledgable, strong, dedicated, mindful, charismatic, supportive, and caring. Quite the reputation precedes her.
Like the athletes, the coaches who are blessed to work with Sra. Levinson also enjoy their time in her presence. "This is my fifth year with Coach Lev – she has been a great addition to our program.  It has been a real pleasure to get to know her better over these past few years as we have spent a lot of time together in the fall and the summer working with the team," mentioned Head Coach Steve Clegg. "From yoga sessions with the whole team after a hard run, to one-on-one pep talks with individuals, Coach Lev is the real heart of our team."  Coach Chris Landvick, the other varisty assistant coach, agrees with the aforementioned praise of the motivational pioneer. "Coach Levinson is one of the most supportive coaches I have had the privilege to work with," added Landvick. "[She] will also pick up my spirits when I am down on myself. She does everything she can to help improve the athletes.  She will inspire, advise, relax, joke, empathize and ultimately care." Perhaps Landvick said it best when it comes to combining the feelings of Señora Marni Levinson's students, athletes, and colleagues. "She simply gives her absolute best to anyone she comes into contact with."
Delaney Weiss: If you have ever walked down the hallway early in the morning and encountered someone intensely powering through homework packets, coffee cup firmly in hand, it was most likely Delaney Weiss. Although you may think she's just exhausted, like the rest of us, the truth is that she's probably just returned home from an arduous tournament where she competed against the best and the brightest in search of a national title.
For the past few seasons, Delaney has played for the Chicago Young Americans U19 Tier 1 team, an elite girls hockey program consisting of the best players in Chicago. Nationally, Delaney's team consistently ranks in the top 10 beside other elite US programs from Minnesota and Michigan. But Delaney doesn't just play for CYA, for the past 2 seasons she has captained the team all while managing her studies and commitments at LFHS.
Hockey is part of Delaney's DNA. In fact, she isn't the only superstar athlete in her family; her older sister Sheridan (LFHS '16) is currently playing field hockey for the University of Indiana and her brother Hunter (LFHS '19) has committed to the University of Notre Dame to play D1 hockey.
Like her siblings, Delaney is not only a serious athlete, she is also a serious student who receives high praise from teachers. Mrs. Landvick, her Latin teacher, mentioned, "Delaney is exactly the kind of kid you want in your class. She's not just smart, she's invested. School isn't about grades alone, it's about understanding what the subject matter means in the bigger picture and what it means to her personally."
While many seniors continue to agonize over the college application process to determine where they'll end up, Delaney Weiss has had it figured out since junior year. She is excited to continue her hockey career at the collegiate level playing for the Rensselaer Polytechnic Institute.
Delaney is known for being one of the toughest competitors on the ice and also for being one of the nicest and most caring people at LFHS. Just ask her friend LFHS senior Audrey Kaus. "Delaney is the most honest, down-to-Earth person I've ever met. She's always so helpful and fun to be around. I'm so lucky to have a friend like her." Humility, respect, kindness, and dedication are characteristics that Delaney exemplifies both on and off the ice. So the next time you see her in the hall, take a minute to introduce yourself because she's definitely a friend worth having.
Casey Murray: Sophomore Casey Murray, a graduate of St. Mary's Middle School, took very little time getting acclimated to the high school a year ago. Seemingly unfazed by the sizable transition from middle school, Casey took off in a variety of different classes–especially Chemistry. "He's Einstein's prodigy," says Junior Eddie Scheidler, a past classmate. "He probably knows more than some teachers," Scheidler joked. Well, fast forward a year and nothing's changed.
Casey consistently scores well and often leads the class in a wide variety of science-based discussions and assessments. From how hydrogen bombs work to why pascal's are the best unit of pressure, each argument is indicative of his passion for using the right SI unit. In class, "Casey is usually able to find five different ways to solve a chemistry problem while everyone else struggles to find just one," says classmate George Schoettle, an upperclassmen and one of Casey's peers. "He is always looking to learn more."
That desire to learn extends outside of the chemistry lab as well, following Casey down two flights of stairs into the Latin classroom. Last year, Casey received numerous medals for his academic achievement on the following latin exams: the Latin Mythology exam, the National Latin Vocabulary exam, and the National Roman Civilization exam. Out of all LFHS Latin students Casey was the only one to receive a perfect score on the National Latin Exam, earning himself Summa Cum Laude recognition and a gold medal. Furthermore, Mr. Woodruff—Casey's freshman year Latin teacher—recalls Casey always being interested in the, "curiosities of language – the exceptions, the oddities, and all the interesting fine points." Clearly, Casey's most profound characteristic seems to be his unwavering curiosity.
Outside of the classroom, Casey is heavily involved in sailing for the high school team as well as participating in Model UN, having been named "best delegate" multiple times. "Casey is one of the most outspoken and eloquent delegates we've ever had," said this year's secretariat Emma Johnson. "He's an excellent speaker. He is creative, knowledgeable and a natural leader in committee sessions." Casey represents India as a sophomore. The fact alone that an underclassmen is representing one of the more powerful countries is indicative of his ability as a delegate. 
Casey Murray's incredibl curiosity and work ethic has led to some pretty impressive accomplishments in his two years at LFHS. "If his drive to build the perfect rocket continues, I foresee him doing great things in the future!" says Casey's Chemistry teacher Mrs. Sorensen. And it's all the the truth. Out of everyone I've spoken to this week regarding Casey Murray, one thing has remained the same. "Casey is the king," mentioned his freshman English teacher Mr. Austin Scott. "He's a one in a million student, but a once in a lifetime kid." Indeed, Casey is a bright kid with a bright future and LFHS should be proud to call him one of their own.
Lexie Conley: From her upbeat demeanor to her positive, smiley personality, sophomore Lexie Conley never fails to bring her pep wherever she steps. Whether it's early Monday morning or what feels to be a never-ending day of school, Lexie's cheerful, vibrant nature remains steadfast. "I don't know how she does it, but she always seems like she's in a good mood," recalled Charlie Aberle, one of Lexie's closest friends.
Aside from being the energetic, bubbly person many have come to know her as, Lexie's school spirit is unlike any other. Just last week, throughout the five days dedicated to showing your school colors, Lexie did not skip a beat, going above and beyond for the specific theme each day. Lexie stood out from the rest of her grade as a true embodiment of enthusiasm and excitement for one's school.
Believe it or not, Lexie's lively charisma carries far beyond the breaches of the high school hallways and classrooms and into her extracurricular activities and events, such as year-round dance. By staying through the duration of the homecoming dance to continuously supporting the Scouts at the football games no matter the outcome, Lexie breaks from the social norm of many students simply because she has such passion for the team in the blue and gold, regardless of sport. Better yet, Lexie doesn't let what others may think or do alter the kind of person she is and strives to be.
That, what I believe, makes Lexie truly unique.
Often times in high school, students are commonly faced with the stresses and pressure associated with self consciousness and the fear of being judged by those around them; it's merely a part of the whole high school experience. Yet, despite those widely apparent stigmas, Lexie continues to be herself and live her own personal life, not thinking twice about others may have to say.
Simply put, Lexie Conley is an example we all should aspire to be. To possess such a genuine, ecstatic personality, and to go about each day living by it is something we all should try to emulate ourselves. One of her best friends, Bridget Mitchell, best summarizes Lexie's overall being: "She's always singing. She's always dancing. She's really just a ray of sunshine."
Molly Casey: Senior Molly Casey is a favorite to many here at Lake Forest High School. Her spunky, red-headed self is quite the character. 
Molly is actively involved in many things both inside and outside of school. Molly participates in JV Cross Country where many have named her the "unofficial captain." Molly's leadership and dedication is demonstrated each and every day, be it at practice or during a race. Outside of school, one of her many strengths includes her passion for art. Molly is extremely talented when it comes to art and designing things. You may recognize her work from this year's homecoming shirts featuring her original design. This summer, Molly did a program at SCAD (Savannah College of Art and Design) where she was able to expand her knowledge in art, learn new skills, and meet some new people with common interests along the way.
Her eye for art is clearly shown in her sense of style; every outfit she wears is unique and fashionable. No matter the day, she can always be seen rocking the latest trends and looking perfect from head to toe. Longtime friend Susan Nevin shed some light on her. "Molly Casey is one of the most fashionable, Devil Wears Prada-loving, spunky girls I know. She always knows what outfit I should wear. Her personality (and hair) are electric, along with her love for others and her ambition."
While her kind spirit is often recognized, Molly is also known for her humor. She never fails to make those around her laugh as she is always cracking jokes, regardless of the situation. However, since the deletion of Vine, the short video app, Molly has been spent more of her time dedicated to Instagram memes and is always up to date with the current trends, like all the other things in her life.
Overall, Molly is a great friend to have here at LFHS. Taylor Rappeport summarized her perfectly . "Molly is one of the most caring and creative people I know. She is such a genuinely nice person that she'll often put others' needs before her own. She has a true gift because her artwork is amazing. Also, her ability to reference all memes is beyond impressive." There you have it, the artist, the meme-maker, and the unofficial captain rolled into one smiling soul. 
About the Writer
Ghost, Author
Ghost is a section of The Forest Scout that chooses to publish material anonymously in order to increase the depth of their investigative reporting. Ghost...