Diving Team Welcomes New Coach, Prepares for Success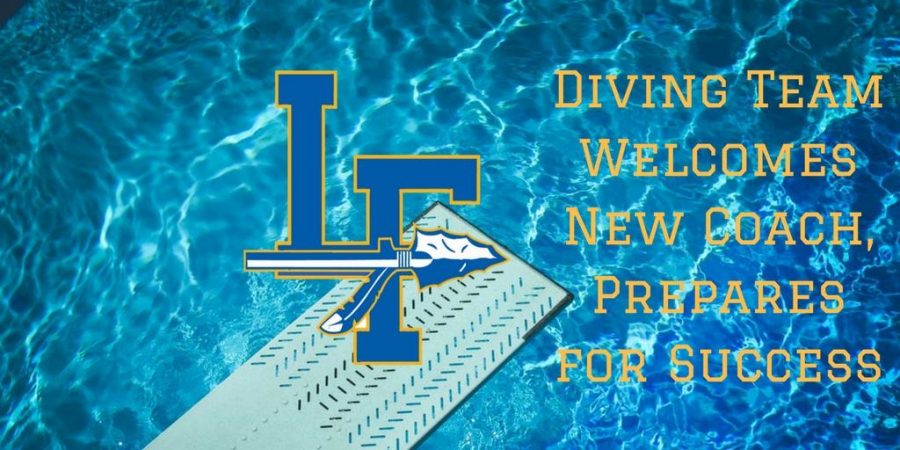 A game of cards and some stretches doesn't really seem like the type of practice that a medal winning girls dive team would hold themselves to. However, for Lake Forest High School's Girls Diving Team this fall, a game of cards unfortunately was all that they could do.
The Girls Diving team is about a month and a half into their 2017 season, and yet they jumped in the water for the first time this year just last Friday.
The team's former coach, Pam Uhrik, retired last summer after having a baby in July, and since her retirement up until very recently, there has been no coach and no pool time for Lake Forest's divers.
Because of safety concerns by the Athletics Department, the six girl dive team had been prohibited from performing any dives until under the supervision of a professionally trained coach.
"There's been no pool time so far, and some girls don't even bring a swimsuit to dive practice," mentioned Isabel Rosa, a senior, and the captain of the team. "We've been trying our best to keep up practices though."
Rosa has been holding practices every day after school for the past month, regardless of the team's coaching hurdle. She leads the team in workouts, exercises, stretches, and card games to stay in shape and keep up the team spirit.
The Dive Team has missed out on a lot of games and competitions so far this season. In dual Swim-Dive meets, competing teams bring their divers despite Lake Forest's lack of a team. The LFHS dive team has had to forfeit each meet so far.
In these dual meets, the overall winning school wins through a point system where each swim race and the diving turnout contribute to the school's overall points. Since the dive team forfeits each meet, it's been difficult for the swim team to win enough points to beat their competitors overall.
"JV has lost almost every meet because we aren't getting the points from diving," remarked senior JV swimmer Kristin Coughlan.
Furthermore, this year's dive team is a very young and new team. Every team member except Rosa is new to the team this year, and many of them have minimal diving experience. They have lost a month and a half of time to learn new dives, putting them at a large disadvantage in the sports upcoming NSC meet, as well as IHSA Sectionals and IHSA State competitions later in the season.
Rosa still hopes for a chance to go to state. However, in past years by this point in the season, she noted that she would have learned about 2 or 3 new dives. With only a month and a half before state qualifying, for Lake Forest's divers, there will be a lot of catching up to do.
Since the beginning of the school year, three different coaches have been hired to lead the dive team, but not one saw their first day on the pool deck. New Coach Patrick Schultz was the first coach to coach Lake Forest's divers this year during their first real practice last Friday, September 14, finally ending the dive team's historic coaching drought.
The team will dive into their first real meet this season today, Tuesday, September 19th, and according to Rosa, the team has morning practices Monday and Tuesday to get the team back up to speed.
You can keep up with the dive team and their #roadtojvconference on their new instagram.
The Forest Scout wishes the best of luck to the Dive Team and their new coach on the start of their season. Go Scouts!
About the Writer
Teresa Fawcett, Author
Teresa Fawcett is a senior at Lake Forest High School. She plays on the Varsity Tennis team and she is a contributor to the Young Idea magazine. She loves...