The Forest Scout Friday Five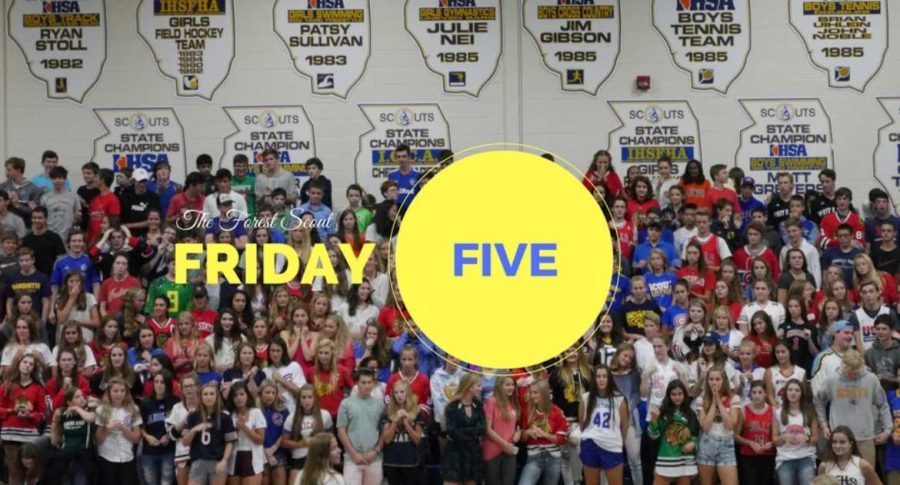 The Forest Scout Friday Five is a weekly segment that celebrates five people making a distinct, profound, and positive difference in the Lake Forest High School community. To visit our most recent installment, click here.  To recommend a student, teacher, support staff, or community member for inclusion in The Forest Scout Friday Five, please email [email protected]
Mrs. Gail Moesta: On May 1st of this year, hundreds of seniors proudly adorned college t-shirts displaying higher education institutions across the country, their faces beaming with joy and fulfillment. The college application process is grueling, that much any senior could tell you. Still, it would be much, much more difficult without the tireless work of Mrs. Gail Moesta, the first face you see when entering the Guidance Counselors Offices on the school's first floor.
Not only does Mrs. Moesta know the ins and outs of Naviance, the school's college application database, as well as anyone in the school, she manages the common problems students endure: late fees, missing letters of recommendation, and absent transcripts. Despite all she does for the students at Lake Forest High School who often fail to realize how much paperwork really goes into applying for college, she manages all the apathy and attitude with the saintly kindness of a nurturing mother.
"On Decision Day, the students should all wear pins with Mrs. Moesta on them," shared one faculty member. "It is incredible what she goes through to make their process easier." A lot of people go into the college application process: the student, parents, guidance counselor, recommending teacher, and the all other people of influence, none are more important than Mrs. Moesta, who makes sure everything is straight before their online profiles are sent out for evaluation.
The DePaul University graduate and avid Michigan State Spartan fan (her son, an LFHS grad, attended MSU) extends her duty beyond the school day as well. In the fall, you can find Mrs. Moesta taking care of the scorebook at home freshmen volleyball games while at any home basketball game in the winter, you'll find her dutifully collecting the ticket gate from the visitor's entrance. Most impressive to us, though, might be how she braves the brutal Lake Forest temperatures in the spring to work the stopwatch at home track meets at East Campus. Simply put, Mrs. Gail Moesta is not a frontrunner for the easy jobs the high school has to offer; rather, she is one who embraces the tough roles and shares her radiant smile with the students along the way.
Grace Kellie: When you share a name with an American actress who eventually became the Princess of Monaco, you best make a name for yourself pretty quickly. And that is just what freshman Grace Kellie has done in a rather short period of time.
The freshman is the goalkeeper on the JV lacrosse team, worked on the set construction crew for LFHS Theatre's Italian American Reconciliation, all the while managing to maintain her status on the Class of 2020's High Honor Roll. Not only is Grace well-rounded in terms of her extracurricular involvement, but she is a favorite among her classmates as well. "Every single class is more interesting when Grace is in it," shared one freshman student. "Whether it's English or Science, Social Studies or Math, Grace always brings a positive energy to the table."
Kellie, who attends Camp Chi in Glenview during the summer months, has a wide variety of interests and activities that will certainly keep her busy. The Hamilton: An American Musical aficionado can be found reciting (see: singing) quotes from the musical on command and sharing a laugh with her closest friends. If it were up to Grace, this blurb describing her positivity would certainly be about her friends, all of whom she values dearly as her room is covered with pictures of she and her friends growing up throughout the years.
A uniquely creative writer and thinker, Grace brings a certain originality to the table that is uncommon at the freshman level. Whether it be her championing the sense of humor of her classmates in World Civilizations-H or making a running list of hilarious Siddhartha discussion highlights in English classes, Grace, as mentioned prior, makes everything more unique, more insightful, and simply put, more enjoyable.
Natalie Notz:When you are walking through the hallways of Lake Forest High School, there are many different types of people cluttering the alleys from point A to point B. Scrambling from class to class trying to figure out where they are or stuffing things into their lockers, Natalie Notz is just like these people, but she has many special qualities that se her apart.
Natalie is currently on the Varsity Field Hockey team, Varsity Lacrosse team, and plays club field hockey as well. If you couldn't' already tell, she is constantly busy, but always find the time to make someone smile. "Natalie is one of my best friends, we've know each other for a long time. She is obsessed with reality Tv, chocolate, and her dog, Oreo" echoed junior friend Isabelle Moore. Natalie is obsessed with her Pinterest profile as well as her weird food combinations and is willing to try any kind of food put in front of her, whether it be Cheetos and ketchup, sushi pizza, or any other weird-looking food offered to the risk-embracing junior.
Natalie is also obsessed with doughnuts, specifically Krispy Kreme. Everytime she talks about the old Krispy Kreme near Lake Forest, she gets teary-eyed and nostalgic.  Aside from her culinary preferences, she is a light-hearted spirit who lives in Lake Forest. Notz isn't afraid to laugh at herself–no matter how awkward the situation is. Junior friend Amalia Liguori-Coneff expressed that, "Natalie is extremely sweet and caring and always knows how to make me laugh when I need it. She is also extremely athletic and I admire how she pushes herself to be a better athlete."
Besides being an amazing athlete and a complete food nerd, Natalie is also a very studious person who is able to complete all of her homework–mostly in the morning–due to her rationale that she does better in the morning because she's more rushed. Mr. Lakin was able to shed some light on Natalie in the classroom as well, "I love having Natalie Notz in the class because she has an infectious enthusiasm for learning and explaining. She will fearlessly go to the board to explain a problem to the class, and will equally contribute her understanding of the math to her small group. What's more important is the spunky, light-hearted personality that Natalie brings to the class everyday. Finding joy in the little things — in my opinion– is the epitome of what Natalie embodies. That's what makes Natalie an outstanding student and person."
Natalie has Mr. Lakin last period when he teaches CAT. Clearly, she is able to take any situation and make people laugh. One of junior Isabelle Moore's favorite memories of Natalie occurred freshman year, "Nat had one of those microwaveable mac and cheese containers. In the first week of school she put the container in the microwave, but she forgot to put water in it. The microwave started smoking and she ran over and took it out of the microwave and put it in the trashcan. Of course, the trash started smoking as well. It was a great moment." So if you ever find yourself in an awkward situation take some Notz ( very punny) from Natalie and laugh it off, and just keep chugging through life.
Brier Gunderson: If you haven't met Brier Gunderson, you don't know what it means to know someone who so effortlessly exemplifies the qualities that make a strong, independent, and optimistic person. Not a moment will go by when you're in her presence where she won't be smiling, laughing, or thinking about the good aspects of the lives we're fortunate to lead.
She naturally looks for the best in people and inspires all the people she encounters to look for the good rather than the negative parts of life. She is only a freshman, yet has some characteristics that some adults are still trying to figure out.
Her involvement with others is evident through her attendance to the weekly CROYA meetings. Ever since the fall retreat, she has made her way to most, if not all of the weekly CROYA meetings, spreading her optimism to everyone she meets. Just recently, she stood in front of a group of her peers and presented them with the reasons why she wanted to be a part of the student Exec Board for CROYA. Despite the odds stacked against freshman in the running, Brier was able to secure a spot on the board next year.
"She's remarkably nice," shared freshman Kyle Platt, a friend of Brier's, "And very smart," echoed fellow freshman Luke Paschke. "But she is very humble and never discusses her own successes–a very selfless person." Aside from her selfless tendencies to those she doesn't know well, she is the best friend to all who are lucky enough to consider her as such. She is loyal, trusting, and caring–important attributes in the ever-changing social landscape of high school. She, as well as those around her, hold her in the highest regard and treat her with the respect she so clearly deserves by demonstrating it clearly to those around her.
A close friend of Brier's, Lilly Neill, shared with The Forest Scout, "Brier is one of the most hardworking and dedicated people I've ever met. She is always there through the good times and the bad, and always knows the right thing to say. She cares so deeply for others and has the biggest heart." Clearly, as evidenced by Lily's words, it is obvious to see the importance she holds in many people's lives. In only one short year of high school, Brier, like many other freshmen, is making a name for herself and coming into her own in the halls of Lake Forest High School. 
Mrs. Patrice McDermand: She's the face that greets you if you come to school late or have to leave midday; she's the one who takes your parents' calls that excuse you from your classes when you're just not "feeling it." She's Patrice, one of the most iconic people in Lake Forest High School.
With her headset, exercise ball chair, and sheet with letters A to Z to keep track of the last names' of who signs in and out, Patrice is on top of her A game all day. She has worked at LFHS for nine years creating memorable and lasting relationships with countless students throughout the day. Beside Patrice's desk, you can find a bulletin board plastered with familiar faces of current and past students whose lives she has touched. Senior Molly O'Donovan says, "Patrice is one of the people in the school that always brightens my day. She always has open ears, gives the best advice, and will tell you the truth no matter what."
Along with her natural ability of building relationships with countless students, Patrice, without a doubt, has one of the most difficult jobs at our school. The attendance office receives more than one hundred and fifty calls a day from parents calling their kids out; between periods, the line of students signing in or out extends far past the door. Along with taking the calls from parents, she has to log into PowerSchool and excuse every single student who signs out of school– an insanely time-consuming job in and of itself. But even with so many difficult tasks to juggle, Patrice stays on top of everything.
Some of us may not realize it, but if Lake Forest High School didn't have the amazing Patrice McDermand, it would be chaos. The pink slip emails would clog our inboxes; coming in late would mean needing a note from our parents– which many of us would not be able to acquire. Patrice is an integral part of our school community, and we all should recognize her as it.
About the Writer
Ghost, Author
Ghost is a section of The Forest Scout that chooses to publish material anonymously in order to increase the depth of their investigative reporting. Ghost...