The Forest Scout Friday Five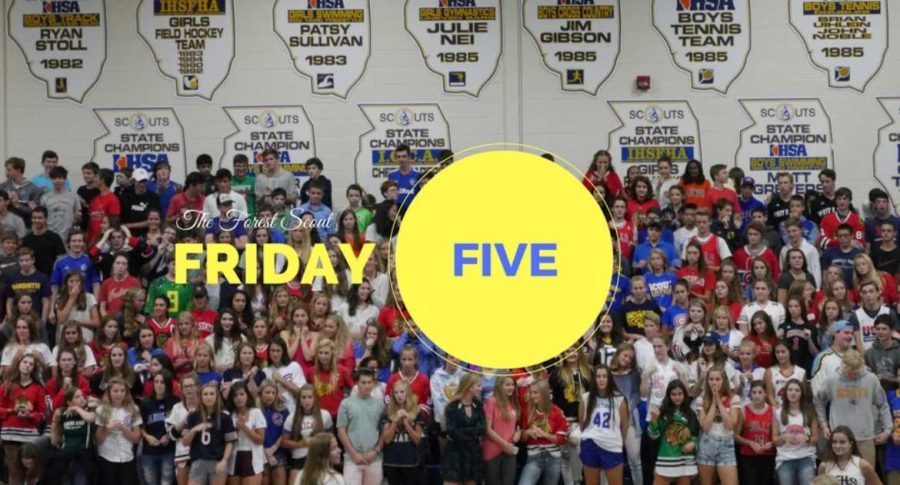 The Forest Scout Friday Five is a weekly segment that celebrates five people making a distinct, profound, and positive difference in the Lake Forest High School community. To visit our most recent installment, click here.  To recommend a student, teacher, support staff, or community member for inclusion in The Forest Scout Friday Five, please email [email protected]
Andrew Rempala: A 65 year old man trapped in a 16 year old's body is one way to describe sophomore Andrew Rempala. You can find his contagious smile practicing squash, making a movie, or spending time with his friends and family. "Andrew is someone who I can always share a laugh with," said senior Faith Fietsam. "He is really close friends with my brother and we have become very close over the last two years." Andrew is someone who can become quick friends with almost anyone because his interests are so broad. He has been in New Media each semester of his high school career and is a favorite of the sophomore class and is an excellent student.
Former doubles partner Dewar Prom shared that "Andrew is the most fun person I know. He is always full of energy and is genuinely nice to everyone, no matter who they are." If you're also ever in the need of a good "dad joke" Andrew has you covered.
Everyone who knows Andrew seems to think the same: a kind, inclusive individual who puts the happiness of others at the top of his own priority list. Though he is only a sophomore, Andrew has developed quite the the reputation among the upperclassmen as well, who respect him for his humor and willingness to not take himself too seriously. "He's a great guy," added senior Hampden Keil. "Everyone who knows Andrew, likes Andrew, no matter what age or what they're involved in."
Charlie Reinkemeyer: The Varsity Football quarterback often comes with a stereotype, but in the case of Lake Forest High School senior Charlie Reinkemeyer, his omnipresent kindness and sincerity is more enduring than any accomplishment garnered under the Friday night lights of Varsity Field at West Campus.
As much as Charlie participates in athletics himself, he shows up to support his fellow classmates in all of their athletic endeavors as well. You could find Charlie at any Varsity Basketball game, this year or last year–home or away–rooting for the Scouts in his homemade t-shirt with Coach LaScala emblazoned on the front with his comrades Andrew Athenson, Christian Braun, and Charlie Sidles.
Charlie's baseball coach, Mr. Ray Del Fava, had nothing but positive sentiments to share about his starting first baseman. "Charlie's a great leader with a fantastic attitude. It's all positive all the time for Reink." In fact, Charlie was voted by the LFHS Faculty as a nominee for the American Legion Citizenship Award, a truly distinguished honor that was prompted solely by the voting of the faculty.
Charlie's kindness and school spirit are certainly admirable traits and LFHS is lucky that one of its most recognizable faces is one of its friendliest. Though Charlie has an older sister, Clara, who attends the University of Michigan, and a younger brother, Ben, who is a high school sophomore, the middle child doesn't reflect one iota of "middle child syndrome," an affliction that leaves some in search of attention to satisfy themselves. Rather, Charlie is always the center of attention, not as a byproduct of obnoxious disrespect or by bullying, but by his unwavering positivity.
The University of Illinois and Head Football Coach Lovie Smith (a former Lake Forest resident himself) knows something that the rest of the college football doesn't–that teammates often win championships. "I've never had a better teammate," shared Purdue University's Danny Carollo, a 2016 graduate of Lake Forest and the starting quarterback of the football team in Charlie's junior season. "He's the best–all energy. A great glue guy." In the case of senior Charlie Reinkemeyer, there truly is no better teammate.
Kristen Logas: In this, her 5th year at Lake Forest High School, Ms. Kristen Logas has officially come into her own in terms of impacting and influencing the high school student body at large. Of course, Ms. Logas has always been a sound, forward-thinking, and engaging mathematics teacher, but her newfound role as the Senior Class representative has blossomed her into the limelight of change and service at LFHS.
"We always get things done in her class–it is very efficient," remarked junior Chris Cavalaris, "but we always have fun, too. That, to me, is the best representation of Ms. Logas. There is always room for both in her classes." Logas, who teaches College Algebra and Trigonometry as well as Algebra 1 and Plane and Solid Geometry, certainly has a full plate with three different classes to prep for, but she always makes her students feel as if they are the most important part of her day. "Her energy is contagious and she is very relatable. She connects with a lot of us well as we watch a lot of the same television shows," shared an anonymous junior student. In fact, the young men under Ms. Logas' tutelage expressed that she often asks for Fantasy Football advice in the fall, something they are not accustomed to–but certainly welcome–with their female teachers.
With all of that being said, perhaps the most important trait in Logas' repertoire is her willingness to meet students where they are at, whenever they need to meet. "PLT time, before school, after school, she is always willing to drop anything to help you," shared Cavalaris. "That's just a part of the caring nature that she exudes as a person."
With so much going on–especially at this time of the year–with the planning of graduation and end of the year awards and activities for seniors, Ms. Kristen Logas is taking it all in stride and enjoying the journey. Though she is most certainly busy, Logas balances it all with a grace and levelheadedness that is commendable and encouraging to all of us with so much going on this time of year.
Matthew LeMay: Though Matthew LeMay might be the most intelligent and intellectually gifted young man on the campus of LFHS, you would never hear it from him. The Science Olympiad member, Young Idea author, and multiple instrument playing senior is oft described by his peers as "humble and helpful before anything else."
A fellow classmate of Matthew's describes his intelligence as a fervent, intellectual curiosity and more guidance-based than anything. "In fact, when he is your partner for an assignment of project, he will help you sincerely without impeding on your work. That's just who he is–always lending a hand to help." Though his academic resume speaks for itself, LeMay is also described by those closest to him as a "curious" and "goofy" young man who is often caught singing opera down LFHS' halls. And although his writing and thinking may be breathtakingly well-done, his attitude and persona exudes that Matthew has a perspective on life that not many 18 year olds can claim.
Of course, someone as well-rounded as Matthew dabbles a little bit in athletics and theatre, English and Science while still finding the time to a be a caring and fun-loving friend to so many at Lake Forest High School. His involvement in Math team and Scholastic Bowl demonstrates his love for academics while his participation in musicals–even outside of school–showcase his love for the arts.
"You could write forever on Matthew's accomplishments," shared a faculty member who had the pleasure of having him in class. "But that still wouldn't capture the positivity of his essence, his affect, if you will. He is truly one of a kind. He is a citizen of the world, of the arts, and of the mind."
Since the aforementioned quote is quite the tribute–and since a running tab of Matthew's accomplishments might go on for pages–we'll stop there.
Ellie Thomas: Involved, hardworking, kind, and confident: all characteristics of one junior who many of you know, Ellie Thomas. A star student and a genuinely happy soul, Ellie brings an enthusiastic and positive vibe to her classes every day. A singer in Balladiers, a TA in Integrated Wellness, excelling in classes such as AP Enviro, AP US, and Spanish 4 Honors, Ellie is clearly a well-rounded student. Ellie's teachers give her high praise. Señora Westrich mentioned that "Ellie is incredibly dedicated to the Spanish language and culture. She totally immerses herself by speaking Spanish 100% of the time and her contributions are so valuable to our discussions.  Ellie is such a joy to work with!"
Ellie's quiet yet extremely diligent work ethic pays off in the classroom, and her big heart and compassion are on full display in Integrated Wellness. Mr. Spagnoli commends her spirit specifically, stating "When Ellie comes into the room the entire atmosphere changes for the better." In fact, Ellie devotes so much time to Integrated Wellness, she gave up singing in Foresters with fellow juniors and seniors because it is the same period as Integrated Wellness.
Ellie is dedicated to more than just her academics and Integrated Wellness, however. She is immersed in SHYG–the youth group at Christ Church in Lake Forest. Ellie's presence at SHYG is large because of her commitment to the group and her natural ability to make everyone feel welcomed and included. Fellow member Erika Marchant expressed that, "Ellie is good at talking to people in all age groups. She makes sure that everyone is a part of activities at SHYG and makes everyone feel comfortable with whatever we're doing." Through SHYG, she has traveled to the Dominican Republic twice on work trips, and will depart for another in India this June.
Aside from her faith, Ellie has also made her mark on Lake Forest High School's theater program. Last year, when she participated in the musical, she created the idea of an "Encouragement Board" to help unite all cast members–even those who didn't interact often because of different roles. The board had envelopes with each cast member's names on their respective envelopes, accompanied with note cards and pens for anyone to leave kind words for whomever they felt deserved it. The board was a major success, as it was again present in rehearsals this year even though Ellie was not a part of the cast due to other commitments.
Apart from her time at SHYG and in school, Ellie often travels to North Chicago to tutor elementary school students solely because she enjoys it. "She doesn't do it for the service hours or through school, she does it because she loves helping the kids there," Erika emphasized.
Ellie's amazing characteristics are clearly visible to everyone around her as well. Fellow classmate and friend Trisha Bhagat confirmed that, "Ellie just has the biggest heart. She enjoys the small things in life and follows her passions no matter the circumstances."
Ellie Thomas is a truly outstanding individual whose involvement in the Lake Forest community is extremely noteworthy. Her enthusiasm for everything she does coupled with her empathy and compassion prove that she does not have a mean cell in her body. Ellie Thomas is, without a doubt, the definition of a selfless, kindhearted human being and should be recognized as such.
About the Writer
Ghost, Author
Ghost is a section of The Forest Scout that chooses to publish material anonymously in order to increase the depth of their investigative reporting. Ghost...