The Forest Scout Friday Five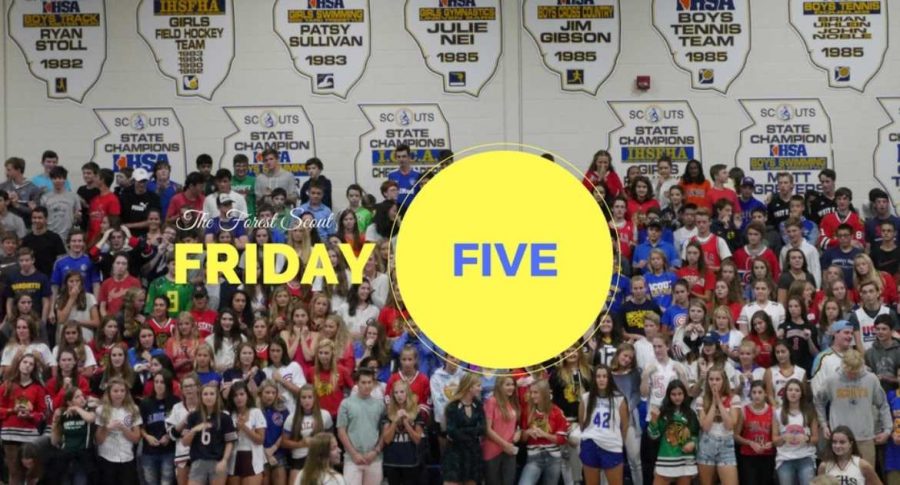 The Forest Scout Friday Five is a weekly segment that celebrates five people making a distinct, profound, and positive difference in the Lake Forest High School community. To visit our most recent installment, click here.  To recommend a student, teacher, support staff, or community member for inclusion in The Forest Scout Friday Five, please email [email protected]
Mr. Matt Fiordirosa: In a relatively short tenure at the high school, P.E. teacher, Boys Wrestling Coach, and JV Girls Badminton Coach Mr. Matt "Sunshine" Fiordirosa has made quite a name for himself. In terms of athletics, Coach Fiordirosa has humbly led the Lake Forest Scouts to a single season wins record and has sent multiple athletes onto intercollegiate careers in the sport of wrestling. One of those college wrestlers, Regis Durbin (Northwestern), was the school's first IHSA State Champion in the sport. Aside from the obvious success in resurrecting the school's nearly dormant wrestling program several years back, though, "Sunshine"–a nickname in which he is affectionately called by many students–is more well-rounded than your average grappler.
Academically, Mr. Fiordirosa helps motivate young students in the weight room on a daily basis. "He taught me how to push myself and how to compete in the offseason," shared one of Mr. Fiordirosa's students. "In everything you do, [Fiordirosa] shows you the right way and how to get the most out of yourself."
If you were to search Fiordirosa's name on YouTube or Google, you might find highlight videos of his former career in mixed martial arts. In those clips, you'll see a long-haired kid smiling as he pummeled his opponents with punches and kicks. But in the field house of Lake Forest High School after school, you'll see a calm, patient leader motivating the JV Girls Badminton team to one of their most successful seasons in recent memory. Although Fiordirosa's inimitable positivity and enthusiasm is present in wrestling, badminton, and in the P.E. class room alike, he embodies to students that it's "cool to be kind" in any endeavor that you may be pursuing.
"He's the strongest, toughest guy in the school–student or faculty," shared Mr. Austin Scott, a friend of Fiordirosa's in the English Department who helps him conduct a weightlifting camp each summer for wrestling and basketball athletes. "But kindness is his most enduring trait. He may very well be the nicest person in the high school–student or faculty."
Corinne Torkelson: They say a picture says a thousand words. But in the case of local professional photographer and LFHS parent Corinne Torkelson, the person taking the photo might conjure up more words than the picture itself. Although Corinne Torkelson is indeed a professional who owns and operates Corinne Torkelson Photography, LLC in Lake Bluff, the students of the high school know her more wholly as the easygoing, warm parent of Grace, a 2015 graduate of LFHS who starred for the Girls Varsity Basketball team, and Claire, a senior who stars for the Scouts volleyball and soccer teams.
"She's very bubbly–full of energy," shared senior Faith Fietsam, a friend of Claire's who has gotten to know Mrs. Torkelson quite well over the years. "She is also very warm and has a kind, warm, go-with-the-flow personality," shared senior Meghan McGrail, another friend of Mrs. Torkelson's youngest who has become acclimated with the Lake Bluff resident. Corinne was the genius behind the senior portraits of a series of Lake Forest High School girls who wanted their friendship documented in this, their final year at the high school. "I'll have those pictures forever," echoed the girls. "They were very important to me."
Outside of her work behind the camera, perhaps Corinne Torkelson's most influential role as a parent in the Lake Bluff community is instilling a sense of servanthood and giving back to the House of Peace, a domestic violence shelter for women and children in Waukegan. Through her own devout and longstanding involvement, Torkelson has passed on a love of service to her daughter, Claire, who was showcased by The Forest Scout in a "Faces in the Crowd" column earlier in the school year by senior staff writer Meghan McGrail.
Clearly, Torkelson is more than just the supportive sports mom who shows up with a camera to document her daughters' athletic achievements; nor is she simply the successful businesswoman who merely takes portraits of local families in the community. Rather, Torkelson is a supportive mom, a successful businesswoman and artist, who continually gives back to the communities around her. And perhaps most importantly, her selflessness and service has rubbed off on those around her.
For all of the wonderful moments that Mrs. Corinne Torkelson captures, perhaps one that is just as important lies on the other side of the camera.
Ethan Kurian: One of the best compliments that you can give a high school kid is that things are just better when they're around. In the case of sophomore Ethan Kurian, many would attest to things just being better when he's around. Whether it's in a specific class, after school, on the weekends, or during one of Ethan's favorite activities, watching the Chicago Bulls, Kurian's lighthearted spirit brings out a pure sense of enjoyment.
"Ethan is one of a kind," shared one of his classmates. "He can make you laugh at any time and doesn't take himself too seriously. He is always there for a joke and knows himself quite well." Although Kurian might not be your typical orchestra student, he makes it fit into his schedule and succeeds at it. Though his size might have you think otherwise, Kurian is a force in his 8th period Team Fitness class on the basketball floor as well.
"Kurian is the kind of kid who can be anyone's friend," shared Ethan's freshman basketball coach Mr. Adam Mocogni. "He's down-to-Earth and simply just enjoys being part of the group." His former teammates, Will Davis and Carter Horan, also echoed Ethan's team-first mindset both in terms of athletics and academics. "He's in my Chem class and you can always count on Ethan to do his part," shared Horan, who played freshman basketball with Kurian. "And he's lighthearted, funny, and simply makes class more enjoyable to be in." Will Davis, who also played freshman basketball with Kurian, took his praise of Ethan one step further. "Ethan is the kind of guy that always thinks about those around him before himself, which is especially rare when you're young and competing for playing time and things like that. He always had the best attitude when it came to supporting other people and I really admire that."
The most resonating notion that being around Ethan Kurian exudes to us students is that high school is designed to be fun; we should treat it as such. Ethan's reputation precedes him as someone who is great at doing so.
Tessa Kerouac: Within our community there are a number of outspoken, noteworthy people, many of whom I'm sure you know. That being said, never in all my years living in this town and attending its schools have I encountered somebody as caring, dedicated, and intelligent as Tessa Kerouac, a junior at Lake Forest High School.
What first sparked my interest in Tessa was her answer to a common question that we have all probably been asked at some point as part of a generic team building exercise: What is your spirit animal? After rows of the usual and grossly overused answer "dog" (or some variation of this, like a particular dog breed) sat this delicate, petite girl who insisted that the animal that best embodies her was a lion. At the time, I was understandably skeptical; I even thought the juxtaposition between this tiny girl and this fearsome big cat (usually used to symbolize great power) was humorous. I later realized how mistaken I had been. Tessa, in fact, does embody the characteristics and majesty of a lion. She's reserved, fiercely loyal and will stand up for her beliefs and her friends. Though kind and gentle at heart, she's not afraid to take somebody down a peg if they're being disrespectful.
Tessa, unlike many others, is not one to behave in a flamboyantly extroverted manner in hopes of gaining attention, neither is she entrapped in this idea of "popularity" like lots of teenagers. That is not to say that she is a wall flower or somebody that is unremarkable. If you spend some time with her you will find–as many have–that she is just the opposite. Unfortunately, it is perhaps because of her aforementioned dislike of being the center of attention that she rarely receives the recognition that she so very much deserves.
There is seldom a moment in the year that Tessa is not committing the entirety of her free time to some school organization, usually behind the scenes. A notable indicator of her extensive involvement is the fact that she was inducted into the International Thespian Society (which she is now one of the four LFHS presidents of) sophomore year. This feat is even more impressive when you take into account that simply to qualify for membership you need to have dedicated 200+ hours to theater. Additionally, She is also an active participant in Robotics, Science Olympiad (in which she has medaled on multiple occasions), Math team, NHS, and Tech.
This is somebody who regularly has to stay at school until 10 o'clock, is in most of the hardest classes LFHS has to offer, and yet has only ever missed a handful of homework assignments since middle school. Furthermore, as the myriad of clubs she devotes her time to indicate, Tessa is impassioned by an abundance of things, some being political and social issues. She has a strong and educated voice on many matters and is a major advocate of equality for all. Even when confronted by an aggressive person with oppositional and sometimes backward opinions, she remains respectful and kind (which we all know is a rare but pleasant sight these days).
With all of the wonderful things she does for the school, her upstanding character, and her rich array of extracurriculars, it is a mystery that Tessa Kerouac is not given the appreciation she merits. Perhaps this can serve as the beginning.
Carlos Von Borcke: For those who may not have the pleasure of knowing Carlos Von Borcke, a happy and optimistic presence is only a small fraction of all that he brings to the proverbial table at Lake Forest High School. His close knit group of friends, who call themselves"ohana" are some of the lucky people who get to hear his jokes, enjoy his positivity, and enjoy his unwavering friendship. Throughout the tremendous amount of stress that is thrown our way throughout our four years of high school, there are bound to be moments where we need someone to bring a smile or laugh out of our stressed-out selves. Regardless of his own stress or worries, Carlos is someone who can push aside his obstacles to bring a smile and a simple yet lasting joy to those who need it most, emphasizing the incredible quality of selflessness that has become increasingly rare.
After his big move at the end of sixth grade, Carlos, like any kid, faced some difficulty at the start of his transition to Lake Forest. Soon, however, he found himself acquainted with the ways of life in Lake Forest and the new expectations surrounding him. Moving all the way from Germany, he adjusted himself to the multitudes of pressures that were thrown his way and still kept his optimism close to his heart.
"My favorite part about being friends with Carlos is the energy he brings with him everywhere he goes," expressed Brett Weiss, a close friend of Von Borcke. "He can make me laugh so hard I start to gasp for air. He is able to cheer me up no matter the situation." These sentiments shared by Brett are only some of the incredible characteristics that come from being around Carlos.
Aside from his everlasting joy for life, Carlos is heavily involved in many extracurriculars: CROYA, Kairos, church work trips, volleyball, soccer, Model UN, and ping pong club, just to name a few. Aside from clubs and such though, a friend of Carlos shared, "He is an amazing cook." With so many commitments to friends, family, food, clubs, sports, and school, Carlos is able to stay on top of all of what he wants to accomplish for himself and others. He is a reliable and trusting friend who many turn to when in times of need.
Another close friend and fellow member of "ohana," TJ Dasso, shared how important Carlos is to him. "Carlos is the type of kid who always seems to put a smile on the face of everyone around him. He never fails to make me laugh when I'm with him, and his light-hearted, genuine nature is a very calming presence. I look to Carlos as a close friend and he truly makes the lives of many people a lot better."
Before the much anticipated day of graduation for the seniors here at LFHS comes, make sure you get to know Carlos. Throw him a "hey" in the halls, or come to one of the many things he is involved in so you can see firsthand the joy, happiness, and love he shares. He is headed back to Germany come August and will be missed dearly by all of his friends and acquaintances.
About the Writer
Ghost, Author
Ghost is a section of The Forest Scout that chooses to publish material anonymously in order to increase the depth of their investigative reporting. Ghost...