The Forest Scout Friday Five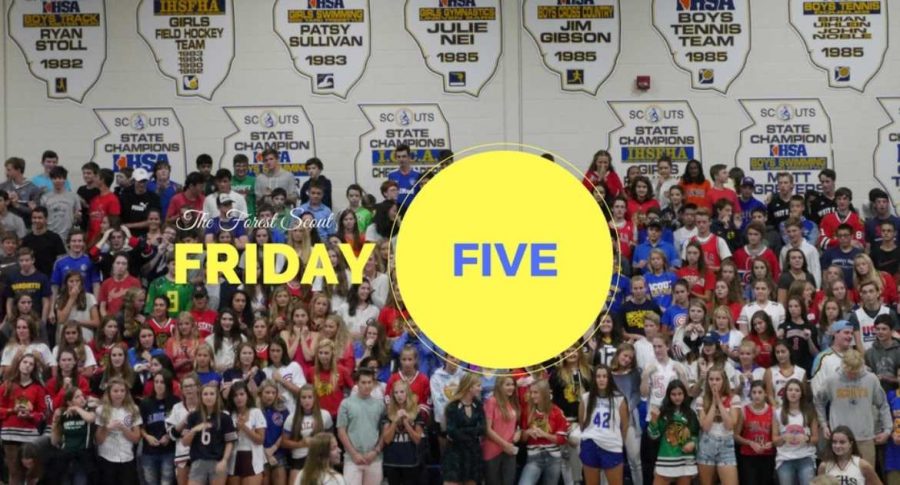 The Forest Scout Friday Five is a weekly segment that celebrates five people making a distinct, profound, and positive difference in the Lake Forest High School community. To visit our most recent installment, click here.  To recommend a student, teacher, support staff, or community member for inclusion in The Forest Scout Friday Five, please email [email protected]
Amalia Liguori-Coneff: They say laughter is the best medicine. In the case of junior Amalia Liguori-Coneff, she certainly uses this remedy to cure the myriad ailments of her closest friends. Amalia is a part of the JV swim team and is the Varsity water polo goalie. You can often find her binge watching Netflix or taking cute pictures of her one-eyed dog, Sunshine. Water polo is Amalia's favorite sport, which junior friend Isabelle Moore testified wholeheartedly. "Whenever Amalia jumps in the cold water for practice there is always a huge smile on her face. She loves the energy of the game and it's obvious in her attitude in and out of the water." Even though she is goalie for the Varsity team, she also plays the field for JV. Blessed with an incredible arm that deserves to be used in both the goal and the field, sophomore Bella Waters is a passionate supporter of Amalia. "She's one of the funniest most genuine people I know and she's always got my back whether it's in goal or in life."
Amalia is an only child with a dog, who, as mentioned earlier, is a one-eyed blessing. Sunshine keeps Amalia active and always seems to make an appearance on one of her many Instagram accounts. Perhaps Liguori-Coneff's most resounding trait is her ability to make people laugh through her hysterical captions on Instagram that continue to amaze people. Junior Natalie Notz believes that, "Amalia is one of the most well rounded people you will ever meet. Not only is she super sweet but insanely funny and athletic." 
A true nature enthusiast, Amalia is always trying to surround herself with plants and the outdoors. Early in the morning, you can find her taking pictures of plants or the sunrise and throughout the rest of the day she moves on to take pictures of the sky and surrounding trees in the Lake Forest/Lake Bluff area. You may also find Amalia and her mom doing crafts together on the weekends. Since she was very young, Amalia has enjoyed making things with her own two hands as opposed to buying them. Junior Nell Dasso validated that, "Amalia is one of the sweetest, most kind hearted people at the high school. She never fails to brighten everyone's day through her amazing humor and all around great attitude, you're lucky if you get to know her!"
Mr. Peter Lubliner: Mr. Peter Lubliner's eccentricity has defined him as the type of cult classic teacher that only one place can properly claim. Lake Forest High School is lucky enough to be qualified as that place since scores of young students have improved their reading, writing, and creative thinking skills under Mr. Peter Lubliner's tutelage. After their tour of duty with the teacher that they affectionately call "Lubs", they can empathize with the Joad family, Jim from The Adventures of Huckleberry Finn, and Willy Loman alike. Still, the most resounding trait that that is cultivated in room 332 is a love of discussion. Whether it be on Pink Shirt Friday amidst a story about his screenwriting experience in Hollywood, a tale from his stint teaching in the Barrio, or on any given Tuesday at LFHS, you will find students learning with Mr. Lubliner in unique and original ways.
"He never lets you settle for anything less than your best," shared fellow Friday Five member Sean Trkla. "And often times, he has a faith in you that you haven't discovered in yourself yet." Although many students have a hard time pinpointing an exact adjective to describe the staple teacher's personality, his unbound care for the students in his class–every single one of them–is often the first facet of the Lubliner experience that comes to mind. "He'll meet you any time, anywhere, about anything," shared one anonymous junior student. "A lot of teachers claim that they go above and beyond for their students–and maybe they do–but Lubs' definition of above and beyond is higher above and further beyond. He makes you the absolute best you that he can and stops at nothing short of that."
The alumnus of the Latin School of Chicago and Vassar College is self-admittedly an idea man and not a grammatical hard-liner, but he still has made his life's work improving LFHS' young people by way of his English class. Although at first his methods and detail-specific prompts and rubrics may seem unconventional, everything Mr. Lubliner employs is for a defined and particular purpose. And, if you need validation that Lubs knows, just ask the hundreds of students who swear by his teachings, who sought out his help when they needed it, and came out on the other side of his class simply better people.
Thus, when you a see a surfboard perched atop his car his car in 40 degree weather, or see a tiara perched on his head from his last period class, take it all in stride, for Mr. Peter Lubliner's legacy grows a little bit more with each passing year.
Emily Hutchens: The happiest girl in the world is an understatement in describing senior Emily Hutchens. Her positive attitude and contagious laugh can always brighten your day and there is never more than a two minute span where her radiant smile doesn't appear on her face. She was even elected, and named, the senior superlative "Most Likely To Brighten Your Day" as the senior class clearly believes she holds the qualities of the most joyful person they know.
In addition to her bubbly personality, her thoughtfulness and curiosity for the wellbeing of others is what makes her so unique. Emily truly cares for everyone and she is able to create a friendship within the first moment you meet her. Fellow senior and good friend of Emily, Hannah Jones, shared a sentiment about their lovable friendship that has remained intact since the fifth grade and continues to grow, "Ever since we met we became inseparable. We would wear the same outfits to school, hangout every day and even chopped off our hair into bobs the same week. She is the most kind-hearted and sincere person and I am so grateful to call her my best friend." Near or far–or if days pass without speaking to her–she always makes it a point to talk to all her friends or have a friendly conversation with those she isn't as close to. "For the past eight years she has always been there for me," Jones remarked. "Now that we are heading off to different colleges, as sad as that may be, I am so grateful to have such an amazing person in my life".
Many other students have witnessed her acts of kindness, involvement in the community and efforts at LFHS. She is involved in CROYA, Student Council, and has taken a variety of classes in her years at the high school. Heading to Montana State University this fall, she will continue her education and her love for the outdoors. Her "outdoorsy vibe" always come through and her love of nature is omnipresent as she is always spending time outside. Emily has taken both Outdoor Education as a junior, Outdoor Adventures as a senior and was a teacher's assistant for an Outdoor Education class–attending a total of four class outdoor trips. Her teacher, Mr. Werner, can attest to Emily's love for being with nature and her good natured spirit, "She has made every class that we have shared much warmer, friendlier and more enjoyable.  Her willingness to help others and share a smile with anyone makes her a very special person. Emily is the most positive person ever…she will always find the fun in every situation.  Fun follows her and her giggle is contagious.  High levels of positive Ju-Ju surrounds her."
Joey Williams: Junior Joey Williams is known for simply being his happy, kind self. When students at Lake Forest High School hear his name, they think of his ability to put a smile on anyone's face and instantly fit into any group and lift its mood. "Joey's such a kind-hearted guy," fellow Junior Trisha Bhagat says, "he always creates such a happy atmosphere to be in." Joey also is described as positive and fun-loving, along with being able to both take and make a joke, an increasingly rare trait for a high school student. Joey's former teacher Mr. Scott highlights Joey's freshman year in his English 1-H Interdisciplinary class when he would lift Joey like Simba in order to turn on the projector. "Joey is always a good sport and always takes things in stride and has a good time. He is not only academically intelligent, but is socially far ahead of his peers in a lot of ways."
On the subject of his intelligence, Joey also has a far-reaching presence in some of the high school's most challenging classes, such as Math Analysis Honors and AP Chemistry. AP Chem classmate Mary Gregg shares, "Joey always lightens the mood in Chemistry, making people laugh and making the class fun. He also is always there to help anyone who may need it."
Joey's enthusiastic vibe and optimistic mindset is omnipresent in everything he does; whether it be in class, catching up with someone in the halls, or grabbing lunch with a friend. "Joey is just someone that is fun to be around and anyone who knows him knows they're lucky to have him as a friend," validated junior classmate Brett Chody.
All in all, Joey's unmatchable characteristics of empathy and compassion–with his special blend of humor–paired with his willingness to help others have most definitely made an impact on his peers and the Lake Forest High School community as a whole.
Francesca Mancini: You may know Francesca Mancini as your own personal cheerleader. Her positive support of so many of her classmates is on full display each day at the high school in a variety of different ways. For example, when fellow juniors Clara Finley, Whitney Perschke, and Annalise Craig directed and starred in New Media's smash hit, "The Wall" with senior Bailey Lawrence, it was Francesca behind the scenes promoting the video's positive message on Facebook.
When the opportunity to cover the athletic accomplishments of her classmates arose in her freshman year by way of a partnership with Lake Forester Newspaper, you can bet that Francesca was one of the first to sign up. She diligently covered the school's athletic accomplishments selflessly and professionally. She has also donated lots of her time to the production of the Forest Trails Yearbook and many other extracurricular clubs. In fact, Francesca adamantly supports the clubs that she's not involved in at the high school, which is part of the culture of positivity that she exudes. "She is very supportive of all of my articles," shared one staff writer for The Forest Scout. "[Francesca] is the first in line to share a positive, unsolicited compliment that just brightens your day."
Aside from her work as a cheerleader for her classmates, Francesca also participates in the LFHS band and is a devoted sister and best friend to her twin sister Isabella. What sets Francesca apart from the crowd, however, is her unique curiosity when it comes to her learning. In English classes, she is known by her teachers to be an intelligent student who is open to discussion on new topics and enjoys hearing different perspectives from her classmates that challenge her thinking. In New Media class–a subject in which she is in her fifth (yes, fifth!) semester–Francesca has cultivated her passion for telling stories into new and original ways of expression.
Although Lake Forest High School boasts a variety of students who are involved, smart, and self-assured, Francesca Mancini stands alone in a crowd because of her unique ability to share with others how well they're doing. Well, Francesca, you're not doing too bad yourself. We appreciate your unwavering kindness, support, and encouragement of all of us.
About the Writer
Ghost, Author
Ghost is a section of The Forest Scout that chooses to publish material anonymously in order to increase the depth of their investigative reporting. Ghost...