The Forest Scout Friday Five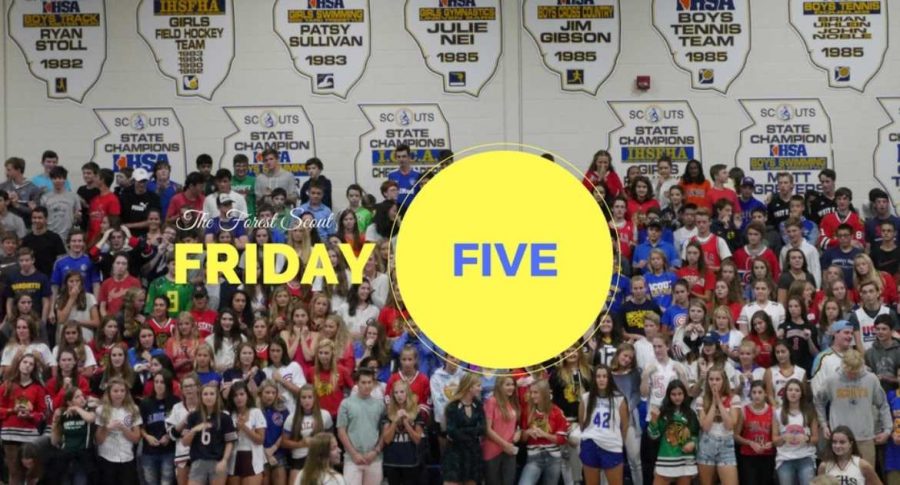 The Forest Scout Friday Five is a weekly segment that celebrates five people making a distinct, profound, and positive difference in the Lake Forest High School community. To visit our most recent installment, click here.  To recommend a student, teacher, support staff, or community member for inclusion in The Forest Scout Friday Five, please email [email protected]
Natalie Allen: Natalie Allen is described by many as "just one of those people who you can always count on for anything–a smile, laugh, hug, or anything really, she is there for you through it all." There are some attributes that are particularly difficult to keep consistent through your high school career, but Allen has stuck close to the traits that have defined her warm personality and rarely–if ever at all–does she descend from the person so many people have grown to love. She is the type of person to drop everything she may be doing to come pick you up and get you into a better situation. An incredibly selfless woman that is dedicated to causing no harm to others, Allen instead focuses only helping those who need it, without asking for any kind of favor in return.
With her sister, Emma ('14), now a junior at The University Of Wisconsin, the two have learned to keep the bond they fostered growing up together. Emma and Natalie, alongside their parents, are very successful, radiant, and beautiful people that bring nothing but the best parts of life, which can often be hidden, to the forefront for everyone to see. More specifically, Natalie places a large importance on the value of family in her life after moving around while growing up. She has come to realize the value each member of her family holds in her life. Her parents are her best friends and closest confidants and she goes out of her way to treat them as such. Not many high school seniors can acknowledge the fact that they trust their parents and their judgement and are open to what each other has to say, but Natalie does just that on a daily basis.
Not only does she possess all of these incredibly humble characteristics, but her supreme intelligence when it comes to her academics is on full display as well. Though she doesn't like to admit or acknowledge her excelling track of courses at the high school, Natalie is enrolled in multiple AP and Honors courses in addition to being a part of the National Honor Society. Again, her resounding humility kicks in as she doesn't boast or brag about the grades she gets in her difficult classes and levels herself with the rest of the class. She plans to continue her academic successes at the University Of Wisconsin alongside her sister.
Her dedication to activities is prominent, evidenced by her involvement in CROYA. She has been an active participant in the social, community-benefitting group since her freshman year and since then has led two retreats and been elected by her peers on the Executive Board.
Maggie Myles, the longtime best friend of Natalie shared, "Tals is one of the few people I can stand to be around and want to hangout with when I'm in a bad mood, and that says a lot." Sophie Noble, another close friend of Allen's shared, "Nat is one of the most genuine people I have ever met. She never jumps to conclusions about others and is always there for you no matter what the circumstance."
All in all, Natalie Allen is someone who possesses so many qualities that are hard to find in a single person. Her humble nature and caring gestures are sure to show in the way she carries herself and presents herself to her peers, family, teachers, and mentors.
Ben Roemer: So you say you need the kind of guy who you can count on for a lot of things, eh? One that can provide something as simple as a laugh when you're feeling down to something as complex as aiding you in your Math Analysis Honors homework? A smart guy with a dedication to the things he loves like no other? There seems to be one answer at Lake Forest High School: Ben Roemer. 
Perhaps the easiest way to understand his admiration and dedication to each and every thing in his life is to explain how he has given back to an organization that gives back to the youth constantly.
Roemer's involvement in CROYA defines his nature as a human being. He is constantly helping out in every capacity he can and making CROYA a better place with his contagious and energetic presence around meetings and retreats. In fact, he was elected by the group just a short year ago onto the student executive board as a fundraising chairman and has aided the group tremendously by raising $28,000 dollars, $11,000 of which would go towards The House Of Peace. Day in and day out, Roemer was organizing and setting up everything that needed to be accomplished in order for the most successful of nights to be possible for CROYA. As his term as fundraising chairman comes to an end, he intends to run for a position of even higher regard, the Foundation Liaison. He will, if elected, become a voting member of the adult board of CROYA and continue to help out around the community in even more ways. 
As an older brother and role model to his two younger siblings, Patrick and Magdalene, he shows nothing a caring, brotherly love both him in many distinct ways. Although there have been some difficulties in his short lifetime, he continues to carry on with a chipper smile and a charismatic and loving personality. In addition to his family though, Ben's best friend shared some of the same sentiments about how Ben's unconditionally positive regard impacts those around him. "Ben and I have been friends since the 4th grade and ever since then he has always been there for me through the thick and thin," shared junior Spencer Silvernail. "He is my best friend because of his love for the people he cares about and no matter he would sacrifice anything for you.  Ben is an amazing friend and I'm glad to have him in my life."
As the school year comes to a close, Roemer's summer plans represent far from a break as it is packed full of plans with his family, an internship, an outward bound trip and much more. He was recently awarded the Ellie Burns Scholarship and will be embarking on a 30 day trek through Oregon to get some headspace. In addition to that, he will be gone to Ireland with his family to gain some cultural exposure abroad.
Ben's daily behaviors and attitude represent a consistency and perpetual optimism that we all should strive for. He holds so many important values in high regard and sets the bar of expectation higher for all of us (and he is only a junior). Much more awaits Ben in his senior year and beyond, but we are sure his personality and positive characteristics will carry him far in life to create an even better, more poised young adult.
Reach out, shoot him a text, say "hi" to him in the halls, because Ben has nothing but good vibes to share with everyone he encounters.
Mrs. Jennifer Durburg: Although you maybe are aware of Jake ('16), Ryan ('18), or even her littlest one, Matt, you may not have had the chance to know the woman behind the development, humor, and curiosity of these fine young men, Mrs. Jennifer Durburg.
Described by junior Chris Cavalaris as a "fun-loving, funny, extraordinarily nice person with a trendy stylistic edge," Jennifer Durburg is certainly a trailblazer in Lake Forest in more ways than one. First off, her ingenuity, creativity, and style is one full display in her company, Slopesaint, where she designs and creates gaiters, skull caps, and headbands so that you can ski in style. The Durburgs, who are all avid skiiers, can be found in Slopesaint gear when they hit the fresh powder, but were also featured in the 2010 junior Winter Olympics in Maine.
Aside from fashion design, though, Durburg's love of music is also one of her defining characteristics. While you may remember Jake Durburg for having a guitar close by at nearly all times, little know that the passion for six string music actually derives from his mother, who was a guitarist in a band earlier in life. An avid Grateful Dead fan, Mrs. Durburg always has time to kickstart a performance of "Touch of Grey" or "Sugaree"in the family basement.
Aside from her many unique interests and skills, however, Mrs. Durburg takes the most pride in being a great mother to her sons, Jake, Ryan, and Matt. All three young men are heralded in the high school for having exceptional manners, a positive attitude in all situations, and a contagious curiosity for learning.
"I didn't get the chance to have Jake in class, but he was always polite and welcoming," shared Mr. Austin Scott, an English teacher at the high school. "I did, however, have Ryan as a freshman and he was excellent. He always made me laugh and brought an attitude of enthusiasm to everything he did. And with Matt, I have had the opportunity to work with him at Future Scouts basketball clinics and he is another Durburg bumper crop. Kids, of course, learn a lot about respect, positivity, and work ethic from their parents–Mrs. Durburg has certainly done a nice job with her three sons. They have all made LFHS a better place."
Mr. Rob Parry: If you have ever had any problems with technology in the school and have gone to get help, chances are you have conferred with the calming voice of Mr. Rob Parry. Mr. Parry is the tech expert at the school. He helps run the Tech Help Desk and is always ready to tackle any technological crisis going on in a classroom.
Magistra Landvick, Latin teacher and sister-in-law to Mr. Parry, expressed her praise in saying, "He is the guy that I call when I need help with anything, big or small, relating to technology. He is so cool under pressure. He is the one guy you can depend on." She then rounded it all off by stating, "I always hope he is the one to pick up the phone at the tech desk… he will do whatever he can to make life easier for you."
In addition to being a tech expert, Mr. Parry is the Head Varsity Boy's Soccer Coach. He has been the head coach since 2005, and under his leadership the team has done extremely well. In October of 2016, the team won an award for exemplary performance in the classroom for the 2015/2016 school year from the NSCAA (National Soccer Coaches Association of America). If this isn't a testament to the well-roundedness that Mr. Parry radiates and encourages, then I don't know what is. 
Lauren Romanchek, a senior, went to Italy with Mr. Parry as part of the Latin trip. He was an advisor on the trip, and everyone who attended got to witness the calm and cool person that is Mr. Parry. "He was always very positive and kept the group laughing with his jokes," shared Lauren. "He made sure all of the kids on the trip were doing okay and were having fun." She then went on to share a time when Mr. Parry helped her fix her ChromeBook after her water bottle "blew up." "He was super nice about the whole thing. He even helped me get a replacement and figure out how I was going to explain the situation to my parents." Again, just another testament that Parry so effortlessly covers with his wide-ranging skill set. 
Overall, Mr. Parry is such an instrumental person in each and every school day, even when you don't know it. He makes life easier for so many students and teachers every single day, and that is incredibly valuable.
Kelly Kunz:  One of the most authentic freshman at Lake Forest High School,  Kelly Kunz is a person people can count on to be herself at all times.  With a subtle smile as she walks through the hallway, it is easy to see she is a Kunz, creating her own path in the wake of brothers Jake ('14) and Kevin ('17).  Kelly's sense of comfort in her own shoes is truly special.  One moment she could be chatting it up with a group of seniors, the next taking names on the tennis court.  No matter what situation she is in, she always lives in the moment with genuine joy.  A local LFHS parent had this to share about Kelly, "She's one of those kids who can be around any crowd.  From upperclassmen to parents, she is able to bring life to any conversation.  In addition to her authenticity, she is focused on what is important, grounded, connected to her family and overall a great role model for any high schooler."
After making Varsity tennis as a freshman, Kelly aims to grow tremendously not only as a player, but as a teammate these next three years.  Even her older brother, Kevin Kunz, had this to say about his sister: "You wouldn't expect it considering how small she is, but when it comes to sports, she definitely competes harder than anyone I know.  It's becoming frustrating now because she can beat me in tennis every time we play.  That's never happened before."  Whether she's on the court, the classroom, or in the hallway, Kelly consistently shows kindness and respect for anyone and everyone.  Keep an eye on the humble freshman who's backpack is almost as big as her as she is the definition of what it means to be a Scout.
About the Writer
Ghost, Author
Ghost is a section of The Forest Scout that chooses to publish material anonymously in order to increase the depth of their investigative reporting. Ghost...