The Forest Scout Friday Five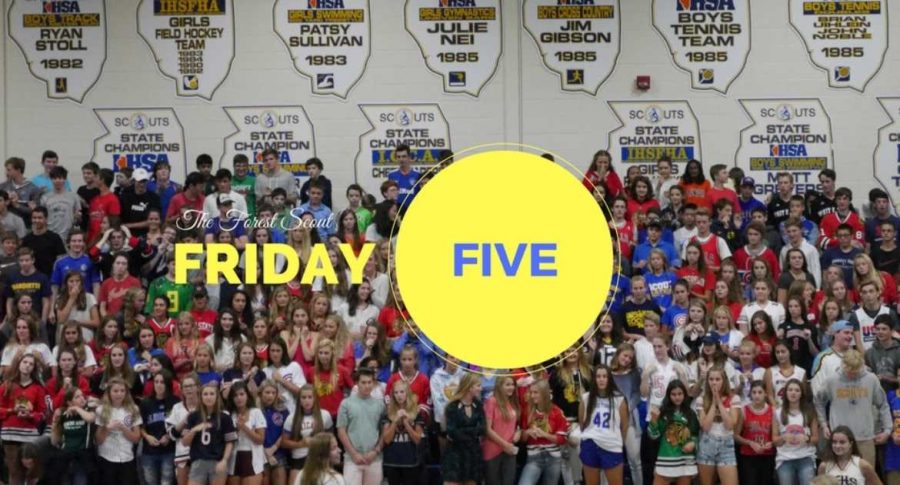 The Forest Scout Friday Five is a weekly segment that celebrates five people making a distinct, profound, and positive difference in the Lake Forest High School community. To visit our most recent installment, click here.  To recommend a student, teacher, support staff, or community member for inclusion in The Forest Scout Friday Five, please email [email protected]
Ryan Eleve
ld: The last attribute that Ryan Eleveld himself would use to describe himself to others with would be his academic aptitude. In fact, he might use the words outgoing, active, enthusiastic, or witty to describe himself, which his classmates would certainly agree with, and the word smart would soon follow in supplement. For sophomore Ryan Eleveld, his general affability and zest for life are contagious.
Over the course of the year, his involvement with the Science Olympiad program at LFHS helped the team earn its first state championship in the school's history, while his performances in the theatre department, in plays such as Lady Windemere's Fan, are always sprited and energetic. In fact, Ryan supplements his theatre career at Lake Forest High School with performances with the Gurnee Park District. Most recently, Ryan played Prince Alexander in the performance of Enchanted Sleeping Beauty.
Although all of Ryan's teachers and classmates would shower him with glowing recommendations on his performance on tests, quizzes, and in discussions, his most poignant benefit to every class he is enrolled in is his perpetual positivity. "He's an unbelievable person," shared one senior. "He never talks about himself and you would never know how successful he is unless you heard it by way of someone else." A junior classmate shared that every experience she has had with Ryan has been one of pure enjoyment. "He embraces every day with open arms. It really is inspiring to see someone with so much positivity impact those around him. He makes me smile every day."
Jack Wildman: You may not know him by name, but you'll probably recognize his omnipresent smile beaming as he makes his way down the hallway. Teachers and friends are quick to affirm that LFHS senior Jack Wildman is one of the friendliest kids the hallways of Lake Forest High School has to offer.
A natural leader, it's no surprise Wildman was Captain of the Hockey team this year that had a fantastic season record wise, but also demonstrated a great team culture that was led from the top by Jack, who took great pride in wearing the C. Jack's love of hockey reverts back to his youth and he has devoted himself to the high school team for four years.
Outside of hockey, Jack demonstrates a positive energy that is contagious. If you know him, he's the kind of guy who always asks you how you're doing and genuinely wants to know the answer. However, his last name, that, of course, reads "wild man" doesn't necessarily represent his personality. English teachers Ray Del Fava and Meaghan Laughlin both had positive things to say about the senior, but also agreed that he is no wild man in the classroom. "He's very thoughtful and patient," shared Laughlin, who had him as a junior. "He's rock solid in the classroom," added Del Fava, who has taught Wildman grammar throughout his senior year. "He's a quiet leader. Not a flashy, in-your-face kind of guy, but more of a leader by example and performance."
Jack, who will be headed to Miami of Ohio next year, is sure to be missed in the hallways of Lake Forest High School as the time passes. 
Christian Braun: Among the current graduating class, you'd be hard-pressed to find a more well-rounded, hardworking, and dedicated student than Christian Braun. Best embodied by his recent commitment to Northwestern University (go Cats!), Christian's tendency to go above and beyond the norm has served him well thus far. Though he may seem reserved at first glance, friends who know him well attest to the fact that he doesn't need many words to speak volumes.
"He's not the most talkative," said senior William Murphy, "but in a good way. You're gonna want to hear anything that comes out of his mouth." Ultimately, this particular trait of Christian's goes hand in hand with the age-old adage that actions speak louder than words. Typically seen cruising into practice in his electric-orange Jeep, Christian is a proud member of the Scouts Varsity football team. He took on a leadership role for all members of the team, both on and off the field. Everyone in this town, at some point or another, has purchased a coupon book from a football player. According to sophomore player Eddie Scheidler, "People usually sell around twenty or twenty-five, and before this year, the record for most books sold was, like, eighty or something." He continued, "Christian sold over one hundred." His role as both leader and mentor to the underclassmen is evident in the high esteem Eddie (and others like him) hold Christian in–and it's no easy task gaining the respect of a 16-year-old boy.
Christian's leadership skills also extend beyond the (literal and figurative) walls of Lake Forest High School; this past July, Christian took a week out of a decidedly busy summer to be a buddy for Camp Hope, a sleep-away camp for young adults with special needs. Junior Wren Volkert summed it up perfectly when she said, "Christian is a great guy with such an open and loving heart. He's super smart and always positive–just a great friend for anyone in need."
James Buckhardt: No matter the time or context, just mention the name "James Buckardt" to anyone in the junior class–or quite possibly any LFHS student at all–and more likely than not, you're going to get a wide grin and the ever-familiar "BUCKYYY" in response. At this point, it's essentially a habit for anyone well acquainted with him– the fond laugh, and the dragged out last syllable, is universal in the halls of Lake Forest High School.
When you first meet James Buckardt, the mild-mannered junior may seem a bit on the quiet side. He's soft spoken and polite. However, it's not too difficult to make conversation with the happy-go-lucky 17 year old, and even easier to crack a few jokes. Any interaction, no matter how long, will imprint you with his irresistibly contagious positivity about not only the day ahead of you but about yourself.
There seems to be no better way to describe the extreme positivity and pure happiness that makes James–Bucky–so distinctively James than through the words of the many classmates who can't help but love him. One classmate warmly remembers a time, years ago, when she and James worked in a group to create a short video about bullying. "We obviously elected Bucky to be the villain," she laughed, "because that's the exact opposite of who he actually is in real life. He's just so joyful, you know? But everytime he had to scream all this mean stuff we had to retake the shoot because he kept breaking and we were cracking up. It's just not in his nature to be like that."
And James' presence extends far past the classrooms of LFHS; James is an active member in the Kairos community, and members of LFHS' soccer team in the fall and the boy's throwing team in the track and field in the spring. In everything he works at, James puts 100% effort in, and his compatibility with everybody on the team makes him a crucial element of any team he's on.
James' innate kindness to others does not stem from superficial, skin-deep politeness; instead, it comes from a desire to help and be friends with all that he–whether it be on the soccer field with a teammate, with a tricky answer in math class, or just a quick conversation and joke in the hall.
"James' presence," a fellow junior elucidates, smiling fondly, "even when he's just sitting there, smiling, just makes you feel happy. And that's pretty rare in high school."
Connor Higgins: With a smile beaming from his face at every encounter he is presented with, Connor Higgins, known as "Cigs" by close friends, can probably be named as one of the most optimistic and positive people Lake Forest High School has to offer. With two older siblings, John ('17), and Mikaela ('14), Connor has made a name for himself without following directly in his older siblings' footsteps.
One of Connor's most identifiable characteristics is his love for anything and everything. In fact, I don't think I have ever seen him in a bad mood or mad at someone directly. This unrelenting love is extended to his dog as well. Belle, the lucky golden retriever owned by the Higgins family, receives nothing but love from both Connor and John while the eldest sibling is away.
Alongside his dedication to CROYA, Connor is also a devoted participant in the First Presbyterian Youth Group. Through both of these groups, many people have been given the opportunity to get to know this one of a kind kid as he extends a welcoming hand to anyone he meets. Not only that, but when Connor is asked to commit to something, you will see him follow through each and every time. Meghan Gayter, a CROYA youth worker shared with The Forest Scout, "I've gotten to know Connor very well over the past year through peer training, take out club, and the CROYA retreats. He is always able to make those around him laugh and feel comfortable and he is a very dedicated member of the CROYA community."
More often than not, freshmen tend to be intimidated or try to avoid juniors and seniors at all costs, but not Connor. His outgoing personality is the reason for a large percentage of the smiles you will see in the halls on a daily basis. Connor is a friend to everyone who shows unconditional love to every person because he looks past preconceptions and rumors that may have passed. He is a selfless and humble person who possesses qualities we should all strive for in our own lives.
Wesley Dixon, a friend to Connor through CROYA shared, "Connor's the kind of guy who you can see in the hallways and it automatically brightens your week. His goofy and outgoing personality makes him the perfect friend."
In addition to the kind words from Wesley, Natalie Allen, also a CROYA acquaintance, shared her experience with Connor Higgins. "Connor Higgins is the most fantastic, exotic, and miraculous creature you will ever meet." Those words really do perfectly disclose the incredibly optimistic and radiating presence that is the one and only, Cigs.
About the Writer
Ghost, Author
Ghost is a section of The Forest Scout that chooses to publish material anonymously in order to increase the depth of their investigative reporting. Ghost...