The Forest Scout Friday Five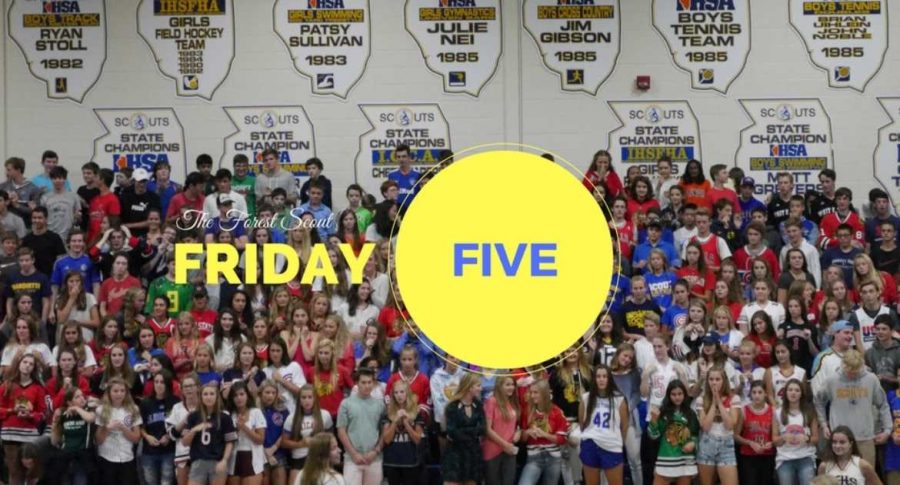 The Forest Scout Friday Five is a weekly segment that celebrates five people making a distinct, profound, and positive difference in the Lake Forest High School community. To visit our most recent installment, click here.  To recommend a student, teacher, support staff, or community member for inclusion in The Forest Scout Friday Five, please email [email protected]
Andrew Athenson: For a seventh generation Lake Forester (yes, you read that correctly), your name may carry a significant amount of weight around town. However, for senior Andrew Athenson, his reputation as a stand-up guy and a loyal teammate precedes even his surname. Jon Day, Parker Bolton, and Liam Pooler, all of whom were teammates of Andrew on the Scouts' football team, echoed encouraging sentiments about Andrew's ability to lead others. "Amazing teammate. One of the best I've ever had," shared Bolton, a lifelong friend of Athenson. "[Andrew] is a very rational, levelheaded guy," added Pooler, the team's starting running back. "You always knew that as a captain he would have his head in the right place."
Although Athenson is heavily involved in athletics at LFHS (Varsity Football, Varsity Baseball, and Scout Nation) and is committed to play intercollegiate football at DePauw University in Greencastle, Indiana next year, he strives to have his reputation extend beyond simply the fields of competition. Andrew has also served 3 years on the Student Council Executive Board and is currently the Vice President. "He's just the kind of guy that will bend over backwards to make someone else feel comfortable," shared one of Andrew's teachers. "He's very polite, down-to-earth, and respectful. He's the kind of guy you would want your own kids to be friends with."
As well rounded as his extracurricular workload is, Andrew strives to achieve balance in his course schedule as well. Not only does Andrew TA for Wellness for Life under the direction of Mr. Joe Busse, but he also partakes in Advanced Percussion, AP US Government and Politics, and AP Literature. 
In this day and age of specialization in both athletics and academics, Andrew Athenson has proved that there is still room for a renaissance man of sorts in today's high school climate. Yet, if it were up to him, his indelible legacy at LFHS would lie in the vast amount of work he has done to service others in the school and within the community. As if the Athenson legacy needed yet another chapter in this, its 7th generation, Andrew certainly has left his mark on LFHS in the most positive of ways.
Mr. Stephen Dunn: It can certainly be argued that 2016 was a tough year to teach politics. The often combative, confusing, and divisive presidential election of this past year left many Americans exhausted with politics by the time Tuesday, November 8th rolled around. Yet, if you were to talk to the students of Mr. Stephen Dunn–the Social Sciences Instructional Director who also teaches AP Comparative Government, AP US Government and Politics, and Civics at LFHS–they became even more enamored with the subject based on the unparalleled intelligence of their teacher. "He has a way of explaining things so that we can understand not only the immediate impact, but the far-reaching implications of each governmental decision." shared one student who cited Dunn as her favorite teacher. "He isn't preachy and he doesn't let his own views–to which we have no idea–cloud his ability to relay the facts and analysis to us impartially."
Perhaps the measure of a political science teacher is how well they veil their own views and are able to be the impetus for students to decide for themselves. "I have no idea what party he sides with. He doesn't let that impact his teaching and I'm sure that's hard." shared Chris Cavalaris, a junior student who took AP Comparative Government and Politics first semester. "But I learned more about the world in his class more than I had in any other social studies class."
Mr. Dunn's worldly intelligence comes as a byproduct of his own intellectual curiosity. The University of Notre Dame graduate can spark a conversation about pretty much anything: world governments, the European Union, and Notre Dame Fighting Irish football notwithstanding. Mr. Dunn is proof that you can apply intelligence to any arena, as you can often hear him in conversation with his students presenting fresh, unique analyses on a topic or current event. 
What the students say are the most enduring memories of Mr. Dunn, though, are the personal stories he uses as didactic anecdotes to develop insight into his students' minds. One student, senior Tegan Morcott mentioned, "Oh, his stories are the best. He will make you think critically and laugh out loud in the same class period. That, to me, is how I'll remember Mr. Dunn. You'll leave the class and think, 'wow, I've never had so much fun talking about politics.'"
Frances Hickey: When you think of your typical freshman, you probably think of a doe-eyed, frazzled, nervous student with their backpack hiked up to their ears. Well, simply put: Frances Hickey is surely not your typical freshman.
Whether it be the confident demeanor Frances has when addressing student council–a group chock full of seniors, juniors, and sophomores–or the intelligent advice and opinions she politely shares whenever you talk to her, Frances is mature beyond her years. Senior Student Council Executive Board Member Tegan Morcott shared, "It probably took me a year or two to that the guts to speak up during the meetings, but Frances immediately showed her leadership, intelligence, and confidence in our overall meetings. She's going to be a great leader at our school and I can't wait to see what she accomplishes."
If she's not at Student Council sharing her creative ideas and often articulating the freshman class update, you can find Frances at field hockey practice, CROYA, or babysitting. Frances is extremely organized and driven, something rare to find in a 15 year old teenager. She knows her goals and is willing to work hard to achieve them.
Frances's positivity brings light to every room, something noticed by many of the usual Wednesday night CROYA attendees, including senior Jenna Grossman, who was Frances's CROYA retreat leader. "She is always there willing to listen to others opinions respectfully," Grossman noted.  "She has the best advice and comments for others. She's one of the most selfless people I have ever met and is constantly putting others before herself." Frances never hesitates to get to know someone new or flash her well-known smile when she sees you. Her kindness is palpable and infectious and her positivity is certainly making waves in her 9th grade year. 
Julia Tanna: In the case of freshman student Julia Tanna, the term freshman is just a word–not a title. Over the course of the first seven months of her high school career, Julia has immersed herself in Chorus, Swimming, and Track and Field at the high school, all the while keeping her grades at an extremely high level. In fact, it's not only her involvement in activities that is motivating to her freshmen classmates, but also her take-it-in-stride and have no regrets attitude that inspires others to do more and experience the world around her fully. Her Freshman English teacher, Ms. Meaghan Laughlin shared that, "[Julia] is the last to complain about anything. She demonstrates her intelligence in a variety of unique ways in the classroom." Her Wellness for Life teacher Mr. Joe Busse added,  "she is a very responsible student and never misses an assignment. She gives 100% effort in every single thing that she does. In fact, she looks forward to the different opportunities that P.E. presents and never complains about an activity." When discussing Julia's overall vibe as a young woman in Scouts Aquatics, junior Isabelle Moore shared that "[Julia] never has anything negative to say about anyone. She is always positive and uplifting others. It's really something special to see."
Though Julia's older brother David, a junior, helped show his younger sister the ropes at the onset of her freshman year, Julia has taken it upon herself to do all that she can to make her time at LFHS as valuable as possible. "She's very inspiring," Laughlin added. "All of her classmates look up to her because of the relentless perseverance she demonstrates. It's really special to see." All of Julia's hard work in swimming this winter paid off with a trip to the IHSA State Finals in swimming this winter
As Julia continues to break down barriers and immerse herself in opportunities to force her to grow–both academically and athletically–we will continue to be impressed with the level of commitment, dedication, and perseverance that Julia Tanna is modeling for the rest of us at LFHS.  
 Rebecca Guo: Someone that goes "above and beyond" in nearly every practical way, a rare kind of student with a glowing mindset that enables them to put others before themselves in each sense of the expression, an individual belonging to a seemingly-endless schedule that can remain impossibly cheery and energetic regardless—before the owner of this description is even mentioned, it's possible that you might have a few of Lake Forest's dedicated students in mind. However, none embody this model of a high school student so well as junior Rebecca Guo.
Well-rounded in her interests and activities, Rebecca tackles daily a lofty and colorful routine of music, art, sports, academics, and clubs. Her prowess in the arts, being exceptionally talented as a student in AP Art and flute player in the school's Wind Ensemble, as well as her participation on the girl's lacrosse team, expresses only a portion of the dedication and passion she has been able to pour into the community. With an all honors and AP school-day schedule being as packed as hers, a bright, humorous demeanor and an always-cheery face that Rebecca dons daily set her apart from others all the more. "She's kind, funny, compassionate, and every time you see her, your mood goes instantly up," shared junior Renee Ye, a close friend of Rebecca. "She's a star." Her humility and ability to still be a "normal" kid–you'd be hard pressed to find a single person that has a hard time/doesn't thoroughly enjoy talking with Rebecca–in light of her unmatched excellence speak to how Rebecca "goes above and beyond not for any recognition or how it looks, but because she actually cares," as put by junior Eliza Hoobler. "She always finds a way to see the best in any given situation," explained junior Teresa Fawcett.
Most students would consider a schedule of sports, art, schoolwork, music, repeat to be more than enough. But Rebecca Guo, as imparted by all her peers, has "never been one to give less than 110%." In her being heavily involved in clubs, namely Math Club and Human Rights Club (which she "practically runs herself"), it's difficult to imagine how the school could manage without her heart and innate leadership. Eliza attributes Rebecca's strength to her ability to give, explaining how "human rights club is hard for her to organize, but she she's dedicated to what it does and what it can do. I think a lot of other people would get frustrated, unable to persist the way she does. She cares about a lot of inequality and injustice in the world and has a really really big heart."
Ask friends of Rebecca's, or anyone that knows her, and you'll be sure to get a response similar to that of Teresa Fawcett: "She is extremely smart, creative, insightful, and witty. She never fails to bring a smile to my face!" If hearing about Rebecca Guo makes you think, "wow, this girl's cool! I should get to know her," you're right–you really should.
About the Writer
Ghost, Author
Ghost is a section of The Forest Scout that chooses to publish material anonymously in order to increase the depth of their investigative reporting. Ghost...