The Forest Scout Friday Five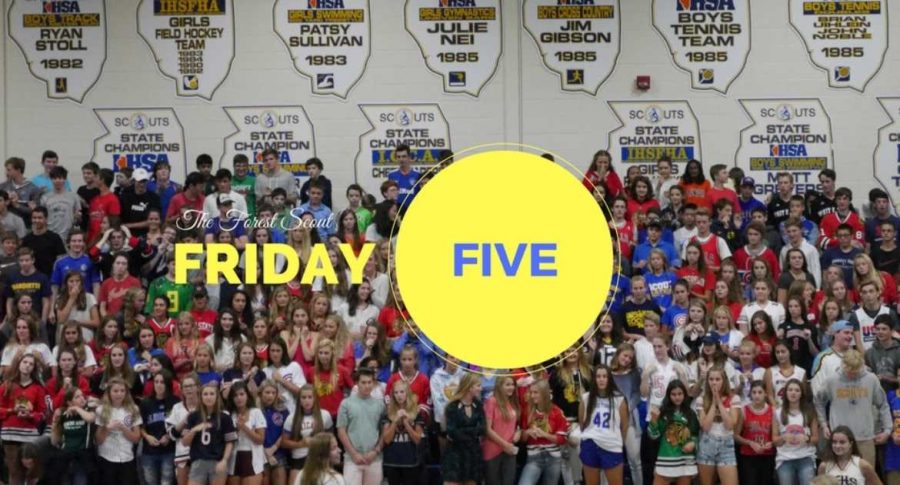 The Forest Scout Friday Five is a weekly segment that celebrates five people making a distinct, profound, and positive difference in the Lake Forest High School community. To visit our most recent installment, click here.  To recommend a student, teacher, support staff, or community member for inclusion in The Forest Scout Friday Five, please email [email protected]
The LFHS Booster Moms–Susan McMahon, Margo Thomas, Pam Salm, Alyson Dueringer, Janet Hanekamp, and Brooke Garrigan: At the onset of the school year you may have noticed that the front entrance of the high school got a bit of a facelift–new administrative offices, a state-of-the-art waiting room for guests of the school, and, of course, the Lake Forest High School Booster Spirit Store. Previously located in the school's basement, the new renovation allowed the Spirit Store to split their role as saleswomen and cheery, upbeat greeters, which was no problem at all for this spirited six-pack.
As soon as you walk through the front doors of the school, you are now greeted not only with a warm "hello" from the Booster moms, but a welcome into their pristinely organized store layout. Birthday? Christmas? A new sports season? They have it all covered for each gender, age, and size. What keeps customers coming back, though, is the unparalleled kindness demonstrated by each of the women who punch the time clock at the Booster Store. 
Aside from being loving mothers to their children at the high school, these women dedicate countless hours not only to the Booster Store, but to setting up and arranging fundraising, community events, and awareness activities for the city at large. Take, for example, the upcoming 4th annual Booster Bash scheduled to take place on March 11th. In order for a successful event like this to take place–with hired comedy acts from Second City and numerous local sponsorships–a lot of thankless work needs to be done behind the scenes. Emails, telephone calls, committee meetings, and brainstorming sessions abound for these moms selflessly servicing their school community in so many different ways. 
"They love that store," shared Justin McMahon, an All-NSC basketball player for the Scouts and the senior son of Booster Mom Susan McMahon. "Every one of them spends a lot of time there, takes a tremendous amount of pride in every little facet of the enterprise, and are very organized, which I respect a great deal." In walking into the Booster Store, you know you are not haphazardly entering some chaotic, hodgepodge, make shift yard sale. "They have it down to a science," added senior Reed Thomas, whose mom, Margo, is a veteran Booster Mom as well. "They certainly know what they're doing." 
Aside from all of their assistance in fundraising, designing, marketing, and selling apparel to Scouts fans, the Boosters program has been largely influential in developing the reputation of several local programs, including The Forest Scout. "There support is unwavering," mentioned Adviser for the paper Mr. Austin Scott. "They give and give and give and ask for very little in return. We are humbled by their kindness and thank them every chance we get for helping us take the next steps. Every Facebook like, article share, and affirmation of a job well-done to the kids is thoroughly appreciated."
So next time you're peering at the Wall of Excellence at West Campus or stand in awe of the athletes performing in a fully-packed Competition Gym or Varsity Field, think about the women who make it all possible, the ones who do a lot of the work and are the last to ask for credit–the LFHS Booster Moms. 
Mrs. Maggie Harmsen: Every high school student, at some point or another, is due for a meltdown. In the milieu of high school–pending projects, unfinished homework, make-up tests and/or quizzes from being absent and much more–galvanize the stress of the young men and women who make up 1285 N. McKinley Rd. You may wonder how each individual fire is put out seamlessly; how each previously stressed student arrives later that week with an action plan in mind. For all personal, social, anxiety-driven, or emotional issues that at times abound in the high school setting, we lean on our trusty Social Worker Mrs. Maggie Harmsen. Aside from her daily dealings with students who venture down to pay her a visit on the first floor, Mrs. Harmsen donates a great deal of her time to Link Crew and Student Council, two clubs that she has helped foster remarkable passion within since she took the reigns. Developing young, responsible citizens and re-directing blame into a mature self-advocacy is Harmsen's calling card as a Social Worker. 
"Where there is Mrs. Harmsen, there is unbridled enthusiasm," shared Mr. Austin Scott, a colleague of the passionate Social Worker and community service advocate. "She always has the young man or woman she's working with's best interest in mind," he reiterated. "No matter how difficult or stressful the situation ahead looks, [Harmsen] will be with them every step of the way. That's a Maggie Harmsen guarantee."
Meanwhile, when Mrs. Harmsen is helping students of the high school age navigate the maelstrom of due dates, interpersonal relationships, and, let's be honest, catty disagreements, she trusts the West Campus' Little Scouts program to look after her two sons, J.J. and Jonah Harmsen. Like many of the working moms at LFHS, Mrs. Harmsen's days start long before the first period bell as she wrangles her two young sons into clothes to head to school. This all seems to be quite fitting, though, as the Harmsens are a Scouts family through and through. In fact, Mrs. Harmsen met her husband, Mr. Joe Harmsn, a Special Ed. Teacher and Head Sophomore Basketball Coach, while working at the high school some time ago. Now, the Harmsen's make the 60045 their home between the hours of 8:15-3:20 before they retreat back to Pleasant Prairie, WI where the young family makes their home. 
On a special night–such as last year's StuCo sponsored bash that preceded a Scouts Varsity basketball game–you can see all parts of the Harmsen locomotive operating at full force. Mrs. Harmsen planned the event, chaperoned, hooked up the Suzy's Swirl, and organized the efficiencies of the process so that the students would arrive at the Varsity game on time. Meanwhile, Mr. Harmsen coached the Sophomores to a win with his own strand of passionate optimism, and the young Harmsen boys were there to take it all in. Kind of heartwarming, isn't it? Well, it doesn't happen without hard work and an unmatched dedication to the school. There are some jobs that are pure and simple optimal matches for a personality type. No vocation fits Mrs. Maggie Harmsen–one who loves dealing with young people–quite like that of the Lake Forest High School Social Worker. 
Mrs. Andrea Westrich: For those students taking Spanish, if you graduate high school without being in one of Señora Westrich's classes, you'll be at a loss. Known for her dedication to her students, organization, and particularity, Señora Westrich has found her groove; she has taught at the school for 19 years and grows a bit more with each passing semester. Many of her students say she is easily the most efficient and structured teacher they have ever had. With the start of each unit in her class, a well thought-out calendar is handed out to each of her students, which she follows precisely. Practically her entire curriculum has been planned from the onset of the school year.
Not only is her teaching a coveted gift, but Señora has a great attitude about everything. Her profound teaching may simply scratch the surface of her influence, but she also strives to motivate them in life. She utilizes the many ideas of Carol Dweck, a psychologist keen on the growth mindset and the notion of there always being room to improve. Señora shares these thoughts in the classroom to inspire her students. Even after Señora Westrich's many years at LFHS, she still continues to learn from her students each year and make adjustments to her teaching style to enhance learning in her classroom.
Furthermore, Señora Westrich is versatile in the way she teaches her Spanish 2 and Spanish 4 Honors classes to maximize her students' success. Junior Trisha Bhagat, a TA for Westrich's Spanish 2 class and a student in her Spanish 4H class, can account for this. "Señora's teaching style changes to meet the needs of her students. Her compassion and commitment to her students is beyond any other teacher I have had and being able to see her in a variety of classroom experiences proves how hard she works."
Señora Westrich is also very approachable both inside and outside the classroom. "She always makes time for students who need extra help," junior Brett Chody mentioned. "Once, she even ate her lunch in her classroom instead of the World Language office just to help me."
Señora Westrich is a one-of-a-kind teacher who puts copious amounts of time and energy into making Spanish enjoyable for her students. Every single game students play in class is designed by her. It is evident that she is truly one of the most dedicated teachers in Lake Forest High School.
If you get the opportunity to be one of Señora Westrich's students, enjoy every moment because she is truly one of the best teachers you will ever have the opportunity to experience. 

Megan Szostak: It would be easy to classify Megan Szostak as just a viola player. Sure; a good, no, amazing viola player, one who has participated in the Honors LFHS Symphony Orchestra, musical pit orchestra, and orchestra of Midwest Young Artists (MYA), but what else could she be? It seems unfathomable that on top of all the hours of practicing and group rehearsals (as well as a strenuous workload of homework typical of a high school junior) that she as the time to be anything else.
You'll find immediately, upon getting to know her, that Megan is so much more than that. She's a world traveler, for one thing–not to mention a biology enthusiast, bird lover, classical music aficionado, and Irish dancer.
"Megan is one of the funniest and sweetest people I know," close friend Erika Marchant remarked, "I can't think of a single time I've gone to her with a homework question where she hadn't put what she was doing to help me out, even if it was something really important like studying for a test. She's so genuine–you can talk to her about anything."
To find anyone with a deep, unabashed passion in one subject is not common; to find one with a love for many is remarkable. Megan does not merely halfway enjoy something, instead, she has an unrestrained, effervescent passion for anything that interests her–whether that be a really amazing Mark Wood piece she's playing with one of her orchestras, or a particular plant or animal she finds extremely interesting.  It could be a sheep, her pet parakeet Kiwi and cockatiel Beaky, euglenas, the exceptionally large and slow sunfish, or even the Acanthostega (the first vertebrate with distinct limbs!); you name it, Megan loves it.
And thanks to her participation in multiple orchestras and a pure love for seeing all that the world has to offer, Megan has traveled extensively around the globe to many different cities and countries. When you ask her about her travels, she'll never give the standard, insubstantial response, "it was good!"
As Erika put it,  "Her eyes will light up and she'll tell you about sea turtles and waterfalls and the cutest button store she's ever seen. It's the best thing to see someone that's more than a tourist–she's a traveller."
But beyond it all–the music, the animals, the traveling–Megan is an extremely dedicated, kind, and knowledgeable young woman. Her humor and passion for all that life has to offer never fails to bring a smile to whomever she's talking to, and that enthusiasm in turn inspires others to face the world with an unquenchable thirst for knowledge.
"Behind her wise and quiet exterior, Megan's amazing humor, along with her love of sheep, never fails to put a smile on my face. From Mark Wood to Mr. Runft, we've experienced it all," fellow musician Kimie Han reminisced. "And I wouldn't want to have anybody else by my side."
Ms. Lisa Gross: Most Cherokee Cheetahs remember Mrs. Gross as one of their greatest elementary school teachers, but today she still maintains positive relationships with high schoolers from all of the local neighborhoods. The former Cherokee teacher and current Sheridan Enrichment Teacher has inspired students to stay committed to their education after having her as a teacher. Former student Isabelle Moore shared that, "[Mrs. Gross] is such a sweetheart. She makes everyone feel good about themselves. She didn't put a lot of pressure on us but we all knew she believed in us."  Even students who didn't have her, like freshman Grace Gescheidle, say that she "always felt like my teacher."
One thing that makes Mrs. Gross special is her compassion. Every Sunday night you can find her in the basement of First Presbyterian Church of Lake Forest, where she is an advisor for a local youth group. Nick Redmond, the leader of the group, says that Lisa has been volunteering weekly for the past five years. "She cares deeply about each high schooler, and is genuinely interested in hearing what's going on in their lives." Even after she packs up her classroom at the end of the school year, she hops in a van along with sixty other high school students and adults to go on the church's annual work trip. The group spends the first full week of summer to repair homes in places across Michigan, Kentucky, and Missouri, depending on the year. "Going on work trip is something I look forward to during second semester," says Hadley Seymour, a junior who attends these work trips. "When I met Mrs. Gross my freshman year, she immediately made me feel welcome into an environment full of upperclassmen. She continues to be a great advisor for everyone who comes to our meetings each week."
Those who had Mrs. Gross in elementary school and spend their Sundays with Gross now realize how grateful they were to have her as a teacher. Kirsten Larson, a sophomore, said that when she moved, Mrs. Gross made her feel at home in her new town. "Seeing [Mrs. Gross] at youth group makes everyone feel like they belong–just like she did for me at Cherokee." Natalie Notz has had Mrs. Gross by her side since she was a little kid. "She was my teacher in 1st and 4th grade. Besides the wonderful education she gave me, she has taught me many life skills like fashion, hairstyles (there is a long story behind that one), and even how to paint a house. She is one of the nicest people one can ever meet and will always do anything in her power to make you succeed."  
Her ability to relate to people of all ages is very impressive. Bobby Winebrenner, a former 2nd grade math student and attendee of the youth group said that her commitment  "really made me appreciate all of the kind, hard work that she does and the impressive way she communicates with young adults." Overall, Mrs. Gross is one of Lake Forest's best, and she inspires us all to be our best selves.
About the Writer
Ghost, Author
Ghost is a section of The Forest Scout that chooses to publish material anonymously in order to increase the depth of their investigative reporting. Ghost...