After a strong season, Girls Varsity Cross Country qualified for state. Going into the State Meet, the Scouts were seeded 17th but came away with an 11th-place finish. Senior Lucy Schlachtenhaufen received all-state honors after finishing 22nd overall.
Such results would not be possible without intense physical and mental training.
"Rest is vital for runners to make sure they're not being overworked," said Head Cross Country Coach Mr. Steve Clegg. "Mentally being in a good place and being confident every race, in the end, pushes you to what you can physically and mentally do. Having a good mental mindset to overcome the really hard physical challenges can be the difference of a couple of seconds in a race."
It was the first time in a four-year span that the team made it to state three years in a row. The path to getting to state was a major accomplishment in itself. The team cut it close at the sectionals race where they tied for seventh place, the last qualifying spot. If even one Lake Forest runner had gotten passed, the team would not have qualified for the State Meet. 
The 2022 State Meet the previous year was a "pouring rainstorm, disaster, mud mess," according to Clegg. This year's beautiful day in Peoria – with no wind and temperatures in the low fifties – felt extra rewarding. 
From the team's perspective, the day went perfectly. Everything that they could have hoped for happened, and more. There were four all-time best times and two season-best times.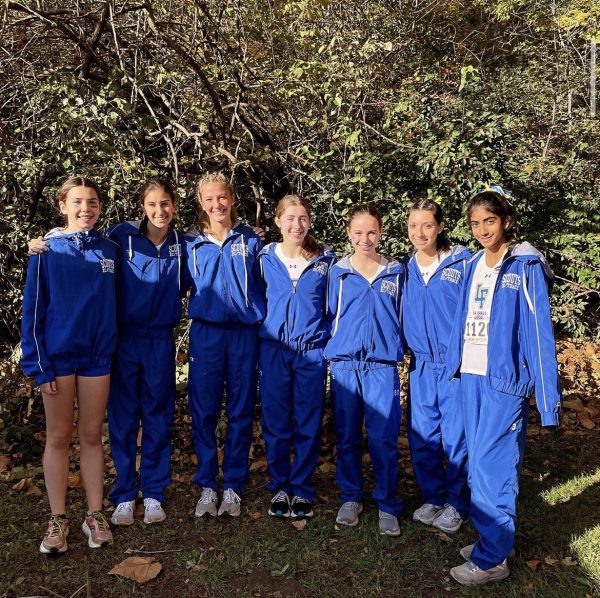 "We have finished higher [in previous years], but I don't know if we have ever had a better day at the State Meet," said Clegg.
These accomplishments did not come without hard work and dedication. The girls started training in late May and stuck to a strict and intense training regime for the next six months. 
"Everyone comes to practice ready to work their hardest," said Clegg. "People would show up and do these workouts and collapse. Everyone was working so hard this year."
Schlachtenhaufen – in just her second year running cross country – finished 22nd overall. She has been working all season to break her best time of eighteen minutes, and in this last race, she finally did. She shattered her personal best by ten seconds, finishing with a three-mile time of 17:51. 
"This year I gained a lot more confidence in myself and my potential of what I could do as a runner," said Schlachtenhaufen. "Last year I was just learning the ropes of how to run, I had a lot more dedication and mental strength this season."
According to the team, every runner gave it their all. By the end of the race, everyone felt they had left everything they had on the course. The runners had each other's backs and supported one another until the finish.
"I knew everyone was running for each other," said Schlachtenhaufen. "I normally get super nervous before races but I went into this one feeling confident and calm."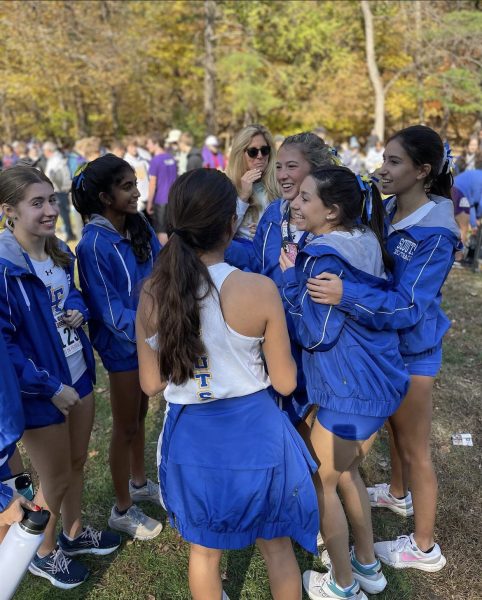 At the State Meet, Schlachtenhaufen and the team were surrounded by elite runners which created a fierce and competitive environment. While Schlachtenhaufen was still confident overall, some nerves were inevitable. 
"I was really nervous on the start line but once I got into my pace it felt like I was just gliding and being carried by everyone," said Schlachtenhaufen. "Everyone ran the same times and it went back and forth constantly with whoever was leading."
After a close, grueling, and stressful race, Schlachtenhaufen was able to finish within the top 25, earning her All-State status.
Of the seven runners who participated in the meet, Emma Legrand was the only Freshman. Being so young and being in such a competitive environment was extremely nerve-racking, but being surrounded by her teammates helped to take her mind off of all of the pressure, according to Legrand. 
"Almost immediately after the race started I could tell how much faster everyone was [than previous meets]. From the start of the race all the way to the finish, the stakes were higher, and it was a lot more intense," said Legrand. 
Next year, Legrand has her sights set on breaking her personal records and making it back to the State Meet with the team for another opportunity to run at Detweiller Park. 
While there is promising incoming talent for next year, stepping away from this season is bittersweet for the runners. Many of the seniors have been on the team for four years, making them "a very special group."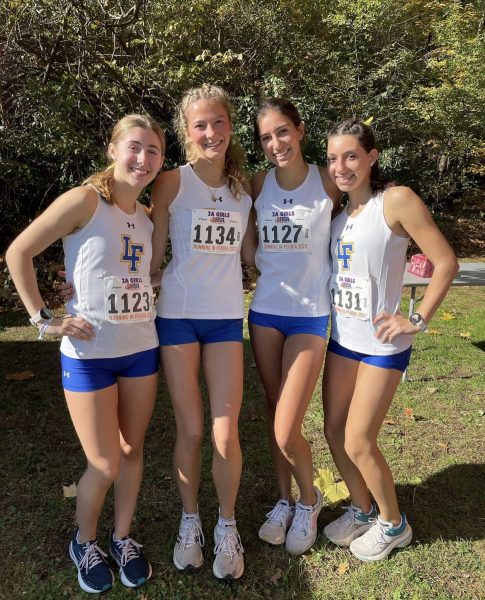 "Lot of shoes to fill," says Clegg. "Now there are spots available at the varsity level. Every year there are new graduates and new people." 
The coaches are already looking to next year and have their eyes set on the big goal.
"Let's get back to the State Meet," said Clegg. "It's going to be tough but I have also seen people really step up and fill their spot." 
With intense training and high targets, team camaraderie is necessary to succeed in this sport, according to the team.
"This year was good vibes all around," said Schlachtenhaufen. "Every runner supported each other no matter what and this is what will carry on to next year".