During the Thanksgiving holiday, there are countless traditions that families participate in to ensure proper bonding time and events to look forward to. 
Thanksgiving is a time for reuniting families by cooking huge feasts and participating in engaging activities. This holiday is typically associated with gratitude, allowing individuals to reflect upon what they are truly thankful for in their lives and take action to express their gratitude.  
While many families partake in the classic Thanksgiving feast, there are also many other traditions that students of Lake Forest High School partake in during this special season. 
Traditions for some families include watching football with their extended families throughout the entire day of Thanksgiving or participating in a huge family football game. 
Senior Lizzie LeGrand said, "My dad and his family are huge die-hard Green Bay Packers fans, so we watch football the whole day before dinner. Everyone gets super into the game including all of the kids." 
Others will travel to lengths to celebrate the holiday with their family elsewhere. 
"My husband and I used to travel every Thanksgiving because our son played hockey in Canada," said Study Hall Advisor Mrs. Laurie Hektor. 
Many students also express that their families love to go on long walks and even participate in local Turkey Trots as it's a fun bonding activity and is good exercise before the big feast. 
Junior Cate Lee participates in a local Turkey Trot with her family and friends. Before the two-mile run, they all gather in the Fort Sheridan area. After completing the run, all her friends and family do one big brunch as a reward for finishing.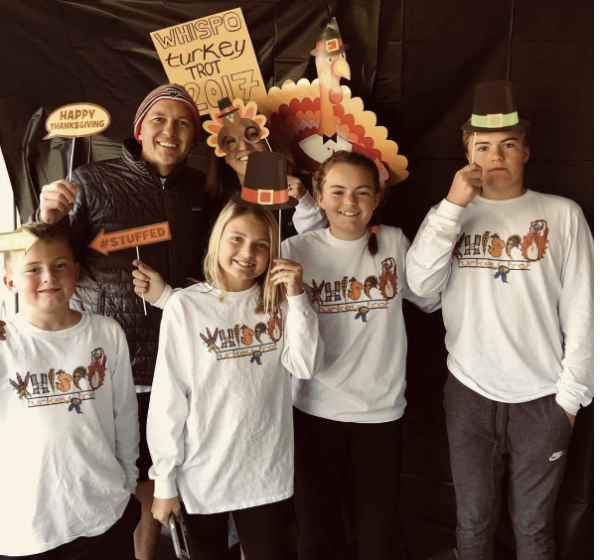 Students even get creative with the dishes they cook, experimenting with new recipes with their families. 
Senior Sophia Zar loves her family's Thanksgiving tradition of making "Oreo turkeys" as one of their annual Thanksgiving desserts. These "Oreo turkeys" are structured by a thin layer of white icing and candy corn on top.
 "My family has been making them since I was around 8 years old and I look forward to it yearly," Zar said.  
Intense family board games also take place, even involving fun prizes and rewards. 
"My whole extended family plays super long rounds of the card game Uno. Except, each time someone wins they are rewarded with money," senior Maddie Williams said. 
After wonderful Thanksgiving dinners, some families already are eager to start ringing in the Christmas spirit. 
Sophomore Sophia Brincat said, "Immediately after Thanksgiving is over my family starts to decorate all over the house for Christmas. I enjoy decorating not only because of the feelings of nostalgia it brings me but also because of the excitement it brings for the holiday coming up." 
Even Junior Haddie Deegan always looks forward to the day after Thanksgiving because her family drives up to a Christmas tree farm where they will cut down their own special tree for their home. 
Thanksgiving is one of the most favored holidays of the whole year. Celebrating and renewing these annual traditions, along with eating and cooking delicious food truly makes all the difference. 
Have a happy Thanksgiving!