Joe Remus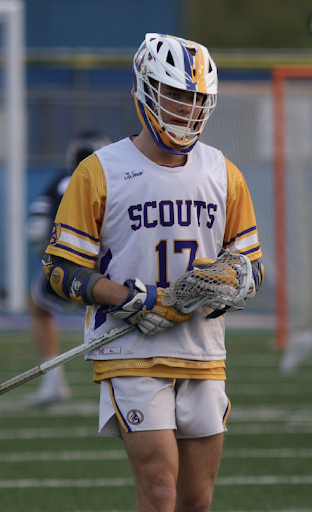 Junior Joe Remus may be the most well-rounded person at LFHS. Not only is Remus a two-sport varsity athlete with a stellar academic record, but he is also a beloved friend to many as well as an outstanding leader outside of the classroom with his excellent work through CROYA (Committee Representing Our Young Adults) and Student Council. 
"Joe is an amazing, selfless friend, and he is also someone who inspires me to be myself. With his whole life planned out already, he is bound to do amazing things. There's no one else quite like Joe, and that's why all his friends love and look up to him," said junior Samantha Schacher. 
 Remus shows his perfect leadership skills every Wednesday at CROYA. With his charming and hilarious personality, he does not fail to lift the moods of everyone who attends the weekly meetings. Remus decided to take his leadership skills one step further recently by applying to be on the executive board. Out of many applicants, Remus' votes from numerous supporters allowed him to become even more involved with the community by receiving the CLS (CROYA Service Leadership) Vice Chair position. Whenever you look over at Remus at CROYA, don't be surprised when you don't see his smile ever fade. 
"Joe is the type who leads by example. He shows that to define yourself as a leader, you don't need to be in the spotlight and that supporting those around you is just as important," said CROYA Staff Member Rick Day. "He takes everything he does for CROYA with enthusiasm. The respect he shows others leads to the immense level of respect others show him." 
Remus brings his fantastic personality and leadership to both the lacrosse and football varsity fields as well, where his teammates idolize him. The pressure of two varsity sports can be daunting for many, but not Remus. 
"Joe will never let a bad game get to him. He is a positive, fun teammate who always tries his best and supports everyone. He's a great guy, and I will miss being on a team with him," said senior football athlete Logan Uihlein. 
It can be challenging to juggle academics, sports, and social life, but Remus makes it look so easy- something few can accomplish.

Franca Stohlgren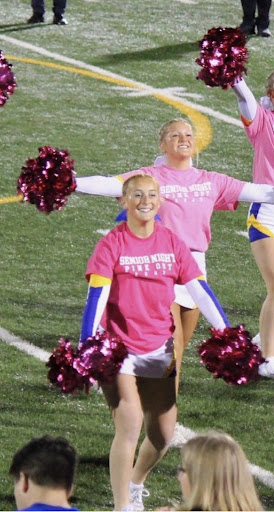 Senior Franca Stohlgren is an outstanding gymnast, cheerleader, and soccer player at LFHS. Not only is she an amazing athlete, but she is a great student and friend. 
Stohlgren is a hard-working student-athlete, but despite her commitment to her teams as captain of the varsity gymnastics and varsity cheer team, she still makes time for academics and participates in a prestigious club known as the National Honors Society. On top of all of her achievements, she still makes time for her friends, family, and social life. 
Stohlgren's Varsity Gymnastics Coach, Britney Moccia, praises her for all her hard work and commitment to the team. She mentions that Stohlgren is captain of the gymnastics team for many reasons. 
"Franca is one of the most hardworking and dedicated athletes I have had the honor of coaching. Not only is she a supremely talented gymnast, but she is a reliable and positive teammate. She is always cheering on her teammates and leading by example, often picking up others when they are down and always being the first to celebrate their achievements. She is captain of our team for many of these reasons. I look forward to another season with her on the team," said Moccia. 
Stohlgrens Varsity Cheer coach, Debbie Vargas, had nothing but wonderful things to say about her. Stohlgren leads by example ultimately making her a successful captain. 
"Franca is a powerhouse cheer athlete who consistently leads by example.  She is always positive and her work ethic is both admirable and contagious.  Franca is always focused and willing to do what it takes to get the job done, even if it means putting her teammates before herself. Franca's mentality and positive influence on her teammates will have an impact on our team long after she leaves us. We will miss her," said Vargas. 
Stohlgren isn't just an inspiring athlete but an amazing teammate as well. Senior Danielle Moore says Stohlgren's personality "unites the team" and "she brings the energy to every practice." 
Stohlgren's teammate, junior Samantha Schacher, reveals more about what a remarkable teammate and friend she is. 
"Franca can only be described as a perfect role model on and off the mat. She is the most caring, humble, bubbly captain who will always put her teammates before herself. You will never catch Franca without a smile across her face, always cheering her teammates on. Franca's drive and ambition for the sport is inspiring to all who see her, and the impact she makes on our cheer team will never go without recognition. Everyone needs a Franca on their team," said Schacher. 
Stohlgren has left an impact on the Varsity Cheer team at LFHS. Her teammate, junior Hannah Conley, said her "motivation inspired everyone on the team," and "she always puts others before herself." 
Stohlgren still finds time to be an incredible friend. Senior Allie Hector comments on what a wonderful friend Stohlgren has been to her. 
"Franca always knows how to brighten my day. She's the most dedicated and hardworking person I know, being a three-sport athlete, amazing student, and best friend," said Hector. 
Another one of Stohlgren's good friends, senior Brooke Moore, expressed what an awesome friend she is and how inspiring, dedicated, and amazing she is. 
"She's truly the hardest worker and an overall amazing friend to everyone. Franca goes out of her way to be kind to everyone she meets. She is not only inspiring to me but to everyone else around her. People look up to her dedication to her sports, academics, friends, and family," said Moore. 
Maria Alzamora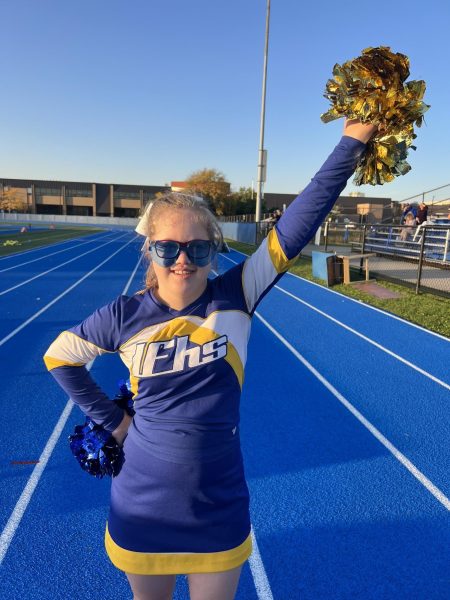 Sophomore Maria Alzamora is an outgoing Scout with a love of competition. 
Her outgoing but competitive personality is what makes her so special to LFHS. Her competitiveness on the Special Olympics Basketball and Track and Field Team is what energizes her teammates. 
"Maria works hard and will never be out-hustled. She loves to win and will give her all to the very end to make sure that happens," said Special Olympics Coach Mrs. Doucette.
Maria's competitiveness isn't only evident in her participation in Special Olympics but also in her involvement in the Cheer Team. 
"She participates in all of our training, cheers on the sidelines, and performs at halftime. She is extremely knowledgeable about all sports (especially the Cubs) and she is often keeping us in check at football games to make sure we are paying attention to the game and calling the right kinds of cheers," said JV Cheer Coach Mrs. Goodman. 
Maria's outgoing personality has given her the ability to create a connection with anyone she meets at LFHS, whether it's someone participating in the same club as her or if you have a conversation with her in the cafeteria. 
"Her friendliness is contagious and she is a social butterfly. We can't go anywhere without someone stopping her to say hi," said Mrs. Goodman.
Even with her competitive spirit and participation in a variety of different sports and clubs at the school. She has an artistic side to her that most people might not know about.
"She made beautiful pottery when she took ceramics and she is currently making an astounding mosaic mirror in Mrs. Thomas' crafts class," said ceramics teacher Mrs. Doucette.
Brady Stadolnik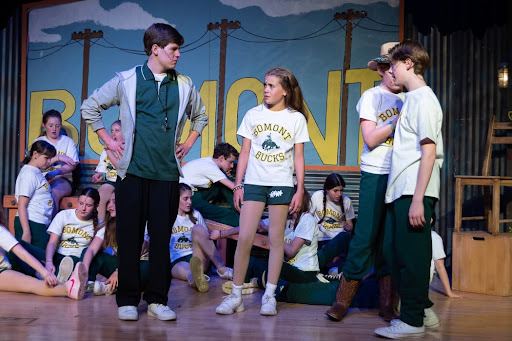 Freshman Brady Stadolnik has already found his place here at LFHS. He has had a passion for acting and the performing arts since childhood, and now as a high school student he is a prominent member of the theater and music programs. As early as this past summer, he became involved in the high school by participating in the One Acts student-directed plays, and has since found a strong community at LFHS.
"He was always willing to put in the work to make our show the best it could be. He impressed me right from the auditions," said Claire Smith, one of the directors of the One Acts play this year.
Amongst his peers, Brady stands out as a hard worker both on and off the stage. He has been described to embody the acting mantra "always auditioning" and is consistently giving his best effort no matter what he does. This can be seen through his natural talent on the stage performing a wide variety of roles.
Brady has continued his passion for acting as a part of the cast for the current freshman/sophomore play The Brightest Thing. He also participates in performing arts outside of LFHS through a theater group called The Performer School in Highland Park. 
Aside from acting, Brady also enjoys singing. His strong work ethic and dedication translates to his involvement in the Madrigals choir group.
"He [Brady] is there every day to participate, and he always shows up with a smile on his face," says President of the Choir Board Sophie Loiciano. "Freshman like him make me so excited for the future of the choir."
As only a freshman, Brady shows a lot of promise to emerge as a leader and continue the already strong performing arts programs in the upcoming years. 
Mrs. Tomek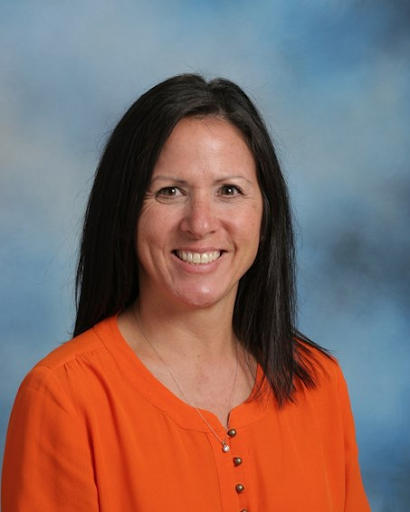 Mrs. Tomek, a math teacher and previous Dean, has made a tremendous impact on her students and coworkers in her time here at Lake Forest High School. 
"Mrs. Tomek is an incredible friend and colleague. I've worked with her since the beginning of my career and I am so incredibly grateful for her in my life," said Mrs. Laura Clegg, one of the deans at LFHS. "I have learned so much from her both in and out of school. Anyone who knows Mrs. Tomek knows that she has the biggest heart."
As Clegg makes a point of saying, Tomek's dedication to the school and students is unwavering. She goes above and beyond to ensure that each student receives the support they need to succeed. Whether it's staying late to provide extra help or taking the time to understand each student's unique learning style, she consistently puts her students' well-being and growth at the forefront. 
"She is very kind and welcoming," said senior Ella Burns, further emphasizing that "she's always willing to help."
Additionally, Mrs. Tomek creates an inclusive environment in her classroom. She encourages collaboration, respect, and empathy among her students. Through her guidance, she gives a sense of belonging and ensures that every student feels valued and heard. Her commitment to creating a safe space for learning is truly commendable.
"Mrs. Tomek is always dedicated to making whatever she does have the most effort put into it as possible," said senior Ana Dollard.
Her genuine care for her students and coworkers extends beyond her teaching as Tomek's a great listener and mentor. Everyone she works with feels comfortable approaching her with their questions, concerns, and ideas, and she always takes the time to listen attentively. 
"Mrs. Tomek is extremely caring about kids, always puts kids first and is one of the most generous and nice people that I know," said Assistant Principal Mr. Frank Lesniak.