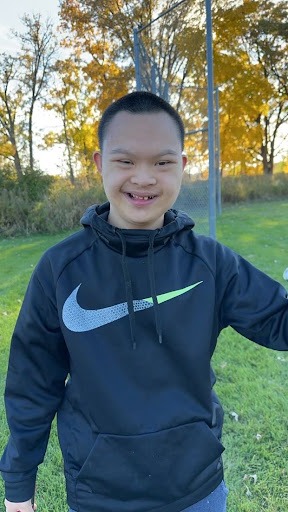 Sam Ma
Senior Sam Ma is a dedicated Scout and a friendly face around the halls of LFHS. 
Senior Scott Weston, who has known Ma for about 12 years, says his friend makes "very funny jokes," and "always has a smile on his face." Weston also mentions that Ma's lunch choices are out of the ordinary.
"Sam usually has many lunches, and when I say many, I mean like three different lunches. He loves McDonald's or Burger King, and will buy something else from the school, plus dessert," said Weston. 
Ma is a part of the "Scout Buddies" club, and many students in the club have only great things to say about him. Junior Sienna Daum says being Ma's friends is a "blessing."
"I can always count on Sam to make my day better," Daum said. "His smile is affectionate, and he never fails to make me laugh. He cares so much about others and is constantly asking his friends how they are feeling."
Daum sees how connected Ma is to his friends, and his empathetic nature makes him a very great friend to people in the community. He also leaves a very good impression on his teachers, not only working hard in class, but also having an outgoing and friendly demeanor that makes everyone around him comfortable. 
Mr. Spagnoli, a football coach and integrated wellness teacher, works with Ma on a daily basis. He's lucky enough to know Ma very well, and says that his friendly and outgoing personality give him a "unique ability to make everyone around him his friend."
"Everyday there are about three of four times Sam does something to brighten everyone's day, and there isn't just one thing I can say makes him so great," Spagnoli said. 
Mr. Bassill
Students in the music department, and many outside, are well aware of the infamous Mr. Robert Bassill, and his light-hearted energy and ridiculous, sarcastic humor 
 "Mr. Bassill is extremely funny.  He makes the most random comments and somehow they become the best part of my day," said senior Meghan Pierce.
As the director of the Symphony and Concert orchestras, teacher of AP Music Theory, and director of the pit orchestra for the spring musical, Bassill's dedication to teaching and supporting his students is shown through his presence and encouragement.
He is happy to jump on a bus and visit the Chicago Symphony Orchestra or a plane to visit Europe.  Increasing his student's exposure to the world of music is his passion.
Bassill makes time when his students need anything, "whether it's rewriting the parts for the musical or offering extra coachings to the students," said Ms. Natasha Mah.
"Mr Bassil is one of the most kind and caring directors I have ever met, he is always looking out to make sure everyone in the orchestra is at their full potential!" said Liam Sheridan.
Bassill also supports his colleagues.  "Bassill is always very giving of his time if a student asks for help with music or if a teacher asks for help with technology," said Mrs. Janene Kessler.  "I am lucky to have him as a colleague and a friend!"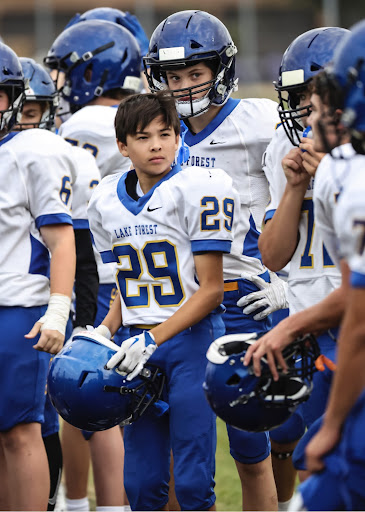 Colin Cheng
Freshman Colin Cheng is an emerging two-sport athlete in high school, who dominates the football field playing lockdown cornerback and the baseball field playing pitcher and second base. 
He's a grinder, to say the least. On and off the field, he seems to always shine whether it's in school, his sports, or with his family or friends. 
He is an absolute workhouse on the football field as he had a great season this past year and hopes to keep improving. 
 "Even though he was one of our smallest players he didn't let that hold him back from succeeding," freshman Wyatt Nelson said. "He was the hardest-working player on the team."
Throughout the season Colin would always demand the best from him and it showed with him improving dramatically.
"He's a great defensive player; whenever you need him to make a play, he's always willing to step up. He's a fourth-quarter demon," said freshman Emmit Heaton.
Despite his comittments on the field and in the classrooms, he still manages to spend a lot of time with the people close to him. One of his favorite things to do in his free time is hanging out with his friends. 
"He is the type of guy that is there for you when you need him, but at the same time, you can have lots of fun with him," freshman Logan Marsh said. "There is never a dull moment when hanging out with Colin, even if we are just chilling at someone's house he still makes it super fun. Everyone seems to feed off his energy."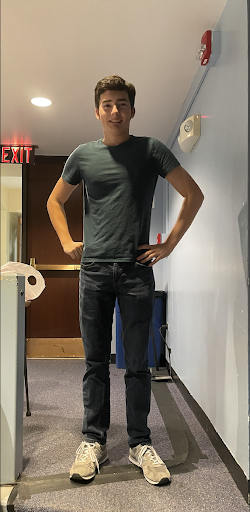 Evan Spezzano
Sophomore Evan Spezzano  has really found his place as a leader in the Fine Arts department. From chorus to tech crew, he has tried it all.
He's a naturally gifted techie, who has learned so much in just the past year he has attended the school.
"In his short time here, Evan has emerged as a natural leader, guiding fellow Tech Crew members in mastering the complexities of light design, set construction, and being part of a team," said Ed Tech Corey Holmer. "Evan's sophomore status has me eagerly looking forward to the next two years with him as a part of our program. His advanced skills and invaluable mentorship within our Tech Crew make him an essential asset to our department."
 For his next role? Evan is in charge of Lighting Design for this year's Freshman/Sophomore show.
"Once at tech last year, I was struggling to do something and Evan came over and did it all for me. And that was very nice; he's very helpful and he's a good man," said junior Kallista Schneiderman.
Spezzano is also passionate about computer science.
"I think Evan Spezzano is actually one of the most smart and intellectual people that I know because Evan has the desire to learn more about everything that he has ever done," said senior and fellow tech crew member Georgia Sottosanto Sorenson.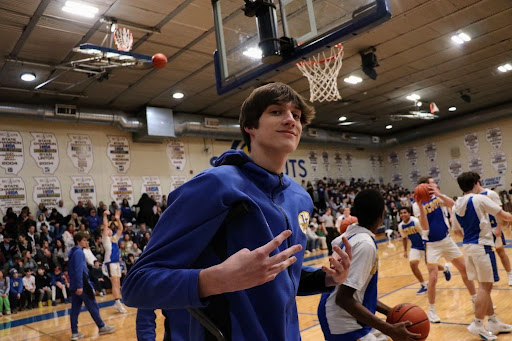 Grant Mordini
Junior Grant Mordini is hard to miss in the halls to say the least.
The 6'10" power forward's presence adds a serious threat to the Scouts basketball team.
When not balling out for the Scouts, you can find him playing with his AAU team, Full Package. 
Varsity Scout's Basketball Coach Phil LaScala praised his love for the game and drive to improve each day.
"Grant is an extremely hard worker as demonstrated by his rehab that he has been going through for nine months," he said.
Junior Michael Bousis applauded Mordini's work ethic too.
"He's one of the hardest working kids I know. He has faced a lot of adversity with his injuries but he's always worked hard to come back even stronger," he said. 
Bousis also praised his hardships faced throughout his baseball career.
"Even when he wasn't able to run or play, he was still getting shots up and was in the weight room trying to get better every day." 
Mordini brings a positive presence both on the court and off. He is someone you can relate to on almost anything, and is guaranteed to make you laugh.