Although it was cold and raining, the Scouts brought some spirit to the last varsity football game. Not everyone showed up, but the ones who did didn't disappoint. The scouts looked like they were about to hit the slopes in their ski outfits.
SENIORS: 
My gosh were we impressed with the seniors! There may not have been many of us, but boy did everyone KILL it. Everyone's energy was through the roof supporting the players in this tough game. I can confidently say that there was not one disappointing senior outfit, it honestly made it so hard to choose our favorites.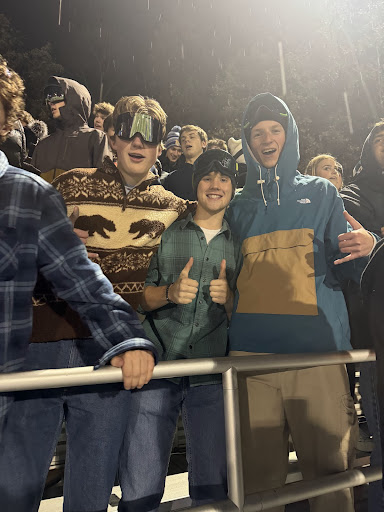 Seniors Hayden Gaston(left), Jonathan Wojda (middle), and Tad Charlot (right) were keeping cozy in their ski gear. I mean they look like they just flew in from Colorado. The Sherpa quarter zip, flannels, and awesome North Face jacket paired with the classic ski goggles finish off the outfit. Although I've never seen jeans on the slopes, I think they pulled the outfit together nicely.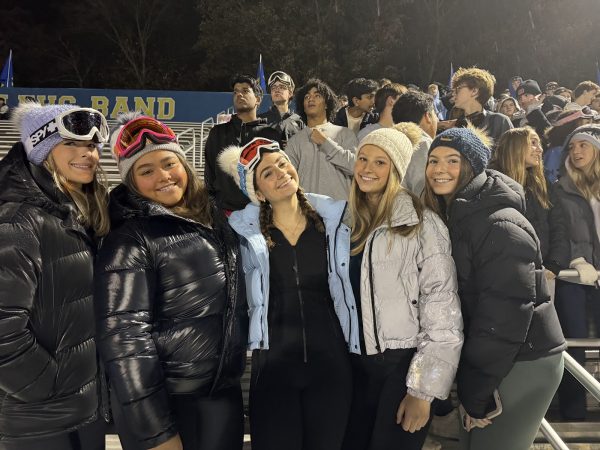 The senior dancers (left to right) Alana Tennet, Maddy Van Nuys, Bianca Storino, Rachel Silvers, and Ellery Newman came in fashionably late after practice, but they did not disappoint. All of them came with adorable puffer jackets in all different colors and materials. They topped off their outfits with cute, colorful puff ball hats with some ski goggles to make the look. Nicely done ladies!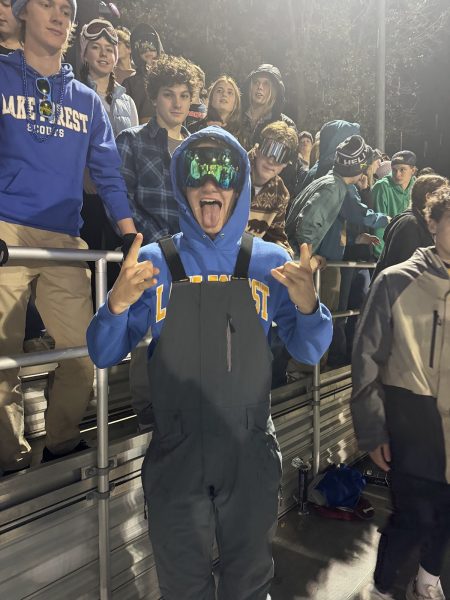 Senior Nick Weymeyer has never failed to disappoint us in this student section. I honestly don't know what the student section is going to do without him next year. I can confidently say that he was warm at the game! He took his snow pants or should I say snow outfit, and paired it with his awesome blue-green reflective goggles. Way to show spirit, Nick!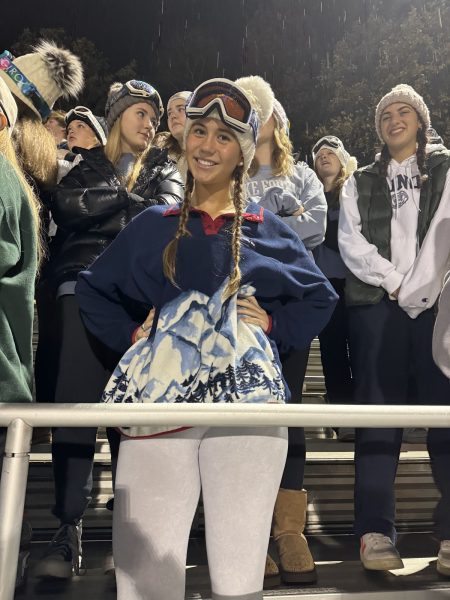 Senior Allie Hektor is always showing school spirit in the front row! I mean look at her, just so aesthetically pleasing. She has the look everyone was going for. Her INCREDIBLE mountain Lands End fleece is just unmatched, paired with a puff ball hat and some ski goggles. Her gray leggings just pull the colors in the fleece together. Keep it up, Allie!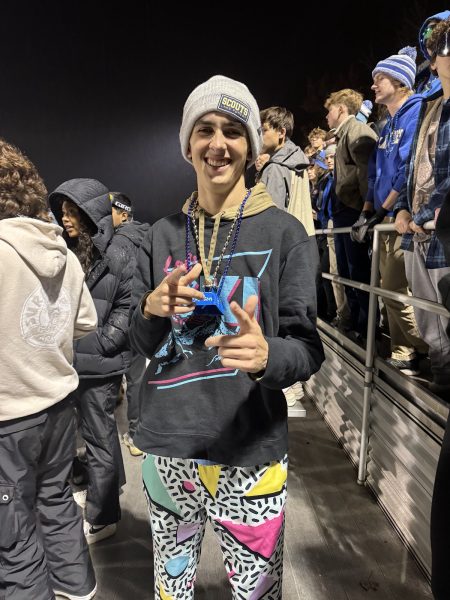 Senior Mason Kelly did not come to play around. This was not his first rodeo dressing for a ski theme. His pants are the star of his outfit which he paired with a colorful graphic t-shirt and a Scouts beanie for some extra spirit. Wow! Way to be a leader Mason!
JUNIORS
The juniors also were satisfied in the student section. We can tell they are going to be great at running the student section next year. The upperclassmen are ruling the student section.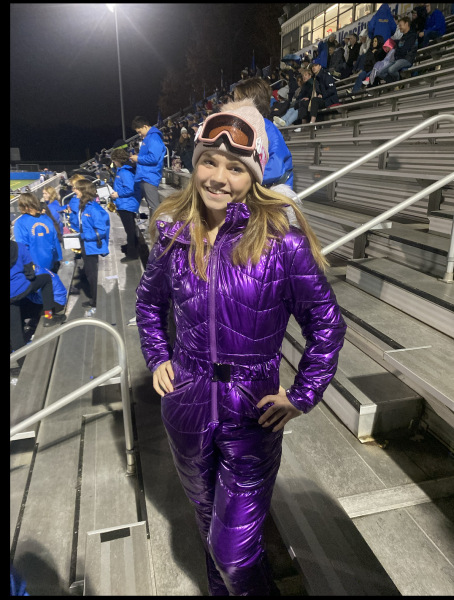 Junior Resse Harper brought the style this week with her all-purple holographic jumpsuit. She Paired it with her super cute puffer ball hat and ski goggles. Reese dressed to Impress this week.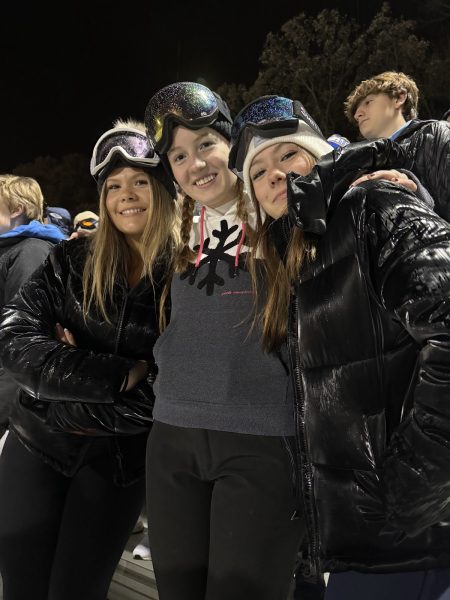 Junior Kate Vignocchi, Manon Vermer, and Isabel brought the style this week. With Kate and Isabel's cute black puffers, and Manon's gray and white snowflake sweater. All these girls topped off their outfits with puff ball hats and cute ski goggles. These girls know how to show school spirit!
SOPHOMORES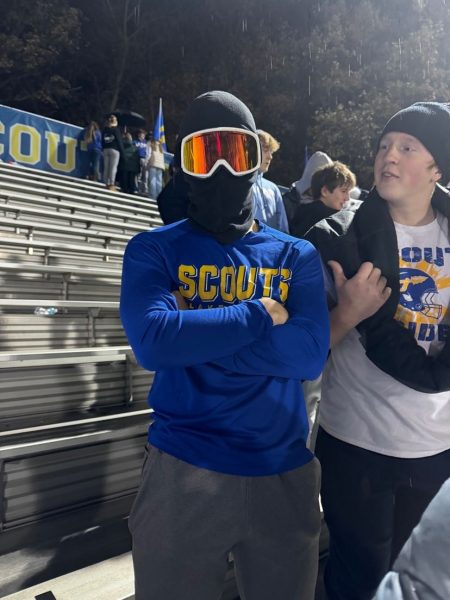 Sophomores where were you? We could only find one unique sophomore and that's sophomore Owen Yates. He was repping his cool ski mask with some Ski goggles and to top it off he even wore a Scouts sweatshirt. Great job Owen!! 
FRESHMEN
We could not find a unique underclassman in the student section if there even were any. Come on guys! This was your opportunity to get closer to the front of the stands. Hiding at the top won't help you much and we want to hear your voices cheering for the Scouts!
That's a wrap on Super Scoutfits for the 2023 football season! Thanks to everyone who represented their Scouts by knowing how to dress above and beyond. See you next season!