Over the past two weeks, the Raymond Moore Auditorium hosted a series of music concerts featuring LFHS's choir, orchestra, and band. 
The performances gave the students involved in LFHS music programs the opportunity to show off what they have been working on.
The different choir's voices captivated the audience, delivering a well-rehearsed display of musical talent.
Not only did audience members express how impressed they were with the performance, but singers in the choir were pleased with how the event went as well. 
"I think it went really well, I especially liked getting to know the younger members of the choir," said Foresters member Ana Dollard. "I had a lot of fun just chatting with people I didn't know and expanding the connections I've already made in choir."
The two orchestras, concert and symphonies' coordination, and precision brought compositions to life. Their musical pieces spanned various eras and genres from movie theme songs to classical pieces, showcasing their versatility.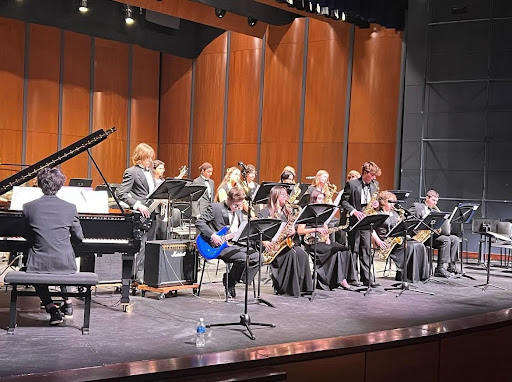 Students involved in the concerts expressed their excitement and pride in participating.  They felt it was an unforgettable experience and that it created a sense of unity among them over their shared passion for music.
"We were all excited to perform the songs we have been working on for the past couple of months," said symphony violinist Olivia Greazel.
Band members shared similar sentiments.
"It was a huge success and was a super exciting experience to have", said band member, Rose Meyer.