Update: Unfortunately after publishing this article the Forest Scout was informed that Mr. Lee Sachnoff unexpectedly passed away on Friday, Nov. 3. His legacy lives on through his garden railroad and all of the people his passion for trains has touched.
Nestled in a faraway corner of Lake Bluff, in the yard of an 1880s Victorian-style house, Mr. Lee Sachnoff has created, to the delight of visitors,  a garden railroad that combines his fascination and love for trains with his engineering background.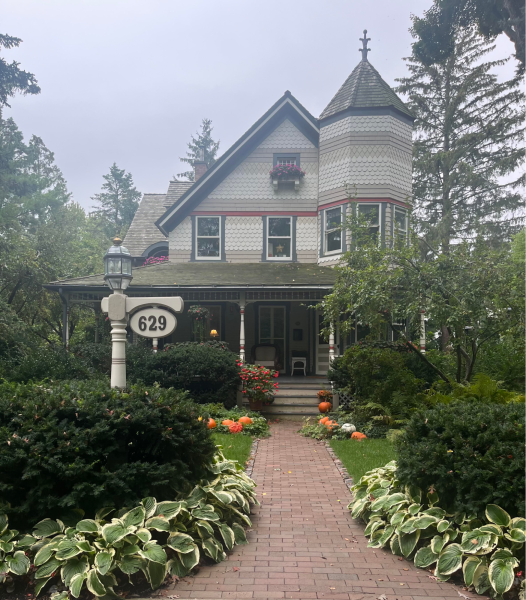 Sachnoff grew up in Highland Park and has spent his life on the North Shore, with the exception of his college years when he attended engineering school at the University of Michigan, prior to going into a career as an industrial designer.
His fascination with trains dates back to his early childhood.
 "Most kids from my generation had a Lionel or an American Flyer train, and they would play with trains, especially in the winter due to the cold weather," said Sachnoff.
Throughout his adult life, Sachnoff has continued to collect antique trains, especially pre-WWII models, culminating in the creation of his first running model train display which he placed on top of the kitchen cabinets in his previous home.
During a trip to California to visit his parents, Sachnoff had his first encounter with a G (Garden) Scale railroad at the Living Desert Museum in Palm Springs, which reignited his interest in trains while providing a new purpose for his life-long hobby: building his own G-scale railroad. 
Seventeen years ago after overcoming a significant job-related challenge, Sachnoff decided the time was right to pursue his dream of creating his own garden railroad.
 "I'm not one to collect a lot of material things, but upon the resolution of my business quandary I decided to start building my own garden railway," said Sachnoff.
Through research, conversations with train hobbyists, and conversing with personnel who oversaw a garden railroad at the Chicago Botanical Garden, Sachnoff developed the initial design for his railroad.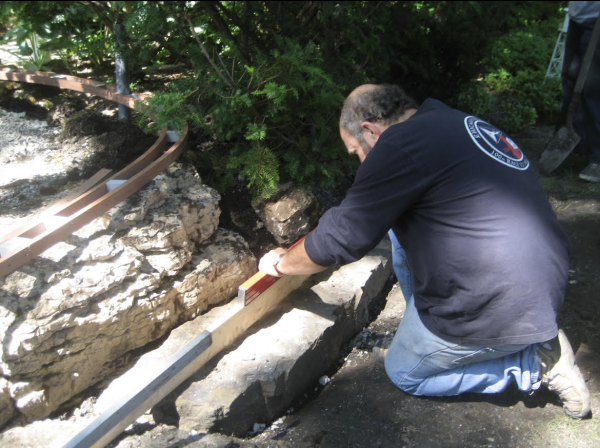 Creating his garden railroad was a lengthy process of trial and error, as he discovered that vegetation, wildlife, and weather were a continuous source of train derailments. 
"I've learned the most through my mistakes; they have been my main form of learning," said Sachnoff.
In response to derailments, Sachnoff decided to move the train tracks onto an elevated platform and redesigned the surrounding plants to a similar scale as the miniature railroad to minimize disruptions. He brought in an excavator to drop several 2,000-pound boulders onto his yard so that the train tracks could run over and around them, and he had a non-native rock species poured as the foundation beneath the tracks.
Additionally, he realized that having multiple engines with fewer railroad cars behind them was preferable to having one engine pulling many cars. Today, Sachnoff has seven separate trains running independently on different track loops, all powered through an underground electrical cable that runs directly from his house.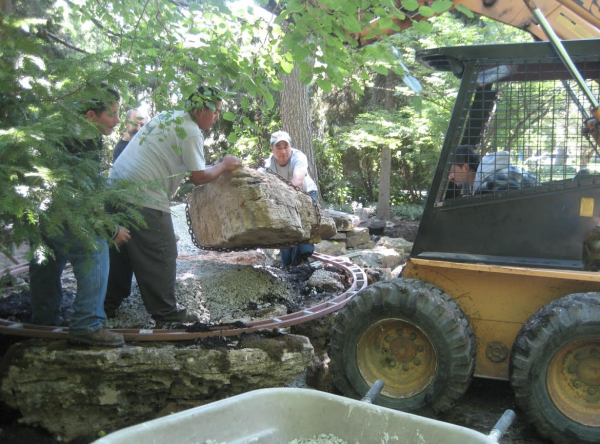 Over the years Sachnoff's garden railroad has become a main center of attraction for members of the Lake Bluff Community. The railroads hit a new milestone of interest during the pandemic, as families seeking activities for their young children turned to a list of local attractions posted to a community Facebook page, which featured Sachnoff's garden railroad.
"The train gets an incredible amount of attention," said Sachnoff. "During COVID there were so many people watching the train that I started leaving through a different door."
As the seasons change, so do the decorations that lay next to the tracks and hang from the trees above them. In the fall season, Sachnoff adds pumpkins to the surrounding landscape, in the spring he adds Easter eggs, and during the winter months, he adds lights and candles to the train cars.
"So many people come by and stop to look at the railroad, especially when they are running," said Sachnoff. "People also love to add their own decoration to the railroad, for instance, someone added a little Pillsbury Doughman." 
Sachnoff even uses the trains as part of birthday celebrations for children in the neighborhood. 
"
I've learned the most through my mistakes; they have been my main form of learning.
— Lee Sachnoff
"When I was little, I always loved passing by the train," said LFHS senior and Lake Bluff resident Julia Liebelt. 
Other Lake Bluff residents shared the same sentiment.
 "I love that the train incorporates engineering with art and engages the community of both children and adults to appreciate art," said architect, creator of LA Design, and Lake Bluff resident Randolph Liebelt.
Creating the railroad train has brought just as much joy into Sachnoff's life as it has for members of the community.
"It's been a lot of fun when I see the kids come by and they are wondering when the train is gonna run. That motivates me to continue working on it," said Sachnoff. "I've always loved trains and I continue to love them."
If you ever find yourself on Mountain Road near Lake Bluff Beach and hear a train whistle, you'll know the next stop is Sachnoff's garden railroad station.