A brisk Saturday morning had the Scouts rolling as they demolished the 7-2 Lake View Wildcats in the first round of the IHSA 6A football playoffs. The Scouts entered the matchup at 5-4 and ranked 15th in the bracket while playing against the second-ranked Lake View Wildcats who finished the regular season at 7-2. 
After the massive win, the Scouts take on the Geneva Vikings (7-2) at home on Friday night, who handled their first-round opponent, Senn, 50-8. Geneva is ranked at #5 while Lake Forest is at #14 for the IHSA 6A football division.
The Vikings present a new challenge: 4-star wide receiver Taylin Taylor is expected to play on Friday after missing multiple games. 
Taylor is a top 30 wide receiver in the class of 2025 and holds offers from many Power 5, Division 1 schools like Alabama, Georgia, Illinois, Iowa, and many others.
Junior cornerback Ryan Milliman said Taylor is Geneva's biggest threat and "staying in phase and preventing long, explosive plays" are the keys to keeping him in check
Morale is high amongst the team looking forward to the match-up.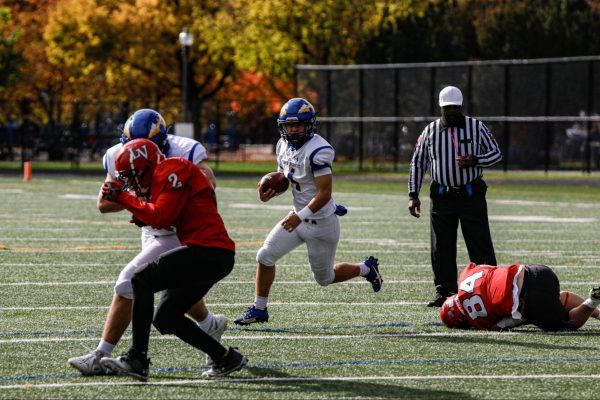 "Everyone on the team knows we're playing a really good team but no one believes that we are going to lose. We know that if we put the effort in we could win," said senior cornerback Travis Calaway. 
The Scouts look to replicate their success from the recent victory. They started firing on all cylinders and never looked back. 
Junior Quarterback Danny Van Camp went 6/7, 134 yards and 3 touchdowns to start the opening quarter. The Scouts scored 5 touchdowns in the first quarter starting with Junior Wide Receiver Bink Hartline who Van Camp found in the corner of the endzone. 
The offensive line put in the work to create opportunities for explosive run plays. Junior running back Marty Hippel brought the speed with 5 carries for 161 yards and a 14 yard TD run. Senior Safety Miles Specketer finished off the high scoring first quarter with a 10 yard fumble recovery for a TD.
To close out the first half, Senior wide receiver Collin Blocki caught an 18 yard pass to extend the lead to 42-0. Junior Running Back Ryan Valentincic punched in a 1 yard rushing TD to jump the lead to 49-0.
A late touchdown by Lake View brought the shutout to an end. The Scouts closed out the first round 49-6 as they hope to keep their playoff run alive.