Last Saturday, tragedy struck. After apparent drowning, at age 54, beloved Friends actor Matthew Perry was found dead in his hot tub in his Los Angeles home. 
According to the LA times, the cause of death is currently unknown, but foul play isn't suspected. An investigation has been launched, however, with the toxicology tests, it will likely take months to determine.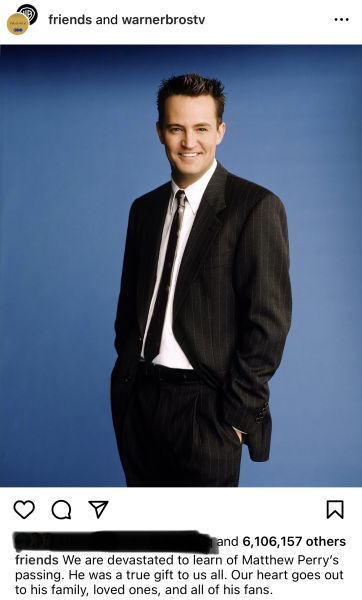 Perry's death won't just be a loss for superfans of the iconic 90s sitcom. While his comedic relief as Chandler Bing touched the hearts of fans in all 236 episodes, his impact as an advocate for those battling drug and alcohol addictions will not be forgotten. 
In a "Q with Tom Power" podcast to promote his bestselling memoir Friends, Lovers, and the Big Terrible Thing, highlighting his experience with fame and addiction, Perry shared that he wanted to be remembered mostly for what he did for others. 
"The best thing about me bar none, is if somebody comes up to me and says, 'I can't stop drinking, can you help me?' I can say yes and follow up and do it. That's the best thing. And I've said this for a long time, when I die, I don't want "Friends" to be the first thing that's mentioned. I want that (that I can help people) to be the first thing that's mentioned, and I'm going to live the rest of my life proving that."
Perry's legacy on-screen as a comfort character and his commitment to reminding those struggling with addiction that they're not alone will certainly be missed.