El Día de los Muertos (Day of the Dead) is a very underrepresented holiday that is widely celebrated across Mexican and other Latin American cultures. Often, it is often referred to as Mexican Halloween, but that's not true at all. 
Many people have heard of the holiday because they've watched the Disney movie Coco. Other than that, it's pretty unknown amongst people of other cultures especially, because it is in the shadow of Halloween. 
El Día de los Muertos is celebrated on Nov. 1st and 2nd. November 1st honors the deceased children and November 2nd honors the deceased adults. 
The history of Día de los Muertos goes back 3,000 years to the death rituals of the Nahua people from Mesoamerica. The Nahua and the Aztecs saw death as an integral part of life. For the Nahua, death wasn't an ending, but an embarkment when a person made the soul voyage to Chicunamictlán (the underworld). This journey is nine levels and four years for the end result to be the soul ending up in Mictlán, its final resting place.
The Nahua culture held rituals in August where family members provided water, food, and other tools to help the deceased through the journey. This is what inspired today's Día de los Muertos. 
The holiday is celebrated very differently and not every family has the same traditions. It's very common for families to put up an altar, also known as an ofrenda in their house. These often include displays of the deceased's favorite food/drinks, personal belongings, flowers, candles, and most importantly, pictures of loved ones.
Some other traditions include visiting the graves of loved ones, having a picnic at the cemetery, going to church, dressing up, making sugar skulls, using face paint for a skull representation, attending a parade or festival, and so much more.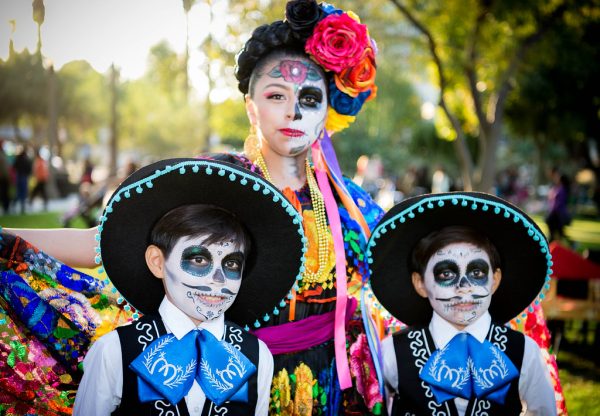 I celebrate by putting up an altar every year. My altar includes pictures, candles, papel picado, and religious figures. Along with setting up an altar I also go to church and the cemetery on the second day.   
The Shrine of Our Lady of Guadalupe in Des Plaines has a mass (in Spanish and English) that serves as a commemoration of all the faithful departed. At 4 pm the Shrine allows families, if they want to, to build their altars on the church grounds. Families are also allowed to give the church names that they would like read aloud during the mass in memory of their loved ones. The reading of the names is at 6 pm which is then followed by the mass and blessings of the altars. 
Although not widely recognized, though it should be, El Día de los Muertos is a holiday that's comforting and fun. It allows you to remember your loved ones that are no longer living while also spending valuable time with family.