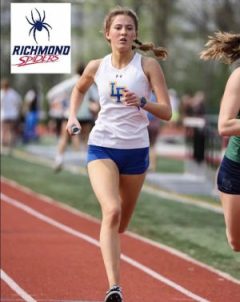 For most people who commit to playing a sport at the D1 level that has always been a lifelong dream. But not for Lucy Schlachtenhaufen who started running for the LFHS Girls Track and Field team two years ago and just recently committed to the University of Richmond. 
Schlactenhaufen started running on the LFHS Girl's Track and Field Team her sophomore year and joined the Girl's Cross Country team her junior year.  
"I absolutely fell in love with the sport and became addicted," said Schlachtenhaufen. 
Before joining the track and cross country teams she had played soccer since she was six for multiple club teams, "but it was mostly just for fun," said Schlachtenhaufen. 
After she joined the track and cross country teams she quickly realized how much running meant to her.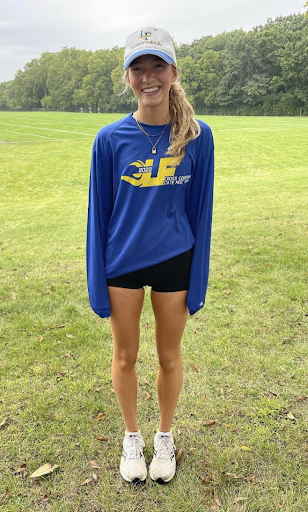 "I couldn't imagine not running throughout college," said Schlachtenhaufen. "Honestly, if you asked me two years ago if I would be running in college, let alone for a D1 school, I would laugh because I never thought I would do this sport or have that opportunity." 
As soon as she knew she wanted to continue her athletic career in college she didn't hesitate to start the college recruiting process. 
"I knew I wanted to run in college, but I was also very focused on what school would suit me academically as well," said Schlachtenhaufen. 
Ultimately she ended up choosing the University of Richmond because Schlachtenhaufen felt it offered strong academic and athletic programs. "After I visited the school I absolutely fell in love with the campus, the track and cross country program, and the academic opportunities that the University of Richmond has," said Schlachtenhaufen. 
Even though she has been on the team for only two years, "Her presence is not only incredibly valuable to the success of the team, but it has also contributed to a much more positive team," said Girls Cross Country Co-captain, Paige Gibbons. 
Schlachtenhaufen's influence also extends to encouraging her teammates to embrace change. "If there's one thing to learn from Lucy it's don't be afraid to try something new—it may just change your life," said Gibbons.