The Scouts officially clinched a playoff spot after defeating Mundelein 35-14. After getting shut out the last two weeks, the Scouts offense woke up and chose violence. 
The team has secured a 15th seed position in the State playoffs. The Scouts will play second-seeded Lakeview High School, who enter the playoffs with a record of 7-2 compared to Lake Forest's 5-4. 
Junior QB Danny Van Camp, who was dealing with a thumb injury, had one of his best games last week.
He started the night with a 17-yard touchdown pass to sophomore James Elliot on the opening drive. The offense kept their foot on the gas and Van Camp connected with junior WR Charlie Markee for his second passing touchdown.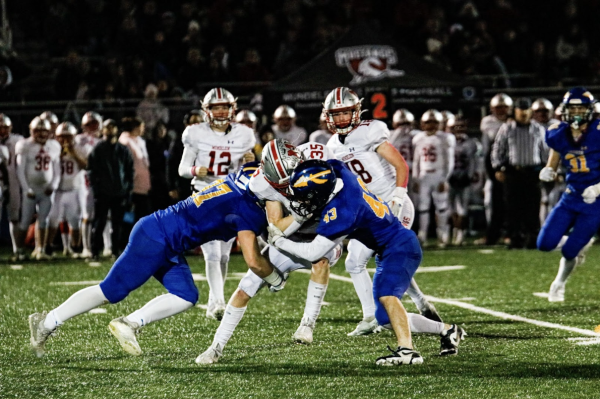 "I just went out there and played the way I've wanted to all season," said Van Camp. "I know we had to pick things up offensively with the way our other recent games have gone, so I'm glad the team got back on track."
There were a lot of things that the offense needed to get back on track including the passing game and the running game.
Head Coach Chuck Spagnoli schemed up the "perfect" play for junior RB Marty Hippel during the two-minute drill at half.
Up a touchdown and looking to extend the lead, the play action resulted in a touchdown and a two-possession lead going into the half.
In addition to the strong offensive performance, the defense kept the Mustangs in check, holding them to just one touchdown in the first half. 
Entering the second half, Lake Forest led the Mustangs 21-7. Mundelein stormed 83 yards down the field before punching it in to narrow the lead. Van Camp took a step and launched a 50-yard ball toward junior Nate Williams for a touchdown. Williams made an instant impact in his first game back from injury. 
Junior Defensive End Finn Goodman found himself chasing after a botched Mundelein hand-off. Senior Tommie Aberle came in and helped Goodman recover the ball. 
Markee found himself in the endzone one last time Friday night on a 31-yard touchdown reception thrown by Van Camp. Van Camp found himself in an excellent field position after an interception from sophomore Aedan Cassidy. 
"With the strong performance we just put up against Mundelein, it feels like we've gotten our confidence and mojo back," Van Camp said. "It couldn't have returned at a better time. If we're firing on all cylinders, there's no stopping us."