This week on Stylish scouts, we have senior Alana Tennett, with her trendy and cute vibe. Here's a little more about her unique and classy style. 
What is your favorite trend right now? 
"My favorite trend is currently wearing little dainty bows on tops and little flowers. Pretty much the cottage vibe. I love corsets and having a more fitted and flattering look."
What is your go-to store, and why? 
"My go-to store is Kitteny because it carries a lot of on-trend tops/dresses that I find myself continually trying to implement into my style. For example, the dainty bows, ribbons, and lace tops." 
What is an item you can't live without?
"An item I can't live without is my favorite cozy sweatshirt from Amazon. It has a fuzzy blanket-like inside and is definitely a must-have in my closet." 
What is your favorite accessory? 
"My favorite accessory is definitely necklaces, I usually stack them to enhance my outfits. I

also love pulling my hair back into a half-up, half-down, and finishing the look off with a bow."
Where do you look for fashion inspiration? Do you have a fashion icon? 
"I work really hard to create a unique and distinctive style. I don't have a specific person I find my inspiration from, but if I'm scrolling through TikTok and I see something a little more out there, it catches my eye. I find a lot of my style from previous trends, too."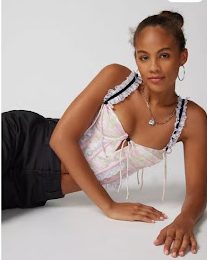 What is currently on your wishlist? 
"Currently, I'm wishing for this corset-type tank top; I think it's really cute and flattering; it's from Urban Outfitters. "
What new item have you bought recently that you are excited to wear?  "I just bought the LuluLemon Scuba wide-leg pants, and I'm really excited to wear them because I've heard great things about them." 
Stay tuned for next week on stylish scouts, big thank you to Alana Tennett for giving us a look into her style and where she finds all her unique pieces.